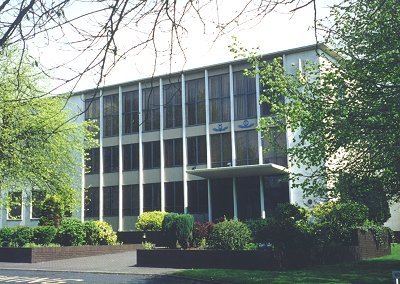 Listing: Locally listed, approved March 2000. Research laboratories and offices for GKN, built in the early 1950s. Architects: Lavender, Twentyman and Percy.
Awards: Bronze Medal, RIBA design award.
Comment:
| | |
| --- | --- |
| | The 1950s produced some terrible architecture and the style has long been unfashionable. The few exceptions are worth preserving and this is one of them. It is well ordered, unfussy, classical in its restraint. By one of Wolverhampton's leading firms of architects, who did a good job with several other important buildings locally, including Bushbury Crematorium, the Gas Company Offices in Darlington Street and St. Andrew's Church in Whitmore Reans. The value of the building is much enhanced by the well designed and well maintained landscaping. |
It is not surprising that it was local residents who initiated the move for its preservation when redevelopment plans for the whole GKN site seemed to threaten it. That local people should support a building of this era speaks volumes for it. The site was once an enormous fireclay pit, of considerable importance to local industry. The fact that this is reclaimed land adds to the merit of the development.
Plans have now been approved for the residential development of the whole site behind these buildings, preserving these buildings as offices.
The building has at least one entertaining detail:

These symbols appear above the doorway, shown in the top photo. Thanks to Karl Johnson we can now identify them. They are the three alchemic signs.
The symbol on the left is for sulphur, the middle symbol is for salt and the right-hand symbol is for mercury.
---