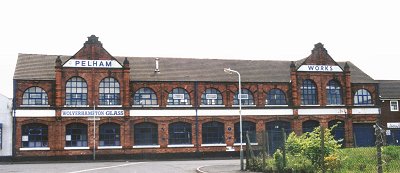 Listing: Now Wolverhampton Glass but an attractive landmark building with historic importance. Locally Listed, approved November 2001.
Blue Plaque: commemorating Clyno cars and motorcycles. (This is on the wrong building, the Clyno factories were at the other end of the street.
Comment: Unfortunately both the local listing and the blue plaque are wrong. Clyno cars and motorbikes were not made here and there is no evidence that Clyno ever had anything to do with the building. Clynos were made at the other end of Pelham Street (in what was then called Victor Street) in Tower Works and Fort Works.
These buildings have had several uses, one of which was as a factory for Rudge Wedge cycles, who may have built it. For a full account of the building at this time, click here. Later it became the premises of the Pelham Laundry which, alongside the Wolverhampton Steam Laundry in Sweetman Street, was one of the two big laundries in the town. It may also, at one time, have been a bakery.
But the listing is still a perfectly proper one because of the building's historic interest (though not that which the listing gives) and its architectural interest - it's an unusual and very pleasant design - and because of its landmark quality. Further it is an important link with the past of this area, a borderland between industrial and residential uses, which is currently in a state of flux and in need of characterful links with the past.
---