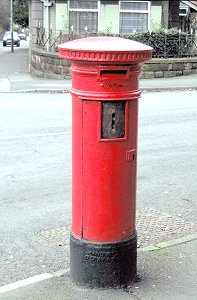 Listing: This letter box, identified by the Letter Box Study Group, has no royal cypher and a small posting aperture which indicates that it is likely to be a rare example of a so‑called "anonymous" pillar box dated from between 1879 and 1887. A letter box is shown on this site on the 1884 Ordnance Survey map.
Comment: Wolverhampton also has one of the very rare Edward VIII letter boxes (not to mention a couple of rare telephone boxes). This one must, beyond reasonable doubt, be an "anonymous " box.
Martin Robinson, in his book "Old Letter Boxes", Shire Publications, 2nd edition, at p.12, says: "The pillar boxes made by Handyside between 1879 and 1887 bear no royal cypher, crown or wording of any kind except for the maker's name beneath the door. For this reason they are known as 'anonymous' boxes. Over three hundred survive ....". And he illustrates an example, just like this one, at p.11.
In 1887 the high posting aperture (shown on our example) was moved down so that it was between the two raised bands. The Post Office also admitted that there had been an oversight and the cypher and the words "Post Office" were added.
For post boxes generally see Martin Robinson's book mentioned above and Jonathan Glancey, "Pillar Boxes", Chatto & Windus, 1989, where anonymous boxes get a mention and a picture at pp.52-3.
---