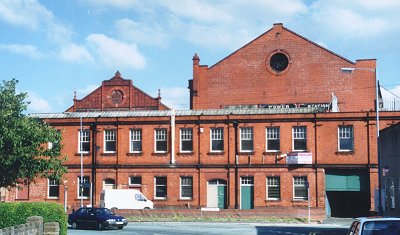 Listing: Locally Listed, approved March 2000. Wolverhampton's first power station, including turbine hall and offices.
Comment: The two gable ends are oddly un-matched, though the inscription "Wolverhampton Electric / Light and Power" runs across both of them. The hall on the right comes from the 1930s and may have been new or may have been a rebuild of an existing hall. Certainly, old photos show two matching hall gable ends.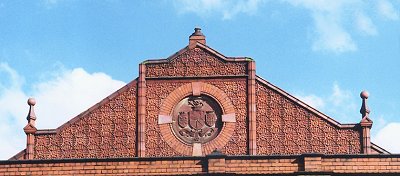 This gable end seems to be in brick and terracotta; the other one is almost starkly unadorned. The badge in the roundel is the old device that used to be used by the Wolverhampton Borough Council before they got a proper grant of arms.
Below is a souvenir programme for the "Opening of an Extension to the Electricity Works" on the 16th March 1908. Although no dinner is actually mentioned there is a list of numerous toasts; and of inspections of the new Boiler House and Engine Room. There is also a list of contractors:
Turbines, Willans and Robinson, Rugby
Generators, ECC, Wolverhampton
Switchboard, ECC, Wolverhampton
Cables, Callender's Cable, London
Boilers, Babcock and Wilcox, London
Buildings, H. Gough, Wolverhampton
Chimney, John Thompson, Dudley
Feed Pumps, T. Parker Ltd., Wolverhampton
Economisers, E. Green, Wakefield
Valves, John Hopkinson, Huddersfield
Steam Pipes, Foster Bros/, Wednesbury
Feed Water Pipes, John Spencer, Wednesbury
Floor Plates, T. Bridges, Wolverhampton
The larger turbine hall is large, empty and eerie. The remains of glazed brick can be seen at points all round the interior. This is the new hall built in the 1930s.

The concrete pillars look as if they could be a later addition to accommodate an overhead crane and the roof looks as if it could have been raised and replaced at the same time. This hall may include bits of the earlier hall or it may, in fact, all be of the same date.
Architecturally the building is an important surviving example of an early electricity generating station; historically it is important in the history of the City and its municipal and industrial development.
Currently it seems to be empty. A proposal to use it as a refuse sorting centre did not find favour with the planners - or anyone else - and it is now forlorn and at risk.
---