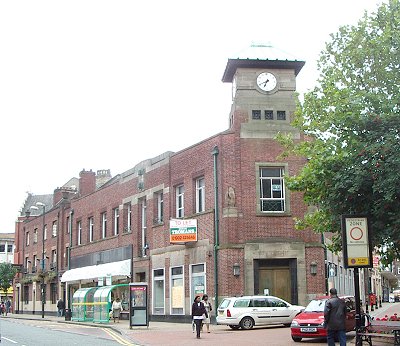 Listing: Built as head offices for Staffordshire Building Society in 1933. Fine example of architecture of the period with landmark quality. Locally Listed, approved March 2000.
Comment: The Staffordshire Building Society was established in 1902 and in 1933 erected this building as its new head office. It so remained until 1977 when they moved to their new, and very much bigger, head offices on the Ring Road. All that was left here was a branch office; the rest of the accommodation was converted into separate offices, first occupied by a firm of accountants.
Duncan Nimmo writes:
Wolverhampton city centre is dotted with commercial buildings of the period c.1920-40, a tribute to the vitality and innovation of that period. The depression did not hit Wolverhampton quite as hard as many other places. Appropriately one of the finest buildings of the period is the Head Office of the Staffordshire Building Society of 1933. The development of building societies was a vital element in the social history of the time and was largely responsible for the shift from renting to owner-occupation, which is one of the major features of the history of housing in the 20th century. This building society has published its own history: "The First £100 Million: a History of the Staffordshire Building Society", nd [1977], written by John Hunter.