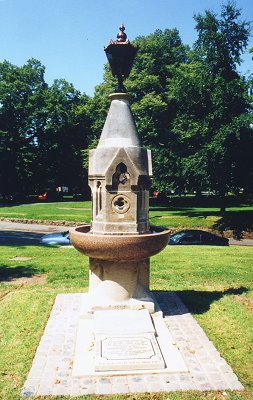 Listing: Victorian drinking fountain located on Tettenhall Upper Green. Dated 1898. Locally Listed approved March 2000.
Comment: The fountain was presented by Horatio Gibbs Powell in 1890.
The good people of Tettenhall, through the Tettenhall Residents and Tenants Association, raised about £7,000 to save this fountain by having it moved, piece by piece, away from the main road, pollution and errant cars, and nearer to the village and then having restoration work carried out.
The inscription set into the surround records the rescue and the names of the main contributors.
The issue has now arisen as to where the horse trough, which many people seem to remember being on the green, has got to. We cannot find a picture of the horse trough in this area but that there was one is somewhat emphasised by a letter writer to the local paper who distictly remembers falling into it as a child. A local resident, Mrs. M. Bentley, thinks she has found it, just to the left of the entrance to Aldersely Stadium. That trough has an inscription "Donated by Mrs. William Jenkins, Birmingham, 1900". Mrs. Bentley points out that it seems to be made of the same marble as the fountain.
This is the horse trough in question. It seems to be made of a red granite, which we do not think is used in the fountain.

But somebody must know where this trough came from - and why it is now at Aldersley.
---