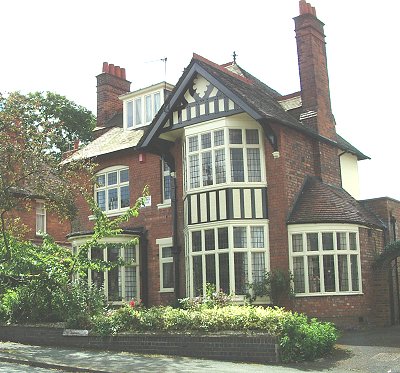 Listing: Detached house built c.1891. Home of Henry Meadows, of Meadows Engineering, between 1928 and 1937. T. E. Lawrence stayed at the house whilst working with Meadows on the design of air/sea rescue boats for the RAF.
Comment: This wonderful house is now the centre piece of a conservation area which contains many fine residences of the period. By 1891 Victorians were getting over their opinion that light and air tended to kill you and houses were best built with small windows, provided with heavy curtains. But Windermere House goes much further in the opposite direction than was common at the time, including in the Arts and Craft style to which this house makes some allusion. It goes along with Bess of Hardwick rather than Dionysius Lardner.
Lawrence only stayed in the house for less than a month but is remembered as walking up the road with Meadows to catch the bus in to work. This house, like the others on this side of Copthorne Road, has huge gardens and at the bottom of this one is a bungalow in which, it is said, Lawrence actually stayed - with his batman.
Meadows might not have been much of a host, for a persistent local story has it that he was more than a little miserly and morose and normally dined alone, relegating his wife and children to another room. But his daughter was surprised when, in recent years, she heard that story and she denied it, saying that her father doted on his children and that her father and mother were unusually happy and close. This is such a bright and open house that surely a miserable recluse could never have chosen to live in it.
---