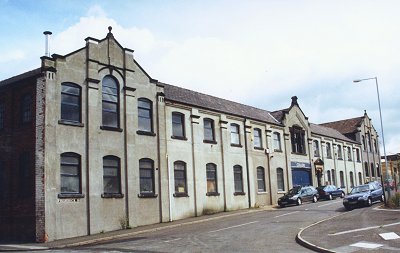 Listing: car factory for Star Motors, now foundry. c.1905. Important as the first purpose-built car factory in Wolverhampton, a centre of the early motor industry, but following the standard courtyard design of C19 factories. The company became the sixth largest producer of cars in the country; but were taken over by Guy Motors in 1928 and cars were then no longer produced here.
Plaque: Edward Lisle, 1852 - 1921, Founder, Star Cycles, cars and commercial vehicles. First Star cycle built 1869. First Star car built 1897. This building was Star HQ. 1904.
Comment: For the history of Star Cars (which included Starling and Stuart cars, and Briton cars) look in the museum on this website. A large bronze-style commemorative plaque to Star Cars can be seen on the St. John's retail park, just up the road to the right of the picture above.
---