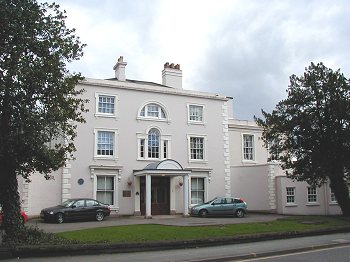 Listing: c.1830, the family home of ...
Plaque: John Marston, JP 1836-1918, Mayor 1889-1891, Alderman 1891, Freeman 1909, founder of the Sunbeam Company; and his son, Sir Charles Marston, KStJ, JP, FSA, 1867-1946, industrialist and author; lived here. Sponsored by Melissa Marston and Marjorie von Harten.
Literature: Marjorie von Harten and Melissa Marston, Man of Wolverhampton: the Life and Times of Sir Charles Marston, Coombe Springs Press, nd
Comment: now incorporated in an old people's home. Our photo was taken on a dull day (and the building deserves better) but it really is a dusky pinky mauvey colour - which may be unusual and not original but is rather nice. The association with Marston's and Sunbeam make the building of great historic interest to the town and to motoring history generally.
---