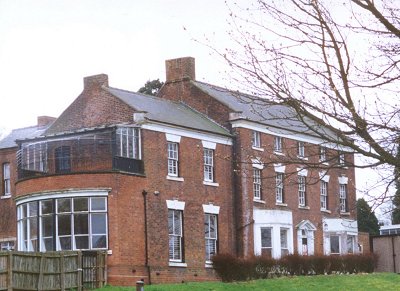 Listing: House, hospital in C20. c1770 with later alterations and additions.
Comment: Originally this house, known as The Beeches, would have been one of the earliest of many gentlemen's residence that were built along the still rural parts of the road from Wolverhampton to Penn. It is said to be named after the many copper beech trees which were a feature of its garden. It was originally the farmhouse of Upper Penn Farm, later known as Beeches Farm and occupied by the Lanns family. During the later part of the 19th century it was occupied by Martha Warner. The house was acquired by Francis J. J. Gibbons of the Gibbons lock, door furniture, ornamental metalwork, etc. company. Francis also owned the Cunard Cycle Co and was keen on aviation, helping to set up the 1920 aviation meeting in Dunstall Park. He lived at the Beeches until 1923 when he moved to Penn Hall. He sold the Beeches to Henry Evers Palfrey, a sheepskin rug manufacturer, who lived there until 1935 when the house and grounds were purchased by the Royal Hospital to become a women and children's convalescent home. One would guess that the bay to the left was a hospital extension from the days when sunlight was thought to be a cure for all ailments, especially children's. The Hospital erected many buildings at the rear of this house and the whole site remains in hospital use.
According to a report from the Wolverhampton Primary Heath Care Trust (the current owners) in the Express and Star, 9th April 2004, this building "looked after hundreds of local children suffering from such serious illnesses as tuberculosis and polio between 1935 and 1989". During World War II child patients from the Royal were evacuated here. In 1951 the first children's ward opened at the Royal for acutely ill children. Children were treated there and then sent to Penn when their condition improved. Apart from the usual doctors and nurses this hospital employed young girls, too young to enrol as trainee nurses, who lived in the top of the house, and were introduced to nursing by carrying out basic treatments and playing with the children. The hospital also had its own gardeners to maintain the grounds and to run the kitchen garden and greenhouses which provided fresh produce for the hospital.
The house stopped being used for children in 1989 and got into a very run down condition and seemed to be suffering from the subsidence which is common in this part of town. But in 2000 the NHS announced plans for the refurbishment of the hospital and the restoration of the house. This has now been completed and the house, and other new facilities on the site, was officially opened on 17th May 2004. It has been re-named The Beeches Training and Education Centre, and is used for training in health and social care; and it is also available for local groups to use.
---