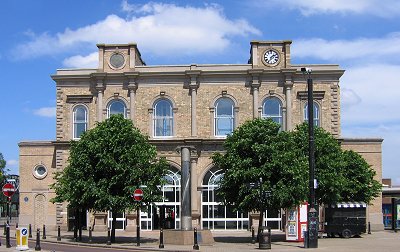 Listing: former entrance gateway to High Level Station; now bus station building. Opened 1st. October 1849. By Edward Banks for Shrewsbury and Birmingham Railways Co.. A reminder of Wolverhampton's importance as a railway centre.
Blue Plaque, sponsored by Centro, recording the architect as Edward Banks.
Comment: Built by the Shrewsbury and Birmingham Railway Company as a grand entrance to, and booking hall for, the High Level Station, it also held the company's Board Room. When built it faced down the main road access to the town centre but later road improvements and realignments left it stranded.

This fine view was taken by David Clare in the mid 1970's, before the decay had reached its fullest extent.
After High Level Station was rebuilt in the 1960s the Queen's Building was deserted and fell into a fairly advanced stage of decay. When a new bus terminal was built next to it, it was restored and it housed a cafe and the public toilets for the bus station.

It started to decay again but in 2005 was completely revamped, again as a bus information centre, with some very fine public lavatories.
In front of the building is a piece of modern sculpture. It is by Hugh Tessier and is in the form of a metallic column, with neon strip inserts and is entitled "Ionic Order". A plate records that this work was "Initiated through the inspiration of Gurdev Singh Rai. 'Peace, Hope and Justice for all'". Mr.Rai is an enthusiastic advocate of Wolverhampton life and society.
---