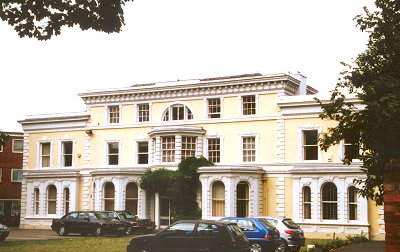 Listing: House, now offices. mid C19.
Plaque: George Benjamin Thorneycroft, 1791-1851, First Mayor of Wolverhampton, 1848, lived here.
Comment: This fine gentleman's residence is now used as offices. The primrose yellow might not be authentic, but whether it is or isn't, it looks splendid. When built it was on the outskirts of Wolverhampton, on the fashionable way to Tettenhall, and was the residence of the iron master and his family. It may have been named after Lord Salisbury, a politician.
When the Thorneycrofts lived there it was known as Chapel House. A wing was added on either side, and it was later divided into two to form Granville House and Salisbury House. As the children got older, George built 'Summerfield' in the grounds of Chapel House as a home for his daughter Mary. After her marriage, two of her sisters, Emma and Ellen began their married life there.
---