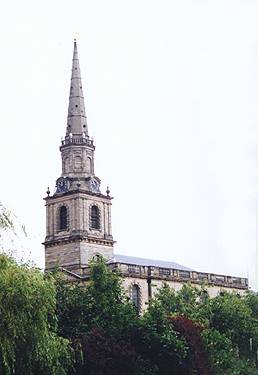 Listing: Grade II*. Anglican church. 1758-76. By William Baker or Roger Eykyn. Classical style. C17 organ by Renatus Harris. A very good and complete example of a mid-C18 church.
Pevsner: 1758-76 by William Baker or the builder Roger Eykyn. ... Organ by Renatus Harris from the Temple Church in London, c.1682.
Award: Civic Trust commendation, 1983. The Civic Trust comments: "It is apparent, both from photographs and eye witnesses, that the earlier state of decay of this fine Georgian church, would have meant its near-certain demise some years ago. This act of salvation is a remarkable example of historical restoration carried out with loving care by all concerned. The church was designed to be of brick faced with local Perton stone. The ravages of industrial atmospheric pollution had disastrously eroded the external stone fabric, and in 1960 complete re-facing was undertaken. All stonework, with the exception of the spire, balustrade and cornice, has now been completely refaced. The church' benefactor, the late Sir Charles Hayward, would be justly proud of such a result". The architect for the work was A. B. Chatwin, the contractors were Harold Fidler Ltd., and J. Oldham & Co (Stonemason) Ltd.. Note that the benefactor concerned was the Charles Hayward Trust.
Literature: for a detailed and up to date account of the history of the church and a guide to the building, see the article by Peter Hickman on this web site.
Comment: The church was built to provide for the growing population in this part of town. It was originally set in a square, though that square was not designed all of a piece and consisted of a variety of Georgian buildings of different shapes and sizes. One side of the square vanished under the ring road. The opposite side still exists but now consists mainly of modern buildings, nearly all of them designed to be sympathetic to the Georgian buildings - which now no longer exist.
The church's Renatus Harris organ is still in fine fettle. The church likes to see St. John's in the Square as closely related to St. Martin's in the Fields, and is following it in being a fine centre for music as well as for religious purposes.
---