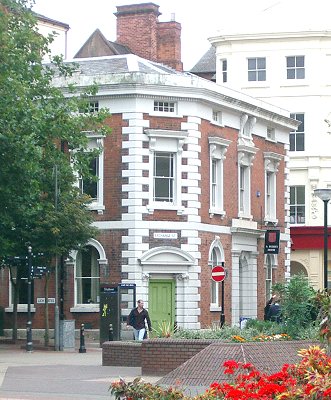 Listing: Possible former office building, now church centre. c.1855. Italianate style.
Literature: Anthony Perry, St. Peter's House, St. Peter's Collegiate Church, 1998
Comment: Anthony Perry's work has now outdated the information given in the listing. Exchange Street was formerly a narrow alleyway, known as Bird in Hand Yard. It was laid out as a street by a consortium of 10 local men who had entered into an agreement with the Borough council for the replanning of this area. This left the corner site vacant and the consortium sold it to Richard Cope, who covenanted to erect on it the building which we see now (only the attic windows being an alteration from the original plan). In April 1852, when the building was sold to George Cope, it was described as "newly constructed".
George Cope was, of course, a wine merchant. He seems to have used the cellars and ground floor for this business and to have let other parts to the London and North Western Railway Company and to the Athenaeum Assurance Company. In 1854 he leased the whole the building to Norris's Patent Chair Company, subject to the other two leases. There were a number of later changes of ownership and lessees, several of the lessees being associated with the drinks trade but most of the building being used for offices. By 1919 a butcher's shop had been established in the half of the building furthest down Exchange Street and the other half was used as a wine merchant's shop; and the whole of the Exchange Street ground floor frontage had been changed into shop fronts. The Borough Council acquired the premises in 1920 and used the upper floor as offices.
In 1974 the property was transferred to St. Peter's Collegiate Church in exchange for the site of the old St. Peter's Schools (needed for the Polytechnic) and cash. The church immediately set about restoring the whole building to its original condition, reinstating the Exchange Street frontage in accordance with the original plans. Since then is has been used as a Church Centre with not only a drop in coffee shop but a wide range of other activities.
---