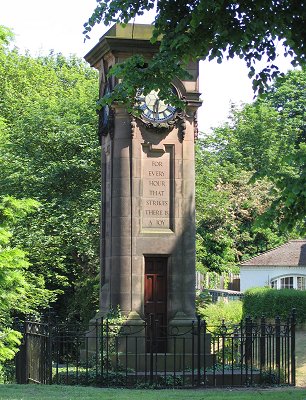 Listing: 1912. Built to commemorate the coronation of George V. Baroque style. An important landmark in the centre of Tettenhall.
Literature: Geoffrey Hancock, A Tettenhall History, Broadside, 1991, p. 77
Comment: The inscription on the clock reads: "To commemorate the Coronation of His Majesty King George V Mr. and Mrs. Edward Swindley of the Cedars Tettenhall presented this clock to the Urban District of Tettenhall 22nd June 1911."
The Swindleys were rich local landowners, with a reputation for eccentricity, but of a very generous disposition. They were so pleased with this clock that, in 1920, they had a replica built in the garden of their house, which became known as the Clock House.
The inscriptions on the four sides read:
I labour here with all my might to tell the hours by day and night.
For every hour that strikes there is a joy.
For every hour that comes there is a hope.
For every hour that passes there is a record.
A report on the clock in the Express and Star, 12.04.04, records that the clock had not chimed for twenty years or so. But the city council has now provided £3,000 for the mechanism to be restored.
Also Joan Mainey is reported as recording that her grandfather, Thomas Amies, worked for Cave and Sons, builders, and he was the foreman joiner in charge of the construction (and he also worked on the replica). Alan Davies is reported as recording that his grandfather, Dick Yateman, was one of the stonemasons, employed by Hopcraft, the monumental masons, to work on the clock. Presumably they did the inscriptions.
During the Second World War an air raid shelter was built under the green around the clock. One entrance can be seen, bricked up, in the photo above. The other is round the corner on Tettenhall Road. In 2005 the City Council decided that everything was subsiding into it and that it should be filled with concrete.

Local residents and other objected strongly, arguing that it was an important part of the village's history. The Council then decided to fill it with some sort of foam concrete that can be more easily removed if, or when, restoration on the shelter is embarked on.
---