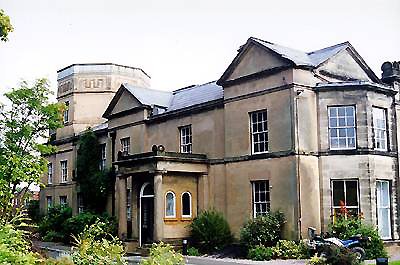 Listing: c1770 but much altered c1820. Large extensions of 1860s for Col. Thorneycroft and small C20 extensions. Col. Thorneycroft was interested in the development of ventilation and heating and some of his innovations are incorporated in the building.
Literature:
G.V.Hancock, History of Tettenhall College, Tettenhall College, 1963
Geoffrey Hancock, A Tettenhall History, Broadside, 1991
Comment: Although now an active and thriving school, the place is still dominated by the spirit of Col. Thorneycroft - and the Colonel was very spirited indeed. The listing expresses his activities very mildly. Suffice it to say here that the interior also contains, though somewhat reduced in size, the theatre installed by the Colonel; and it it still in use. The tower shown in the photo contains the large water tank which provided the waterfall at the back of the stage; the water went from the waterfall to flush out the drains. For the rest, Geoffrey Hancock's "A Tettenhall History" provides delightful coverage.
The grounds contain much of interest, both in respect of buildings, which are now clearly explained by historical plaques, and fauna and flora, which are well covered by the School's nature walk. But the development in the immediate vicinity of the old house has quite devastated the setting of the garden side of the house. The Colonel might not have been too pleased with this treatment of what he fondly considered to be his country house park.
This drawing by the local artist George Phoenix shows the garden side of the Towers.

The balloon, named The Dudley Castle, was that in which the Colonel took a somewhat hair-raising trip in 1882.

The event is splendidly recorded in Geoffrey Hancock's A Tettenhall History, mentioned above. The deer are doubtless two of those which the Colonel kept as part of his country house park; but the land actually available was too small, the deer persistently escaped and the project had to be abandoned.
He would have done better to have followed the practice at Bantock House where highland cattle, much beloved by the Victorians, decorated the ornamental farm. But the Colonel would try anything once. Or twice. Or any number of times if he wasn't too busy on the next exciting project.
---