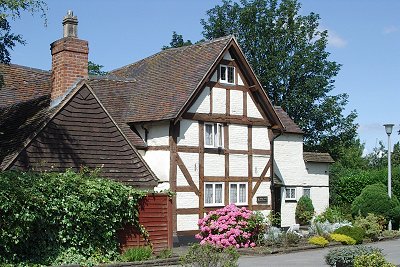 Listing: House, said to be originally hunting lodge. C16 or early C17, alterations c.1866. House owned in C19 by Colonel Thorneycroft who installed C17 reliefs and other features.
Literature: Geoffrey Hancock, A Tettenhall History, Broadside, 1991, at pp.17-18,
Comment: The modern church of St. Thomas faces this building. Hancock says: " ... now the Priest's house of St. Thomas of Canterbury. ...apparently of the 17th century, although recent repair work has revealed evidence that its date may be somewhat earlier. It is thought to have been a forester's lodge and tradition has it that that most choleric of English kings, Henry II, once spent some days hunting in the area". It is one of not many timber framed buildings in the City. As most of the others seem to originate in an agricultural use, this one's association with the forests is of interest. Three royal forests met at Tettenhall: Cannock, Kinver and Brewood.
---