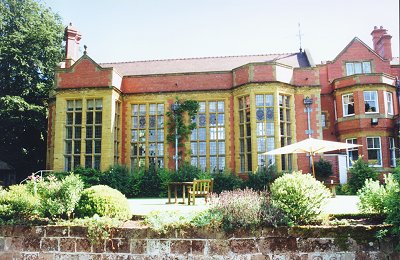 Listing: House, now hotel. c1870, enlarged 1891 and 1908. By Edward Ould. Arts and Crafts style.
Plaque: Mount Hotel. Former home of Charles Benjamin Mander, paint and varnish manufacturer. House built 1865. Extended 1891. Ballroom built 1908. House sold 1952.
Literature: Pevsner, p.311: "East of Wightwick Manor in Mount Road is the Mount, the house of Charles Benjamin Mander, cousin of Theodore and Charles Benjamin's son, also partly by Ould, also the result of growth. It was built c.1870 and enlarged in 1891 and 1908. Brick and stone dressings, asymmetrical, with a two storeyed entrance hall. Both have neo-Jacobean plaster ceilings".
Comment: The photo shows the ballroom, seen from the back gardens. The interior, especially the ballroom, the fireplace in the entrance hall and the ceilings are well worth inspection. The Mount, like Wightwick Manor, is one of many houses, mostly of some size and all of great ostentation, which were built or rebuilt by the rich industrialists of Wolverhampton along the ridge from Tettenhall to Perton. From here they could overlook Wolverhampton (and its people) only descending into its smoke and grime if they had to. There was not a little rivalry between these people, commercial, social and political - and it shows up in their buildings.
---