A Guide to Using the Website

The guide is divided into three parts:
1. Finding your way around the website.
2. Where is Wolverhampton and the Black Country?
3. All about the website.

1. Finding your way around the website.
It can sometimes be difficult finding a topic on such a large website as this and so we have prepared a simple graphic guide to help you to locate the area in which you are interested. The website is divided into a number of sections, each covering an individual topic that is related to our past or to the society. Each section is accessed by clicking on one of the locks or buttons on the front page. This will take you to a main menu that may contain other sub menus, all listing articles that are related to the same topic.
The website layout
To access any of the sections on the diagrams below just click on them.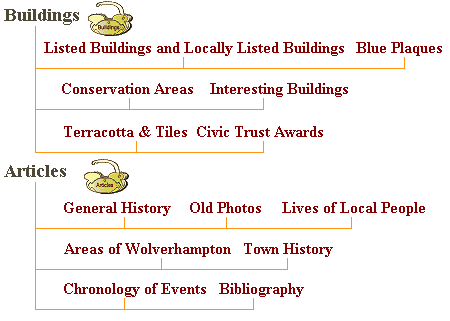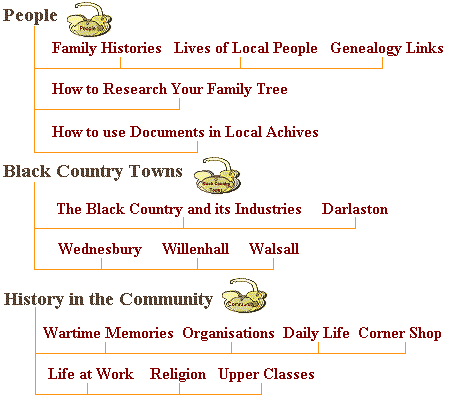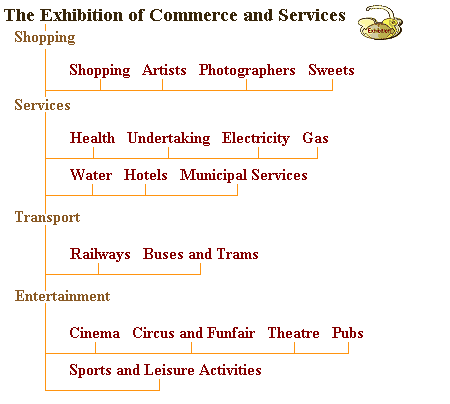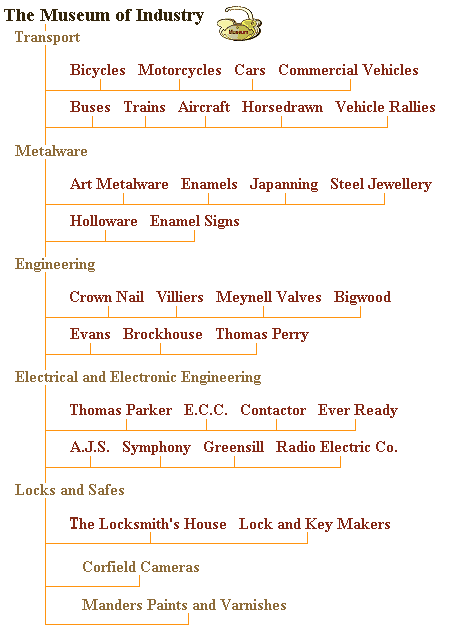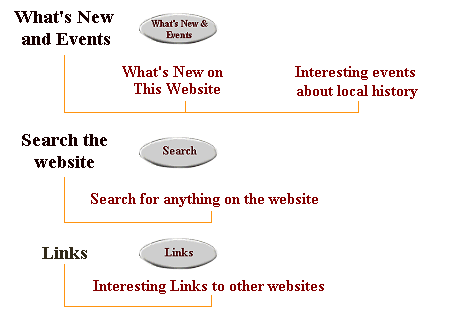 2. Where is Wolverhampton and the Black Country?
This section is especially for our overseas readers. The Black Country, consisting of Wolverhampton, Walsall, Dudley, and Sandwell lies on the edge of the West Midlands, a large, mainly urban area, stretching across to Birmingham and Coventry in the south east.
The Black Country is named after the extensive industrialisation that once covered much of the area and was one of the country's most important manufacturing centres. Coal, iron ore and limestone were in plentiful supply, and so with the raw ingredients in place, an iron and steel industry rapidly developed.
Almost anything that could be made from iron or steel was produced in the area. The southern part around Cradley concentrated on the production of nails and chains, whereas Walsall to the north was the centre of the leather goods industry. Willenhall became famous for locks and Darlaston had the country's largest nut and bolt makers. Most of the towns manufactured almost anything that could be made from metal. It is easier to make a list of what wasn't made here rather than what was.
Everything has changed today, the industrial era in the Black Country is almost at an end. A century ago most people worked in industry whereas today very few choose to do so. The area is much cleaner than it has been for several hundred years. St. Peter's Church in the centre of Wolverhampton offers a marvellous view of the Black Country from the top of its tower. If you went there forty years ago and looked towards rural Shropshire to the west, everything was green and lush, whereas to the east it was grey and murky. If you do this today the view is very similar in both directions. The old industrial areas are now clean and large numbers of trees have been planted.
Black Country people are proud of their industrial heritage and some has been preserved in local museums. Unfortunately much has been lost and much of what remains is rapidly disappearing. On the website is our virtual museum and we include displays and information on our industrial past in an attempt to record much of our recent history before it is lost forever.
3. All about the website.
This site should display correctly on most browsers such as Internet Explorer, Flock, and Firefox. It has been optimised for a PC with a screen resolution of 800 x 600 and above.
All comments on the site, all responses and feedback, and all notifications of errors, broken links, etc., will be gratefully received by the webmaster.
This site contains material about Wolverhampton's history and heritage, and Black Country towns It is hoped that it will turn into an exercise in interactive co-operative writing and become a focus for those who know something about, or are finding out something about Wolverhampton and the surrounding area's history and heritage.
We also want to make it useful for schools. We continue in the increasingly desperate hope that one day someone will deliver on successive governments' promises to make computers and the Internet fully available in all schools. In the meantime kids might be able to access this site from home.
And we also try to bear in mind that people from outside the area might want to find out something about Wolverhampton's background and could find some of the stuff useful. We also know that many ex-Wulfrunians or people of Wulfrunian ancestry find the site interesting and we like to think we can cater for them as well.
How
Web sites often contain information about how they were produced. Goodness knows why. But just in case anyone is interested, here goes:
This site was originally produced in 1999 using a Roldec computer with a Pentium II chip, running Microsoft's FrontPage web authoring software. Roldec was Wolverhampton's biggest, and only nationwide computer maker; it went bankrupt rather suddenly. So much for supporting local industry.
The website is still produced with FrontPage, and a host of graphics and photo editing software including Photoshop, Paint Shop Pro, and Coreldraw. The navigation buttons etc. use Javascript, which is added where necessary. Since 2000 it has been on one of Wolverhampton University's servers, as part of their community programme. Late in 2012 it was discovered that they are no longer happy with it being there, so it has now been moved to a BT server.
The site is designed to download quickly and to be simple to use and easy to navigate. Some of the photographs, the ones that have been on the site since the early years are a little small, simply because in those days broadband was not readily available, and most people used dial-up modems. Larger photos would have taken an extremely long time to download.
You won't find any of those irritating notices telling you to download some odd bit of software before you can carry on using the site, which doesn't suffer from banners or pop-up windows.
I hope you will enjoy your visit, and any future visits to the site.
Bev Parker
---