---
The story of a successful company that has its roots in Wolverhampton
Albert Douglas (Doug) Barker, born in 1917, recalled this period of his life as Managing Director of Cab-Craft Limited to his son John, and daughter Julie, leading up to his 93rd birthday.
Beginnings and Growth

I recently read with great interest Charles Weight's account in the Wolverhampton Museum archive about the early years of development of tractor cab manufacturers based in and around the Wolverhampton area. However, the penultimate sentence in his story is a bit misleading in that Cab-Craft Limited - then owned by their factory landlords: the David Charles Group - actually went on to acquire his larger Tractorvision company at Four Ashes. This was shortly after David Charles invited me to join Cab-Craft Ltd. as Managing Director at their Penkridge works - replacing Dave Thomas in 1967. I held that post up to my retirement due to ill health in 1977.

My first task at Cab-Craft was the urgent need to improve productivity which I did by employing an inspector/rate setter and introducing a fair to both sides piece-work incentive bonus.

The scheme was modelled on one I had recently devised when I set up the production line for ISO freight containers at Metropolitan Cammell. The shop floor workers immediately enjoyed substantially higher wages and the finished cabs rolled out of the door at a much faster speed.


Doug Barker.
When we first took it over, the TractorVision factory was owned by the Caterpillar Distributor Bowmaker Plant. It was a loss making, union organised factory with a history of poor industrial relations. We bought the business because we urgently needed more production and storage space as we had outgrown our factory. The smaller plant at Penkridge was non union, making good profits and was becoming increasingly restricted by small premises with no external area for holding stock.

The factories were four miles apart, both located on rural industrial estates between Wolverhampton and Stafford and were run as two separate production operations but with common use of the design and purchasing facilities in the Four Ashes office block. Head office (including Sales and Accounts) remained at Penkridge. Over the years, the two shop floor workforces continued to refuse to co-operate and I reached the conclusion that they would never have worked harmoniously in one large factory. I soon introduced the same piece-work scheme which had proved so successful a year earlier at Penkridge and within weeks, this factory was also returned to profitability. I was now confident that we could build-up the business using internally generated income helped by the David Charles Group who supported us strongly in the early stages of growth.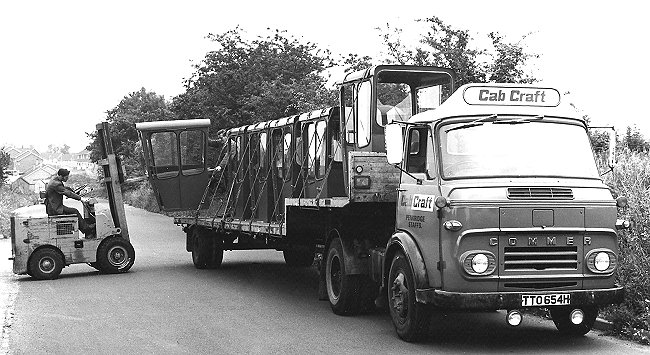 Fuelled by tougher U.K. Health & Safety legislation, the 70's decade saw a huge development in the market for safety cabins for tractors, combine harvesters, earthmovers and handling trucks. Cab-Craft grew rapidly to become the dominant player in the U.K. cab industry (there were 5 other companies contesting the market at that time) and we enjoyed a fine record of annual growth and profitability under my stewardship.We also became substantial exporters too shipping cabs to Ireland, Scandinavia and several other countries around Europe.

My skills in welded fabrications and more latterly in selling combined well with our design & development team. We formed a prototype unit and designed many well-styled cabs which looked to be an integral part of the machine. Dealers and end users liked our designs and the business thrived and grew. So Charles Weight's final 'amen' to Cab-Craft in his Tractorvision archive was somewhat premature! The final 'Amen' was to come a decade later.

An Allen grass cutter fitted with a Cab-Craft cab.

Over 10 years, I built the Cab-Craft business from well under £1m annual turnover to over £5m annual turnover, with year-on-year increases in net profit, culminating in over £1m net profit in1975/6.

My son John Barker joined the business as Sales & Marketing Director in 1974 with agreement by David Charles for him to take my position as M.D. after 6-months. John developed and agreed a ten year plan with Group to diversify the business to keep the company healthy when the independent cab business started its inevitable decline. But by1975, we became increasingly worried about the desperate cash shortage within the parent Group. We were able to help and following an excellent 1976/7 financial year, we forwarded a record £1.1 million net profit to our owners.
Imagine our dismay when 6-months later - the banks insisted on the appointment of their nominated Director to the Group's Board shortly afterward. All the Directors of subsidiary companies were called in to Head Office to meet him - where we received his assurance that his bank would see them through their temporary cash flow crisis. A few weeks later, they forced the Group into Receivership/liquidation and closed-down many of the Building Division companies. Cross guarantees right across the Group saw the Receivers Cork Gully coming in to all the profitable companies - us included - to immediately manage our business. To our surprise, they waved their cheque book at us and we returned to full production the following day.
As we were still a rising star, we received financial backing paying cash with order to all our suppliers. Six months later, we were put up for sale as a debt free going concern.

We spent 6 months being interviewed by several prospective purchasers and against all the odds were snapped-up on the last day for sealed bids by the Mitchell Cotts Group, who operated a large warehousing complex adjoining the Penkridge factory.

They paid £1.2 million for the business. Arguably an overly generous sum for a low asset company such as ours working in three rented properties.

They were looking to buy a successful farm machinery manufacturer and had very little time to carry out due diligence enquiries.


A Clark tractor equipped by Cab-Craft, is dwarfed by a Jumbo Jet at
London's Heathrow airport.
We were employing 340 people at the time and working two shifts out of our 3 factories, and building several thousand very sophisticated safety/quiet cabs each year, including the insulation and fitting of our newly developed cabs on to all new Massey Ferguson 240/265 series tractors sold in the UK, in a new assembly factory we had very recently rented in Shaw Lane, Wolverhampton.

I am proud to say that nobody lost their job at that time and the Directors and staff all received generous contracts of employment at 'terms no less favourable than previous'. My only regret was that because of Group cross guarantees to maximise their borrowing facility our key suppliers lost a lot of money as there was no creditors payout after preferential creditors had received their dues from the Group.

I was due to take early retirement that year, and I personally lost a small fortune as all my profit related bonuses went into buying David Charles Group shares, with a face value worth over £250,000 the year before the property market and land values collapsed, which resulted in the building Group's failure.

This was a bad time for me and my health deteriorated rapidly. David Charles was a good house building company holding a very large high value land bank at the wrong time. Within 9 months of the liquidation of the central business, land values recovered to record levels, and so another good Midlands company bit the dust for the sake of not receiving short term support from their bankers (there was no quantative easing in those days).

Mitchell Cotts actually agreed to buy Temperate Filtration Limited, a key supplier of air filtration units, as we were their main customer and we needed continuity of supply. So Cab-Craft Limited became part of the Mitchell Cotts Engineering Division, headed by the then M.D. Dennis Hands. They were not too familiar with the fast pace of the sheet metalworking sector, but they soon came to realise that our working practices were quite different!

To their credit, they invested in our business by agreeing to the purchase of an N.C. automatic punch press, an N.C. back-stop controlled press, and freed-up a neighbouring warehouse at Penkridge to bring production potential up to the level of the Four Ashes site.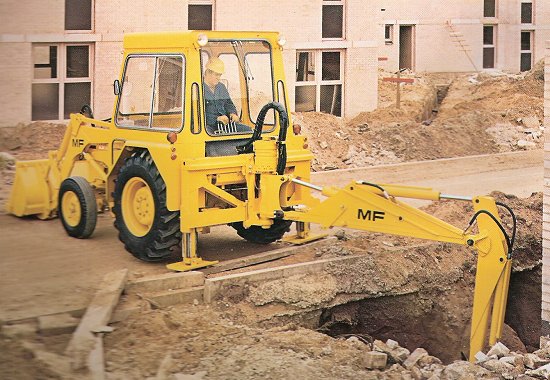 A Massey-Ferguson 40 digger loader fitted with a Cab-Craft safety cab.
I had a great team at Cab-Craft who played a large part in the development of the business. It is an interesting story, so I thought it worth recording in the archive. It was the most satisfying post I ever held because we must have saved many lives as well as dramatically improving the health and life span of many farmers and their workers. I will always be proud of that achievement.
Here's a summary of what we achieved together, thanks in particular to Peter York (Technical Director), John Barker (Sales & Marketing Director), Graham Bustin, and Ron Baldwin, who all worked so enthusiastically to meet the development challenges of a rapidly developing market. We became top dog in the industry because over 75% of our products by value were sold directly to dealers and end users. In this way, we controlled our marketing and pricing without allowing manufacturers to push prices downward. This proportion was to reverse over time as the vehicle manufacturers wanted and obtained a larger slice of this business.
To the best of my knowledge, we never received any acknowledgement or award from the Government, the N.I.A.E, or the N.F.U. for our pioneering health and safety work. I do recall reading in the Birmingham Post that 3 or 4 people working for the National Institute of Agricultural Engineering received awards in the New Year Honours lists for their work in developing safety cabs. Their contribution was mainly to develop a cab testing procedure. It was the cab companies, like us, that did all the development work on the safety frames and on the noise deadening work.
More important than awards, we were always very pleased to receive the thanks and best wishes from thousands of farmers (and particularly from their wives) when we met them at the various Royal and the Smithfield Shows. They were thankful for our dramatically improving working conditions and keeping their husbands and sons safe and well. At that time, fatal accidents on farms were running at an all-time high, and lung disease amongst older farmers was also emerging as a slow killer, rather like pneumoconiosis in the mining industry.
---