---
The company's 1967 book, mentioned above, says that "In 1925 the directors decided to abandon general foundry and engineering work and concentrate on the manufacture of mill rolls. It seems that they stuck to this specialisation to the end of their days. A safe plate (shown under the link to safes, below) refers to the "successors "to Thomas Perry in West Bromwich. It seems likely that the safe making part of the company was sold off in 1925. Other non-roll making activities would also have been sold off or abandoned.
| | |
| --- | --- |
| | The site today, looking down Highfield Road from the railway bridge. |
The book continues: "In 1926 a new foundry was built and equipped with the most up-to-date facilities for roll making. A well equipped metallurgical laboratory ensured a high standard of metal quality. In 1929 modern production roll lathes and grinders were introduced in the machine shop. Perry's were now quite ready to meet the demands of the modern high speed rolling mils, wide strip mills and special cold mills which came into operation about 1937".
"In 1940 the new foundry was extended and a new bay equipped with modern machines was added to the machine sop. During the 1939-45 war, not only were the heavy demands of the steel mills fully met, but also special quality high hardness rolls of superlative surface finish were produced to replace expensive heat-treated forged steel rolos previously obtained from abroad for the rolling of aluminium, copper and brass sheets and plates"
| | |
| --- | --- |
| The main entrance to the present site. | |
"A further modernisation programme was commenced in 1964 and completed in 1966. The foundry was equipped with three modern air furnaces fired by pulverised fuel from storage silos. Five new overhead cranes have been installed and new raw materials and scrap roll gantry has been added". (Presumably it was this modernisation that lead to the publication of the book in 1967).

I worked at Thomas Perry from 1962 to 1973 and the company was still going strong in the early 1970s and still on the Highfield Road site. It was still operating in 1978/79 when I paid a visit to see old colleagues.

When the book marking the modernisation programme was published in 1967, the firm listed "overseas users of our products". The users listed were in Africa, Germany, Holland, India, Italy and Turkey. There was a far larger list of overseas agents, including, in Belgium, Agence Acieiries Firth Sheffield Ltd.. They must have replaced Ernest Driessens, mentioned earlier in these pages as their agent there earlier in the century. The book also lists "users of our products in the United Kingdom", and the long list includes names such as Appleby-Frodingham, British Rail, Consett Iron, Dorman Long, GKN, IMI, Lysaghts, Patent Shaft, Round Oak, Royal Ordnance, Stewarts and Lloyds, UKEA, Vickers Armstrong and Wolverhampton and Birchley Rolling Mills Ltd.

My

recollection is that Thomas Perry probably closed about 1980. I have found the following information on the recent history of the company.

Thomas Perry Ltd became a part of the British Rollmakers Corporation Ltd [BRC], formed in 1942 from the merger of R. B. Tennent Ltd of Coatbridge, Lanarkshire, C. Akrill Ltd of West Bromwich and Thomas Perry Ltd.

In 1947 a new company Midland Rollmakers Ltd was formed and construction of a new plant commenced on a greenfield site in Crewe Cheshire. This opened in 1951. Work was transferred gradually from the Akrill works to Crewe and Akrill closed some time in the 1950s or 1960s (although the trade name was retained and used by Midland Rollmakers).

In 1969 Johnsons Rolls of West Bromwich was acquired by BRC [When this closed I do not know but I have a feeling that it did survive for very long after the acquisition and perhaps closed in the early 1970s.]

In the early 1970s there was a serious proposal to merge BRC with Davy International, which in addition to making rolls also had a very large business in constructing rolling mills and other steelworks plant. This proposal was referred to the Monopolies and Merger Commission which, after extensive investigations, concluded in its report of 1974 that the merger should not be permitted on the grounds that it was not in the public interest. BRC therefore stayed as it was for the time being.
| | |
| --- | --- |
| | The site today, looking down Ash Street to the junction with Highfield Road. |
As I have previously indicated Thomas Perry Ltd was still going strong when I left at the end of 1973 and still working in 1978/79 when I went there to look up old colleagues. I think, however, that things were becoming difficult for rollmakers generally in the late 1970s and early 1980s, for a variety of reasons:
foreign competition

technological changes in the steel making industry meant that fewer rolls were required

perhaps more significantly, the shrinking of the British metals industry - and particularly of the British Steel Corporation which was the main domestic customer - reduced the size of the market

developing countries to which rolls had been supplied (Perrys supplied steelworks in Turkey , India and South Africa) were perhaps beginning to install their own production capacity
With reference to this last point I recall visiting Midland Rollmakers in about 1984 (in a professional capacity) and being told that a significant part of Midland Rollmakers income was being derived from selling (perhaps under licence) its roll making technology abroad.
In 1982 BRC merged with the Sheffield forged roll manufacturers, Firth Brown, Beardmores and Hadfields to form the Sheffield Forgemasters Group. Whether Perrys closed prior to this merger or as a consequence of it I do not know. Certainly as the smallest, oldest and least technologically advanced of the BRC companies it would have been vulnerable. If Perrys did close as a consequence of the merger then it must have been operating as late as 1982; unfortunately I have not been able to establish its closure date.
However as late as 2003 Sheffield Forgemasters was filing reports on Thomas Perry Ltd to Companies House, describing it as a non trading company with Sheffield Forgemasters Ltd as its immediate parent company. Perhaps this argues that Perrys works was closed as a consequence of the formation of Forgemasters but the company was not formally wound up.
In 1998 the cast rollmaking interests of Sheffield Forgemasters were sold to Atchison Corporation of Kansas USA.
RR B Tennent survived as part of the Sheffield Forgemasters Group until the late 1990s and Midland Rollmakers closed only in 2003 when Atchison Corporation itself went into administration.
I think that parts of Forgemasters were subject to a management buy-out and there still exists some rollmaking capacity in Britain (mainly I think Forgemasters in Sheffield and Davy Roll on Tyneside) although as far as I know all of the former BRC works are gone.
The Thomas Perry site at Highfields Road (including I think some of the buildings in which I worked) has been occupied for some years by a steel stockholder, currently C&S Steels (Wolverhampton) Ltd.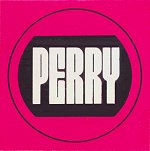 The company logo as shown in the 1967 book published by the company
As a sign of the times I discover that there is now a company called British Rollmakers (China) Ltd which has manufacturing plants in China and on the staff of which are several of the managerial and technical staff from Midland Rollmakers!
---