Read about
Tom Barrett
Henry Segrave described the race in his book "The Lure of Speed" published in 1928. This is his description:
On the night after the zoo-mile race Guinness and I went off to San Sebastian, where we were to drive a couple of supercharged 2-litre Sunbeams. The course consisted of 35 laps, totalling 387½ miles, of a circuit which looked at first all right to the eye, but turned out to be in an abominably dangerous condition. The corners were supposed to be sanded so as to give the tyres a reasonably good grip. But the Spanish workmen, true to their tradition of avoiding any unnecessary work, discovered that it was very much easier to dig clay out of a neighbouring field and sprinkle it on the road rather than go some little distance off and get the sand which they should have used.
This nearly cost Guinness his life, and led to a crash in which his mechanic, Barrett, was instantly killed.
Just before the race I said to Bill that I proposed to hang back for a few laps and see what was going to happen. There were fourteen starters, representing Germany, Italy, and England, and it appeared to me that on this occasion it would be good policy not to go out too hard at first, especially as I had no great experience of this very twisty circuit. Bill, however, said he proposed to go all out from the drop of the flag. As a matter of fact, as I have noticed in many previous events, Guinness's first lap is usually the fastest. Provided his car runs consistently the later laps will not be much slower than the initial one, but there are just a few seconds difference.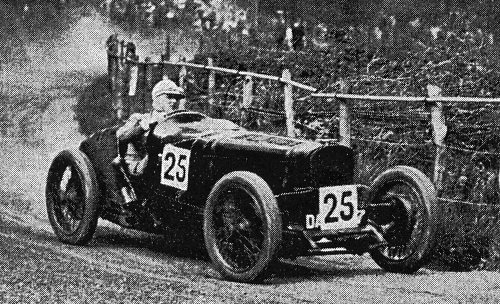 Henry Segrave at the wheel of one of the 2 litre cars at Shelsley Walsh in May 1925.
He was taking one of those treacherous turns on a road surface covered with wet clay, when his car refused to answer its steering, left the road, ran up a steep incline on the left-hand side of the road, then turned over three times down into the road again, and finished up against a stone wall on the right-hand side.
Along the right side of the road were telegraph poles and a railway cutting running parallel with it. Guinness and his mechanic were both flung clear of the car the last time it turned over, and actually went over the telegraph wires, and fell in the railway cutting.
Barrett, the unfortunate mechanic, was instantly killed, while Guinness suffered severe injuries to his head and legs. I shall never forget my amazement and dismay when I arrived at the scene of the crash a few minutes later; and then for four consecutive laps I had to pass the two stretchers carrying them to the field dressing-station, not knowing whether my friend was alive or dead.
One's reaction in a case like this is peculiar, because, knowing Bill as I did, I knew perfectly well that he had not turned over through an error of judgment in driving, and therefore something must have broken in his car to cause the accident. As both our cars were identical, it followed that what happened to his car must happen to mine, and so, not knowing what had caused Bill to turn over, I drove the rest of the race waiting for anything to happen. It made me handle that car as though it was made of glass!
In 1926 Louis Coatalen moved to the STD factory at Suresnes near Paris. Although he spent most of his time in France, he continued to work part time at Wolverhampton.