---
The Early Years

During 1903 and 1904 John Marston and his sons were experimenting with motorcycles. It is thought that they were using a Swiss "Motosacoche" engine mounted on a modified Sunbeam bicycle. Some of the Sunbeam employees were clearly giving thought to motorcycle production because in 1903 James Morgan, the Deputy Works Manager patented a "Little Oil Bath" for chain driven motorcycles. This work came to an end in 1904 when one of the company's employees was killed on one of the experimental prototypes. After the accident John Marston decreed that no more work would be carried out on these machines in his factory. It seems that he never liked them in the first place.

John's aversion for motorcycles continued for several years, during which time much of the early development had taken place and many successful machines had been manufactured locally. His thoughts eventually turned back in this direction in 1911/1912 and he engaged John Greenwood, who had previously worked for Rover and JAP to develop a Sunbeam motorcycle.

Harry Stevens.

The best local motorcycle designer was Harry Stevens, one of the four Stevens brothers who ran A. J. Stevens & Company Limited, just up the road in Retreat Street. Harry would later become well known for his A.J.S. motorcycles that were produced in vast numbers at Graiseley Hill.

Harry was employed by Sunbeam as a consulting engineer and he designed the first Sunbeam motorcycle, a 349 c.c, 2¾ hp. single-cylinder, side-valve machine, with two speed transmission and a forward mounted magneto.

John Greenwood then had the task of preparing it for production. He only made two major modifications which were to place the magneto behind the cylinder and to use a Renold chain running in a little oil bath chain case, to a Sharp divided rear axle.

There was a single plate clutch in the chain case and a well designed two-speed gearbox, which was mounted on a machined frame lug for adjustment. The exhaust pipe led to a 'pepperpot' type silencer and the machine had a diamond pattern frame and Druid type forks. The machine was finished in the usual Sunbeam black, but the early petrol tanks were finished in green with a silver panel bearing the Sunbeam name.
Into Production
The first machines went into production in 1912 and were soon a great success, eventually overshadowing the company's bicycles. They became known as "The Gentleman's Motorcycle". Initially sales were only conducted at existing bicycle sales depots. The machines were hand built, with a selling price of 60 guineas. Almost immediately they featured in competitions and were very successful. Two Sunbeam machines gained gold medals in the London-Exeter-London trial, in December 1912, and the Sunbeam name became well-known to enthusiasts throughout the country.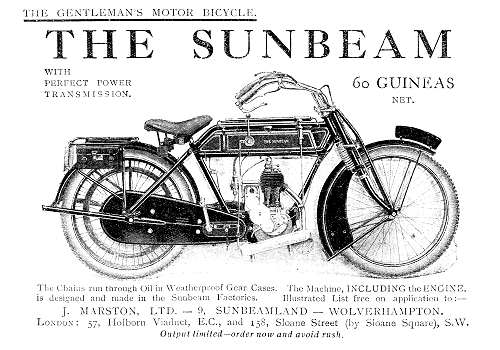 An advert from 1912.
Minor changes were made to the 1913 version, and the familiar black and gold-lined finish made its appearance. June saw the launch of a 6 hp. machine, powered by a JAP 76 mm. x 85 mm. twin engine. It had a 3-speed gearbox, and was a similar design to the 2¾ hp. machine, but with a larger and stronger frame, Druid type forks, and Senspray carburettor. In September, a 3½ hp. machine was launched. It had the same layout as the 2¾ hp. model and included a 3-speed gearbox, and a 1½ gallon fuel tank, which could hold 1½ gallons of petrol and 2 pints of oil. The engine had an 85 mm. bore, 88 mm. stroke, and developed 3½ hp. at 4,000 r.p.m. A Sharp divided axle was fitted to the rear wheel, which allowed the easy removal of the inner tube, and the rear mudguard hinged upwards for easy removal of the rear wheel. The machine sold for 66 guineas.
Sunbeam machines were entered in many of the sporting events and competitions that were well reported in the press. Sunbeam employees, John Greenwood, Tommy de la Hay, and Howard Davies became familiar figures at these events and won many medals. Sunbeam machines were also entered by private individuals, and the company became well-known for its racing successes. During the summer, Sunbeam machines were ridden up three mountains in what was basically a publicity exercise. Snowdon was climbed on June 6th, Ben Nevis on July 13th, and Mount Tosari (5,825ft) in Java, was climbed a little later in the year. 1913 was a successful year and sales were good.

An advert from 1913.
The first two Sunbeam sidecars made their appearance in 1914. They were both made by 'Gloria' and were called the 'Gloria Number 1' and the 'Gloria Number 2'. Number 1 was for the 3½ hp. machine and sold for 15 guineas, and number 2 for the 6 hp. machine, sold for 24 guineas. Development continued and minor improvements were made to the 3½ hp. and 6 hp. machines.
Sunbeam's success in sporting events continued. Tommy de la Hay and John Greenwood won gold medals in the 'Midland Reliability Trial', riding 6 hp. machines. Vernon Dudley, Charlie Nokes and Joe Dudley won awards on
3½ hp. machines. The most notable racing success of the year was achieved by Howard Davies, who came joint-second in the senior T.T. Sunbeam also won the team prize.
---