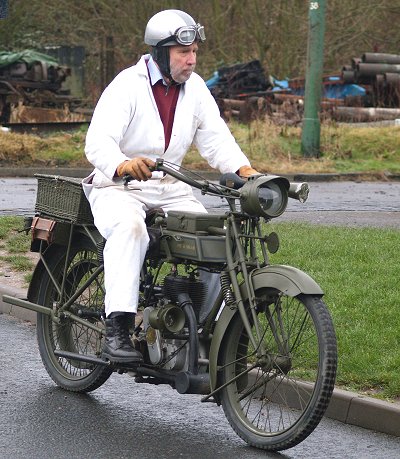 Ken Norton riding the Black Country Living Museum's 3.5 hp. Sunbeam military machine. This is the French version with belt drive.
The machines were finished in matt khaki with black lining and gold lettering. Sunbeam also produced some machines for the French army, which were the only Sunbeams produced with a belt drive.
In 1915 it was becoming difficult to obtain JAP engines, due to sales to the War Department, and so the 6 hp. machine was modified to accept a Sunbeam 6 hp. 73 mm. x 95 mm. twin engine.
The modified 6 hp. machines were also sold to the War Department, and were in service in Russia and Italy. Sunbeam also launched two new sidecars, 'Number 1' and 'Number 2'. These were built by Charles Hayward, who later joined A.J.S. He started in a loft at the Sunbeam works, but was soon forced to move due to lack of space.
Nine gold medals were won by Sunbeam in the 1915 Style Cop hill climb. This was mainly due to the efforts of George Dance on a newly developed 4 hp. single.