---
The Viking Cycle Company

The Viking Cycle Company was formed in 1908 by Alfred Victor Davies at 5 Wolverhampton Road, Heath Town. Before the turn of the 20th century he worked as a railway clerk in North Wales and was transferred to Wolverhampton.

The Davies family lived in Heath Town because it was close to the railway station. In those days a job on the railways was very secure and if you wanted it, you had a job for life.

Although the security was good, the pay was poor and Alfred had a wife and three children to support. He started earning extra money in his spare time by mending bicycles.

Cycling was very popular at the time and so there were plenty of customers. He also started the first motorcycle repair shop in Wolverhampton.
When working on the railways you were not allowed to do any other work than for your employer. The railway company found out about his repair business and he was told that he had to give it up immediately or leave the railway.

He decided to continue with the business and so he left his job. This was a tremendous decision considering that he had the family to support.


From a 1953 advert.
It was an uphill struggle at first and the company eventually outgrew the Heath Town premises and in 1928 moved to larger premises in Broad Street. The exact location of the shop is unknown, but it's believed to have been on the right-hand side of the street as you go towards Heath Town, near Fryer Street. Viking were only there for a few years because the company soon outgrew these premises, and in 1934 moved to Midland Chambers at 34 Princess Street, where the betting shop is today.

A year later a building was acquired around the corner in Princess Alley to house the works, the Princess Street shop becoming the showroom and offices. Around this time Viking started making frames and so changed a bicycle assembler to a bicycle manufacturer.
Alfred Davies retired just before the Second World War and was succeeded as Managing Director by his son, Reg Davies. Reg got a scholarship to the Grammar School and did very well, coming first or second in every subject.

Unfortunately the family couldn't afford to send him to University, which was a common thing in those days, and so he helped his father in the family business and stayed there for the rest of his working life. He built the business up from a small undertaking in the 1930s to a large scale manufacturing concern, producing around 20,000 cycles a year.

Viking Cycles Limited was formed in 1939 when the company produced about 800 cycles a year. During the war bicycle production ceased and the company was involved in munitions work.

After the war, production rose to 2000 cycles a year and the company decided to form its own road racing team.

Bob Thom joined the company as a player-manager for Viking's first lightweight cycle team and Reg Davies designed a couple of lightweight machines.


The Viking shop, as seen in 2002.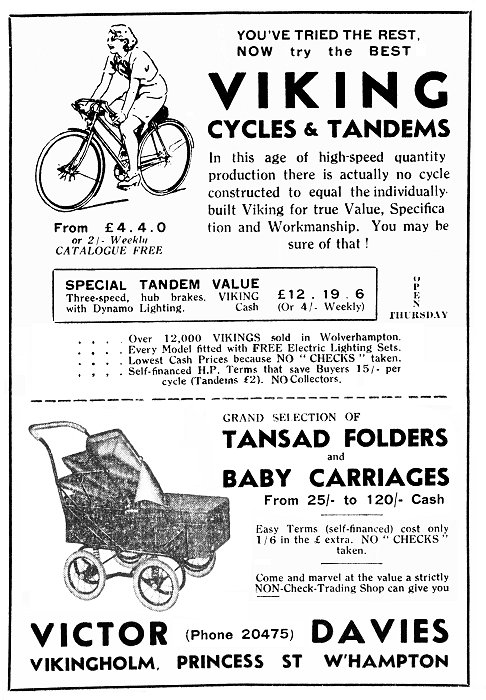 An advert from 11th May, 1937.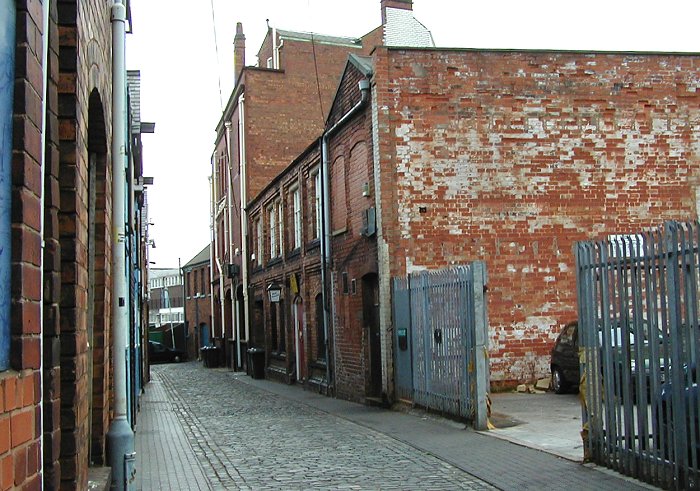 The old Viking works in Princess Alley.
The Viking road racers were introduced in 1948. Bob Thom was a brilliant racing cyclist who led the team to many victories. He started competitive cycle racing in 1935 and became a member of the successful Wolverhampton Wheelers team with Percy Stallard and Ray Jones.
Bob came 6th in the first N.C.U. massed start race at Donnington Park and won the first Midland Centre massed-start championship with the Wheelers taking the team prize. After the war he continued with the Wheelers and became Independent Road Champion when the British League of Racing Cyclists was formed. He was also in the first B.L.R.C. team to compete abroad. Bob's other success included a win in the 100 Kilos Circuit of Dudley, a win in the Grand Prix at Weston Super Mare and a win in the first Severn Valley Grand Prix, which he repeated in 1848. He also won the notorious 'Tour of the Peaks'.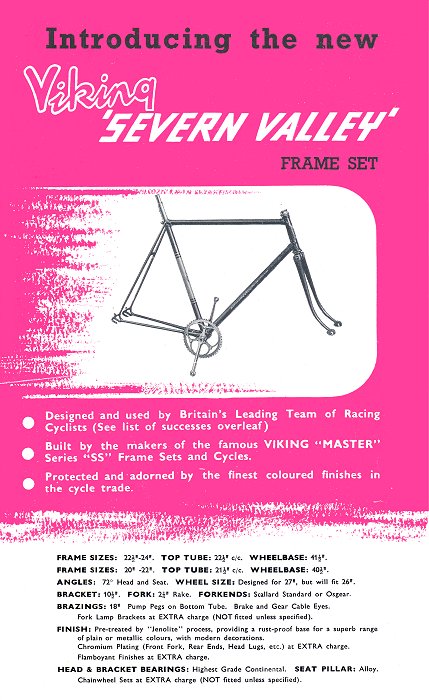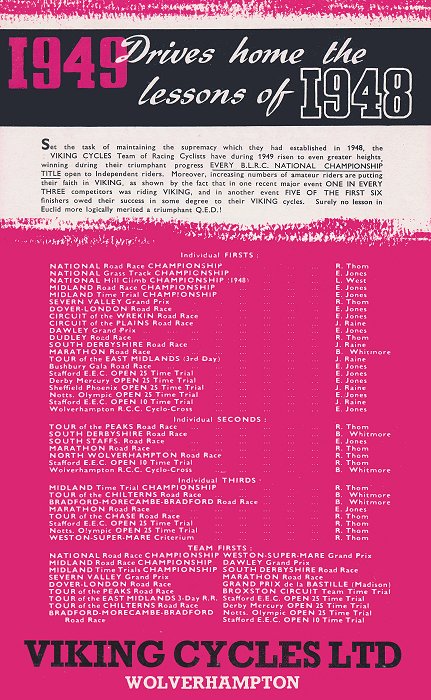 The 1955 Viking racing team.
Left to right:
Bev Wood, Doug Booker, Les Gill, Ian Steel, Ken Jowett.

Courtesy of the late Jim Boulton.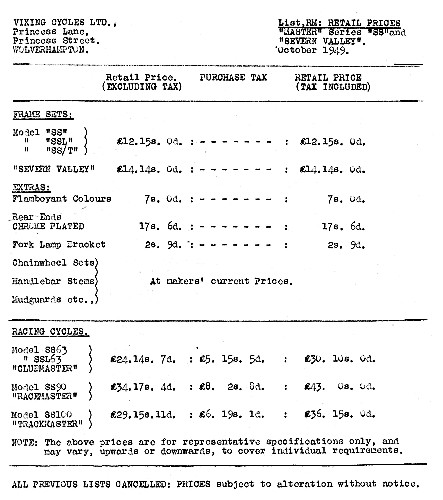 Viking's first cycling team also included Ben Whitmore and Bill Allen and Bob led the team to victory in the B.L.R.C. championship in 1948, 1949 and 1951. Another team member Ian Steele, won what was perhaps their most important triumph when he came first in the first Tour of Britain in 1951.
Len West won the 1948 National Hill Climb.
Bob Thom won the Tour of the Peaks Road Race.
Ben Whitmore won the Ealing Road Race.

Bill Allen won the 1948 Midland Championship Road Race.
Harold Johnson won the 1948 Morecambe - Bradford Road Race.



Read more about
Bob Thom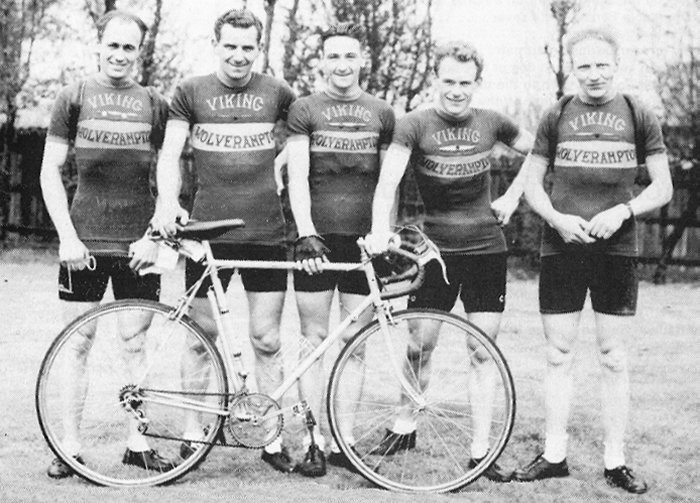 The 1951 Viking Tour of Britain team. Left to right: Ben Whitmore, Bob Thom, Fred Nicholls, Johnny Welch, and Ted Jones.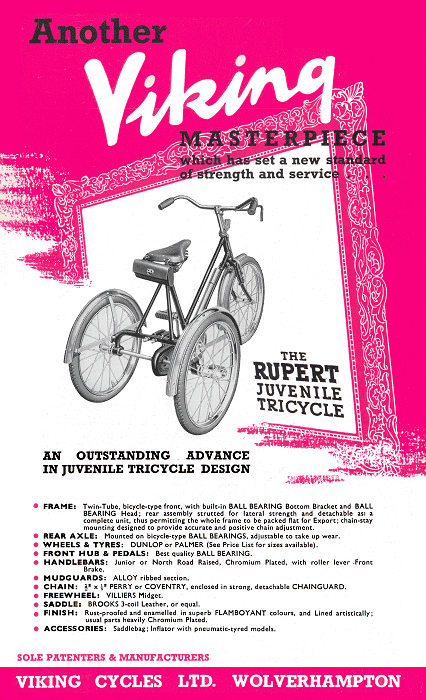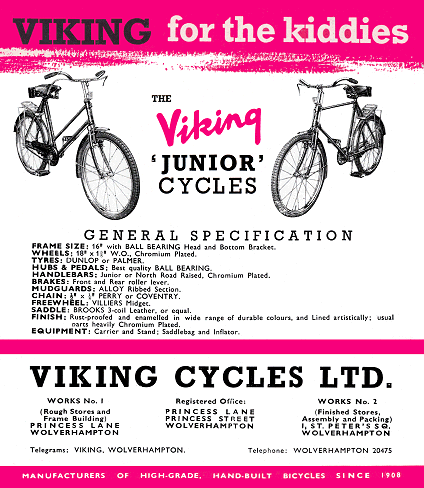 Prior to Viking's success in lightweight road racing the company made large numbers of heavier roadster machines, because there was an almost unlimited market for them, particularly during the post war years. Viking's name soon became synonymous with racing because of the team's many successes and the sport was very popular. In those days there were less cars and so the roads were not so full, and many massed-start bicycle road races were held every year. Racing brought the company an enormous amount of business. Club riding was very popular and large numbers of people purchased club-type machines.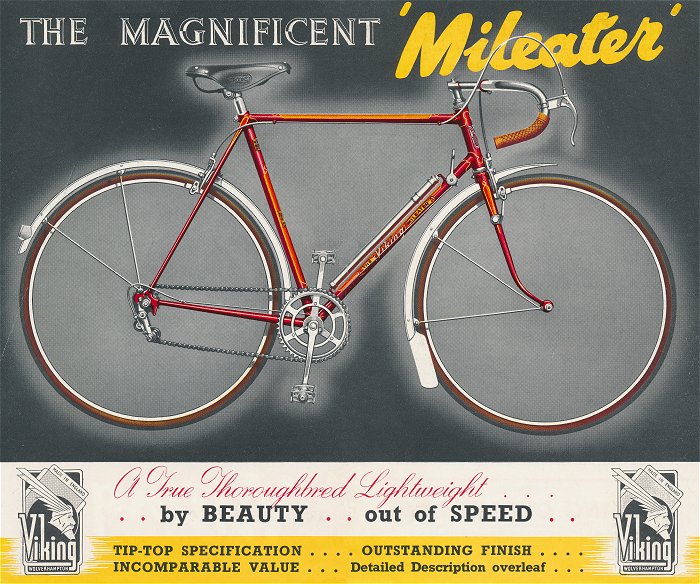 | | |
| --- | --- |
| | The couple in the photograph are Dorothy and John Welch. John was 5th in the 1954 Tour of Britain, in the Viking team, and Dorothy was 1949 national Hill Climb Champion. |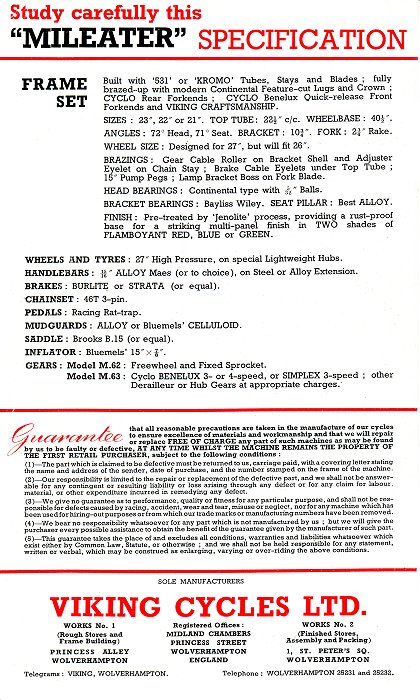 Viking had 1250 bicycle dealers throughout the country supplying club-type machines and became one of the premier names in the business. Dealers were queuing up to get onto Viking's books.

In May 1955 it was decided to separate the manufacturing side of the company from the retail outlet and manufacturing premises were obtained in Merridale Works, Russell Street and the Princess Street shop continued as Victor Davies Cycles.


Hand-filing a Viking racing frame.
| | |
| --- | --- |
| Merridale Works. | Production at Russell Street began in a small part of the works, but as sales increased the company expanded into other parts of the works including the central courtyard. The bicycles were designed by Reg Davies, who was an experienced club rider and so had the necessary experience to design a good racing machine. The machines were built to a high standard using seamless T.I. tube or Reynolds type 531 butted tube. The best lightweight lugs were used and the wheels were assembled from brought-in rims, hubs and spokes. Chromium plating was done locally, some customers even asked for the frame itself to be chromed. Every frame was superbly finished with a coat of high quality primer and several coats of paint, each being rubbed-down before the next was applied. Great attention was paid the braising because the strength of the frame depended upon this. |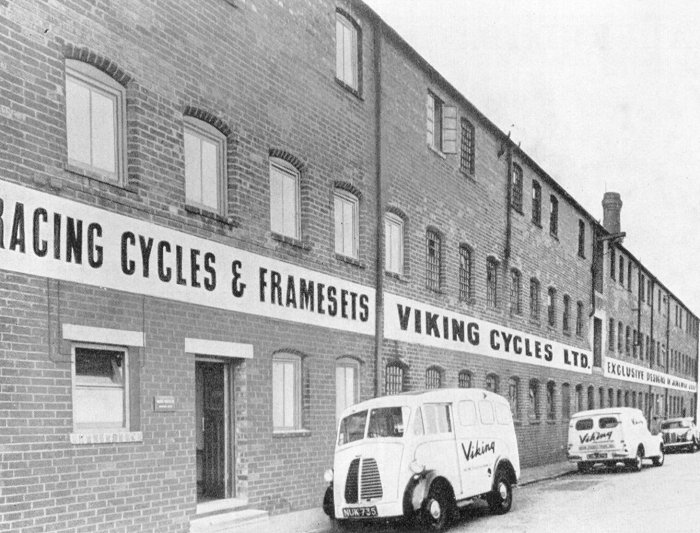 The factory in Russell Street.
Production continued to increase, reaching a peak in 1963 when 20,000 machines were produced with a workforce of around 70. Two of the company's key people were Bob Thom and Les Bremner.

As mentioned earlier, Bob started as racing team manager but soon progressed to Sales Manager, he more than anyone else built the companies reputation for lightweight machines. Les Bremner was Works Manager and a very good organiser. He retired to Miami a few years ago.


The building shop at Merridale Works.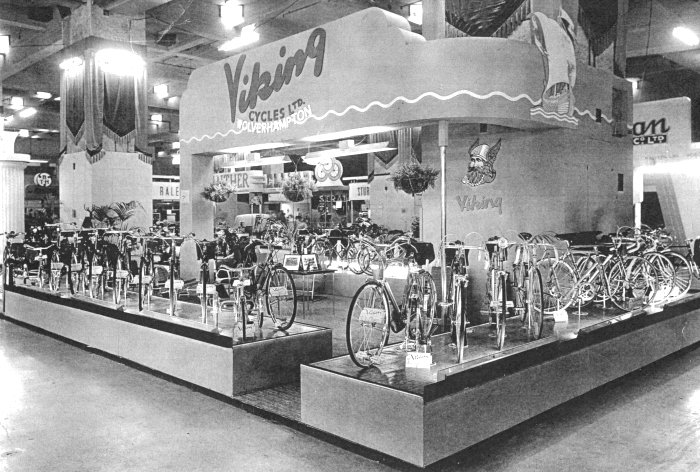 Viking Cycles at an exhibition. Courtesy of Vic Davies.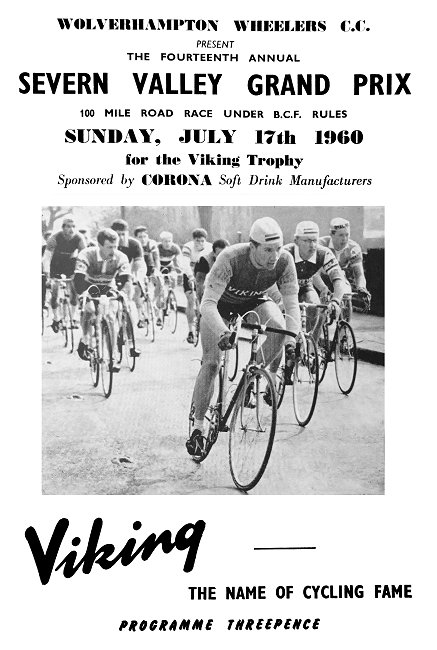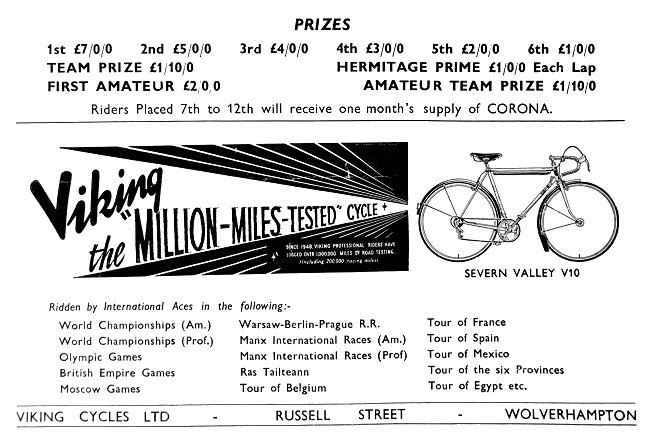 Page 2 of the programme above.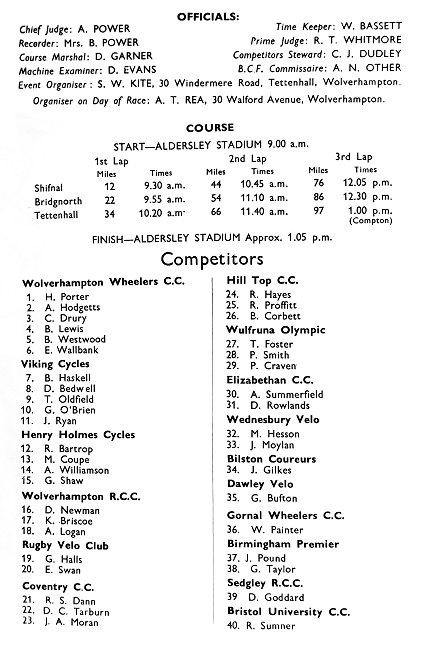 Page 3 of the programme.

The bicycle badge that was used from 1960 onwards. Courtesy of Vic Davies.
In the mid 1960s things started to go wrong for the company. There was a recession in the club-cycling part of the business and dealer's sales were falling. Reg Davies always ploughed the profits back into the company and so when cash was in short supply there was nothing to fall back on. The main component suppliers wanted payment within 30 days, whereas dealers would take a long-time to pay and there was no cash-in-hand to solve the cash flow problem.

At this time the club-market continued to fall but there was an up-and-coming market for children's cycles. Reg Davies responded brilliantly to this by designing a children's machine with a unique frame. As children grow rapidly it was commonplace to buy several different sized machines for a child from the age of 5 to the age of 10. Reg solved this problem by designing a juvenile machine in which the frame grew with the rider. This was achieved by using telescopic rear stays and a telescopic seat tube. The idea was very successful and this market soon accounted for three quarters of the company's turnover.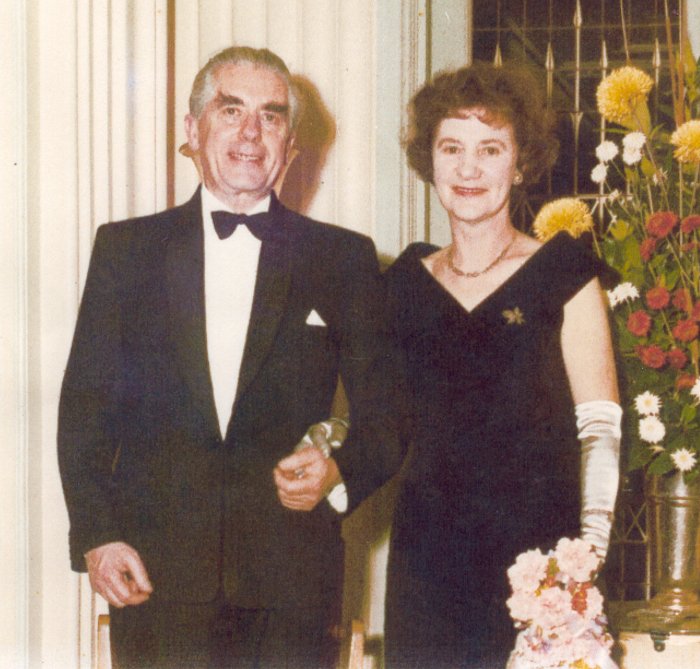 Mr. and Mrs. Reg Davies at the Cycle and Motor Cycle Industries Association dinner at Park Lane, London in about 1960. Reg was Vice President of the Association. Courtesy of Vic Davies.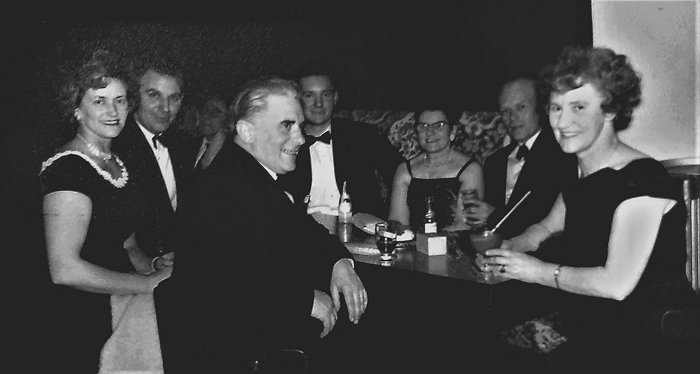 The Viking senior management team and their spouses at a dinner organised by the National Association of Cycle Traders. It took place in a Liverpool hotel in the early 1960s. Left to right: Jean Thom (Bob Thom's wife), Bob Thom (sales and racing team manager), Reg Davies (managing director), Vic Davies (purchasing director and Reg's son), Dot Anderson (company secretary and Reg's sister), Ted Anderson (non-executive director and Dot's husband), and Mair Davies (non-executive director and Reg's wife). Courtesy of Vic Davies.
| | |
| --- | --- |
| This advert from 1964 shows the wide range of products that were sold in the Princess Street shop. | Although the production of juvenile machines partly compensated for the loss of the lightweight club-market, it wasn't enough to save the company and production ended in 1967. During the last two years Reg Davies worked with Frank Williams who was assembling Viking bicycles and on his retirement the company closed. The business was purchased by two Americans who started it up again in Londonderry. Viking Cycles still exists in Northern Ireland today, but as a bicycle assembler, assembling cycles from brought-in spares. |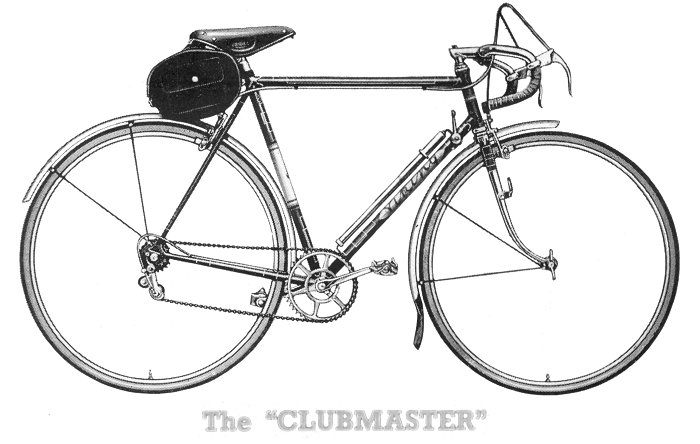 The Clubmaster bicycle of 1961 was designed for the hard riding clubman. It had an 'SS' frame and forks, G.B. alloy brakes, Williams C34 chain wheel set, Perry or Coventry chain and a Simples 3 speed Gear. The machine sold for £30.10s.0d. Photo courtesy of the late Jim Boulton.
The Trackmaster bicycle of 1961 had an 'SS/T' frame and forks, Reynold twin roller chain, fixed gears and Brooks B17 saddle. The machine sold for £36.15s.0d.

Photo courtesy of the late Jim Boulton.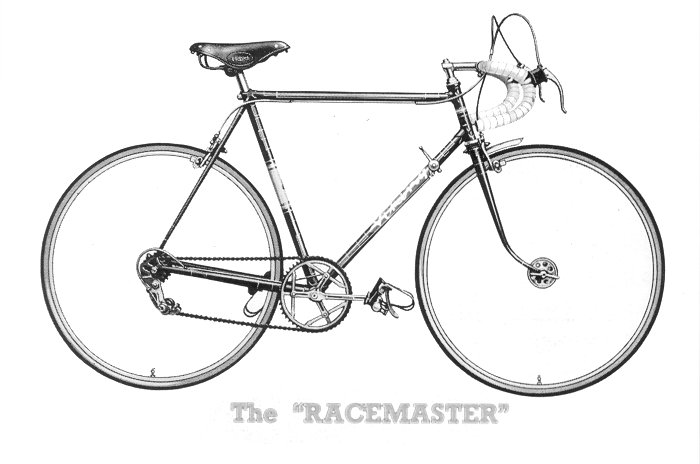 The Racemaster bicycle was an extremely reliable competition machine. It had an 'SS' frame and forks, Williams or continental chain wheel set, Simplex 4 speed gear and a Brooks B17 saddle. Photo courtesy of the late Jim Boulton.
The 'SS' frame set used feature-cut lugs and Reynolds 531 butted tubes, stays and blades. It had a 41.5inch wheelbase and was available in sizes from 21 to 24inches. It accepted 26inch or 27inch wheels and had chrome plated front forks.

Photo courtesy of the late Jim Boulton.
The 'SS/T' frame set used Reynolds 531 butted tubes, had a 40.5inch wheelbase and chrome plated front forks.

Photo courtesy of the late Jim Boulton.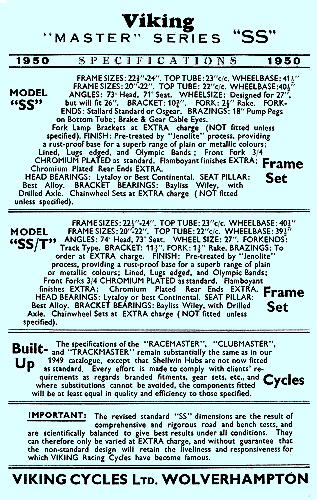 Vic Davies and his father Reg Davies pushing their cycles out to the ferry aircraft at Southend Airport, on route to Switzerland at the start of a cycling holiday.

Courtesy of Vic Davies.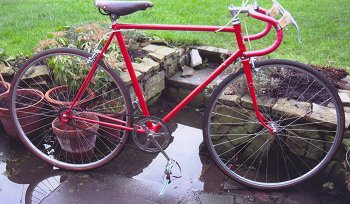 A recently restored Trackmaster.
Sadly for Reg, his wife Mair suffered a stroke in 1971 and he cared for her until her death in 1981. They were a close couple who had been married for 48 years, and her death was a bitter blow. After a period of depression he began to concentrate on the loves of his life; music and poetry. In his teens he played the piano, composed music, and wrote many poems. He now began to write anew and composed many piano, choral works and poems. He also produced a book of his poetry called "Broken Glass" to raise funds for Compton Hospice.

His creativity knew no bounds. In the late summer of 1984 he donned a pair of pumps and jogged down his garden path into Poplar Road, Penn Fields, Wolverhampton. After about 50 yards he was out of breath, but six months later at the age of 77 he completed the Black Country Marathon, none stop, and a new running career began.

Between 1984 and 1994 Reg ran a total of 9,000 miles, competing in ten full marathons and dozens of shorter races. This was an incredible record for someone of his age, but all the more incredible because at the time he was an asthmatic and suffered from Parkinson's disease and mild arthritis. He became the oldest member of the "Running Sixties" Club and was one of ten remarkable pensioners who ran from John O'Groats to Land's End, and later from Paris to London. He celebrated his 80th birthday by running ten miles up and down Snowdon from Llanberis.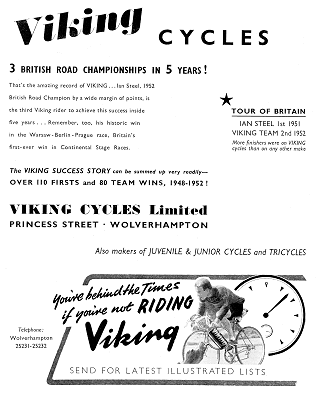 Reg did a lot of fund raising for charities. In 1988 he ran with his son Vic from Wolverhampton to North Wales for the Chest, Heart and Stroke Association, in memory of his beloved wife Mair, and the following year participated in a 512 mile relay from Dundee to London, for the same charity. Also in 1989 he was the first to finish the London Marathon in the over 80s age group.
When his daughter-in-law, Celia, fell ill with cancer, he helped Vic to raise over £7,000 for Wolverhampton's Royal Hospital by running a double marathon relay from Wolverhampton to the top of the Wrekin and back.
Sadly Celia died in October 1991 when Reg was about to celebrate his 84th birthday by running 84 miles in a circuit around West Park, Wolverhampton with a team from Wolverhampton Road Runners.

He immediately re-dedicated the run in her memory and in the process raised £2,500 for Compton Hospice, where she had died.

During his running career Reg raised over £25,000 for charity, became a Black Country celebrity and was greatly respected by the national running fraternity.

His last fund raising venture occurred on 22nd May, 1994, when at the age of 87 he ran and walked the last 17 miles from London to Brighton. He was joined by his son Vic and two of his granddaughters. Sadly this was to be his last year, as he died of cancer on 9th November, 1994. Reg was a truly remarkable man.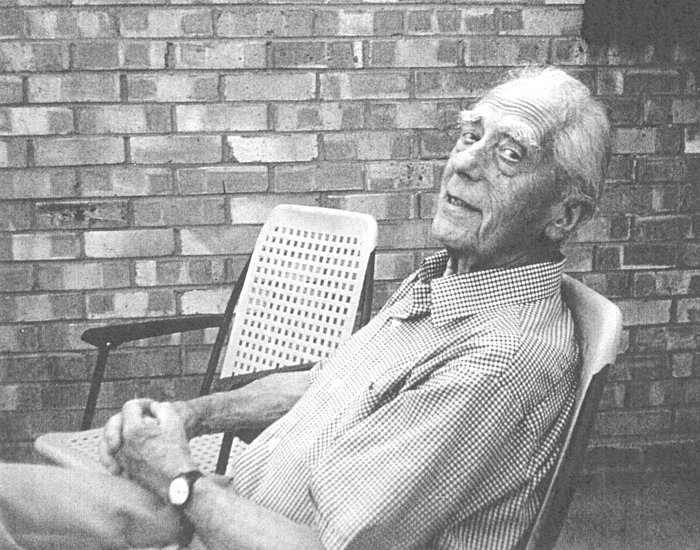 Reg Davies in later life. Courtesy of Vic Davies.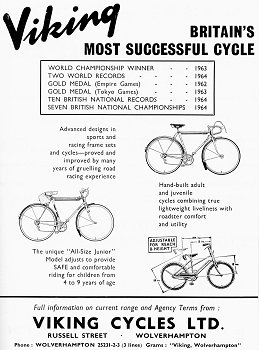 An advert from 1966.
I would like to thank Vic and Karen Davies for all of their help in producing Viking's history. Vic is Reg Davies' son and he worked for the company as Purchasing Director until 1966. Thanks also to Nick Robinson.
---