---
By 1801 the poor rates were becoming a burden to the local population because the cost of poor relief increased. The 1801 census lists 736 occupants of Aldridge consisting of 146 families. There were 756 people living in Great Barr, from 113 families. The average wage of a labourer was just one shilling and sixpence a day, which was insignificant when compared to the sums that had to be raised for poor relief:

| | | |
| --- | --- | --- |
| | Year | Amount |
| Aldridge: | 1789 | £157 |
| | 1791 | £179 |
| | 1796 | £261 |
| | 1801 | £384 |
| | 1823 | £502 |
| | | |
| Great Barr: | 1791 | £109 |
| | 1796 | £182 |
| | 1801 | £364 |
| | 1823 | £431 |
| | | |
The population of Aldridge increased throughout the 19th century as follows:
| | | |
| --- | --- | --- |
| | 1801 | 736 |
| | 1861 | 1,179 |
| | 1871 | 1,418 |
| | 1891 | 2,206 |
| | | |
This was made all the worse because agricultural wages were low, and prices were rising due to the war with France.
For generations the farmers were subject to the tithes, which had to be paid annually to the rector. In 1833 the payments to the Parish of Aldridge, which included Great Barr, amounted to £1,098, a huge sum at the time. The farmers certainly had something to complain about considering that the most a farm labourer could earn was about ten shillings a week.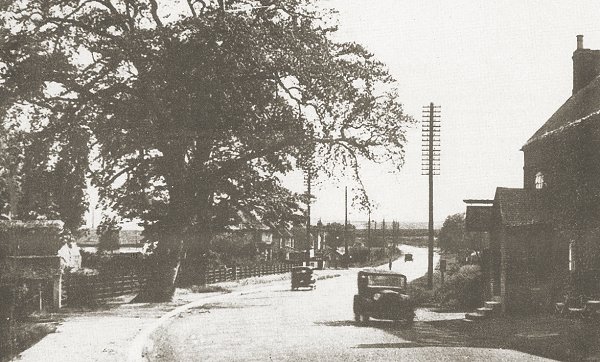 Chester Road and the Irish Harp pub. From an old postcard.
Improvements in transport
In the 18th, and 19th centuries, many roads were improved in the area, and maintained by turnpike trusts, set up by individual Acts of Parliament. They had the power to collect tolls to maintain roads, and often erected toll houses for the purpose. The first roads to be improved in the Aldridge area were Chester Road, Sutton Road, and Lichfield Road.
The early roads were just dirt tracks, repaired with local stone and gravel from Aldridge gravel pit by Coppy Hall, on land acquired by the parish at the time of the enclosures. By the time gravel was being extracted for road repairs, Coppy Hall was a school run by the Rev. James Lomax, and later by the Rev. Davids. The gravel was extracted for around forty years, then later taken from a site near Barr Common Road, opposite the junction with Longwood Road.
The early roads were not only difficult to negotiate in wet weather, but could also be dangerous in another way. In 1703 the Shrewsbury coach was robbed by a gang of six men and three women, who committed many other robberies before being caught. Most travellers relied on the horse-drawn coaches, which called at local coaching inns to pick-up passengers, and change horses. One of the most popular coaching inns in the area was the Welsh Harp at Stonnall.
The Wakeman family who were Aldridge farmers, with a stable in High Street, ran goods wagons weekly to London and Chester via Chester Road. They often took passengers, who couldn't afford to travel on the coaches. As other roads improved, traffic on Chester Road declined, in favour of the newly built roads such as Telford's Holyhead Road.
An Act of Parliament was passed in 1759 for the turnpiking of Chester Road from Castle Bromwich to Chester, in four sections. The southern section was from Castle Bromwich to the Welsh Harp, where the tolls were collected at a toll gate. Three pence was charged for a horse and cart, one penny for a packhorse or mule, ten pence for a score of cattle, and five pence for a score of pigs or sheep. The parishioners were expected to help maintain the road, but like so many toll gates it was an easy matter for travellers to avoid paying the tolls by bypassing it. They could temporarily leave Chester Road and cut across the commons, or travel through Pelsall, or Walsall Wood and Aldridge.
Canals first came to the area with the building of the Wyrley & Essington Canal which was built to link the coalfields of Wyrley, Pelsall, and Essington, with the Birmingham Canal at Wolverhampton. An Act of Parliament was Passed on 30th April, 1792 to allow the work to commence. The canal opened on 8th May, 1797. The canal came to Catshill, and then to the Lichfield Canal and Chasewater.
Aldridge's local canal, the Daw End Branch, which opened in 1800, was built to carry limestone from the limestone quarries and limeworks at Hay Head to Catshill Junction on the Wyrley & Essington Canal. In 1847 it was extended when the Rushall Canal opened from Longwood Junction on the southern end of the Daw End Branch to Rushall Junction on the Tame Valley Canal.
The canals brought a new lease of life to the limestone industry which had previously been in decline. The limestone at Hays Head was of a high quality, suitable for the making of cement, which sold at four shillings and three pence per quarter of a ton, and was in great demand. There were also lime works at Daw End, Linley, and by Moss Close, then part of Rushall. Some of the seams of limestone were over thirty feet thick, and had to be reached by shafts, two or three hundred feet deep. The canal also helped the development of the local brickworks, and the coal mines around Pelsall, Stubbers Green and Leighswood. By 1851 the blue brick works of Brawn & Arrowsmith (later Joberns Limited), off the Walsall Wood Road had expanded and employed around two hundred people. Other industries that benefitted from the canals were the ironworks, millwrights, and nailers at Pelsall.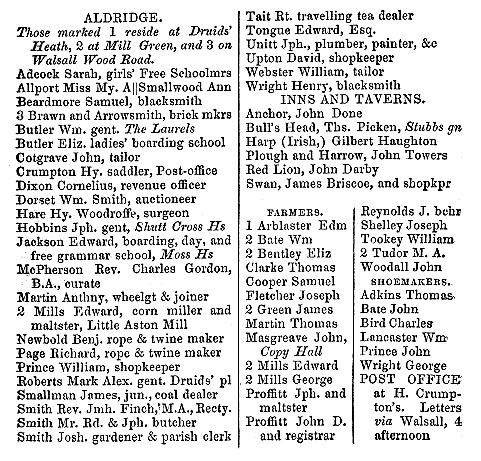 From William White's 1851 History, Gazetteer and Directory of Staffordshire.
The railway came to Aldridge in 1879 when the Midland Railway Company opened the line from Walsall to Castle Bromwich. It had been built as the Wolverhampton, Walsall & Midland Junction Railway, and backed by the Midland Railway Company in order to gain access to Wolverhampton from its Birmingham to Derby main line. The Midland Railway acquired the Wolverhampton, Walsall & Midland Junction Railway in 1876 and the line opened for goods traffic on 19th May, 1879. Passenger traffic began on 1st July, 1879. There were five intermediate stations, Penns, Sutton Coldfield, Sutton Park, Streetly, and Aldridge.
Aldridge station stood on the southern side of the town centre, on the west side of Walsall Road. The main building was on the northern side of the line, with a covered shelter to the south. It was initially served by trains running from Birmingham New Street to Wolverhampton High Level Station, via Walsall. The Stationmaster in the 1880s and 1890s was William Beasley.
The passenger service was withdrawn in 1930, and the station closed in 1965. It was later demolished. The line continues to be used, and may one day open again for local passenger services. In January 2013 it was included in a list of proposed station re-openings, and later that year the Transport Board agreed to put £5.8m towards a new Aldridge railway station.
Changes to Local Administration
The Poor Law Amendment Act of 1834 led to the formation of Poor Law Unions, each with a central workhouse. The unions were administered locally by Poor Law Guardians who were elected by the local ratepayers, and inspected by the Poor Law Commission, later called the Poor Law Board.
The Walsall Poor Law Union was formed in 1836 and operated across an area of 31 square miles, which included the whole of Walsall, Aldridge, Bentley, Darlaston, Great Barr, Pelsall, and Rushall. The Central Union Workhouse was built in Pleck Road at a cost of £7,600. It opened in 1838, and could accommodate 350 people. The workhouse was enlarged in 1881 to cater for 464 people, and in 1896 a separate 130 bed infirmary was added.
In 1881 Aldridge became part of Walsall Rural Sanitary District, formed under the terms of the Public Health Acts of 1873 and 1875. It covered the same area as Walsall Poor Law Union, and remained until 1894 when it was replaced by Walsall Rural District Council, under the terms of the 1894 Local Government Act. The Council met at the workhouse, or at the Clerk's Offices at Leicester Street in Walsall.
For many years the chairman of the Rural District Council was Joseph Clare who lived in Longwood Road. He worked in the leather industry, and sadly lost his right arm in an accident whilst using a machine to split hides. Within a month of the accident he was back at work, and managed to operate the machine with just one arm. He became a Justice of the Peace and tried to help some of the more unfortunate people who came before him.
In the mid 1880s Aldridge began to receive mains water from the South Staffordshire Waterworks Company. In 1884 the Medical Officer made the following report:
"The South Staffordshire Waterworks Company during the last few months have brought their mains to Aldridge. Several houses in the village have been, and others are being connected. They have also extended the mains on the Beacon side of Great Barr, and three cottages there have had water laid on. The water supply at Ten House Row has been improved, the pump having been taken up and the well cleansed. The same has been done in Pig Lane in connection with a pump and well supplying fifteen houses. At Pelsall, eighty seven houses have been furnished with the company's water."
As well as a good mains water supply, Aldridge also had its own gasworks at Leighswood, which was later purchased by Walsall Corporation.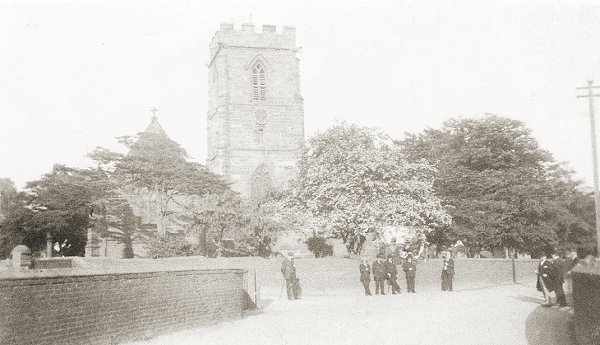 St. Mary's Church. From an old postcard.
St Mary's Church

The church, which was built sometime before 1257, has a sandstone tower built in the fourteenth century. It was extensively renovated and rebuilt in between 1841 and 1853. The surviving old footings were built from local limestone, as may have been the whole of the original church, which was a long narrow building with a short nave, a longer chancel, and possibly a chantry.

The rebuild in the middle of the nineteenth century included the addition of the north vestry, and a change in the seating arrangements. An organ and stained glass windows were soon added, after which the church looked much as it does today, apart from the south vestry, which was built in 1975.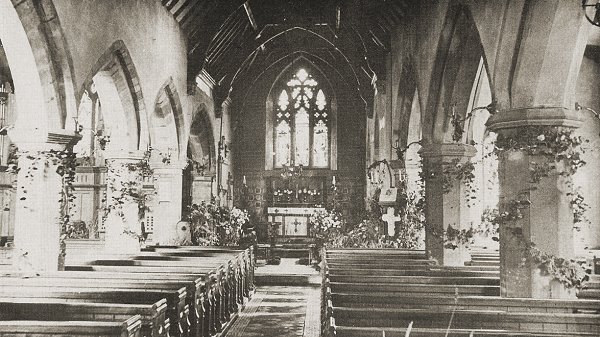 The interior of the church. From an old postcard.
Other churches include the Wesleyan Methodist Chapel in Walsall Wood Road which opened in 1851.

Kelly's Directory 1880. Aldridge:

Private Residents:

Abbey James, Penhard House.
Armstrong Wm. Lamb, Leigh's Wood House.
Arrowsmith Mrs, North Heath House,
Butler John, Bay Tree House.
Chamberlain Ralph, Mount Pleasant.
Clarke Frederick F. Aldridge Lodge.
Cliff Jabez.
Booke William Harry, MD
Cresswell Benjamin, Northwood Villas.
Dudley Rev. Henry Thornton, MA (curate) The Beeches.
James Frank JP, Portland House.
Joburns Hoseph, The Grove.
Marlow Thomas, Cedar Court.
Monro William, Northwood Villas.
Morris Joseph Owen, Mount Pleasant.
Pickin Mrs, Sheldon House, Stubbers Green.
Pomfret Richard, Northwood Villas.
Potter George Gybbon, Moss House.
Proffitt Mrs, Woodbine Cottage.
Rowbotham John Henry, Leigh's Wood Villa.
Smith Rev. Jeremiah Finch, MA Rectory.
Smith Mrs, Beech Tree Cottage.
Tongue Captain V, Manor House.
Warr Benjamin, Northwood Villas.
Warr William, Northwood Villas.

Commercial:

Adkins Frederick, boot and shoe maker.
Aldridge Colliery Company Limited. Office, Burlington Bldgs, Birmingham.
Aldridge Gas Company Limited. (Frederick Watson, sec).
Arblaster Edmund, farmer, Druid's Heath.
Aston David, grocer and general store and agent for W & A Gilbey, wine & spirit merchants.
Bate William Henry, farmer, Mill Green.
Bates John, boot and Shoe maker.
Beddow John, brick maker.
Bird Charles, boot and shoe maker.
Boys John, farmer, Shrubbery Farm.
Butler John Mrs. girls' school.
Chamberlain Ralph, architect and surveyor, Mount Pleasant and at Walsall.
Colley Richard, butcher.
Cooke William Harry, MD, surgeon. Walmer House.
Cotgrove John, tailor.
Crumpton Henry, saddler.
Darby Ann Mrs, Red Lion.
Davenhill Henry, farmer.
Elkin George Oldham, cabinet maker and hosier, Stubbers Green.
Gisborne William, stationer.
Green Samuel, grocer.
Halford Charles, boot and shoe maker.
Hall Elizabeth Mrs, Irish Harp, Mill Green.
Haughton William, farmer, Berry Farm.
Highway Thomas, miller and farmer.
Howse William, Anchor
Insley John, wheelwright.
Joberns Joseph & Company. Brick and Tile makers, Aldridge blue tile works; and at Walsall.
Joberns Mary Ann Mrs, Bull's Head, Stubbers Green.
Leigh's Wood Colliery Company Limited.
Longmore Isaiah, farmer.
Marlow & Potter, solicitors.
Mills George, farmer, Mill Green.
Myatt James, farmer, Red House Farm.
Myring Thomas, bricklayer.
Nash John, baker, Victoria House.
Osbourne Henry, shopkeeper.
Payne Clement, farmer and dairyman.
Perry John, market gardener, Druid's Heath.
Potts Thomas, grocer and corn factor.
Proffitt Joseph, farmer and maltster.
Reynolds Vincent, butcher and farmer.
Rhodes Jane Mrs, The Swan.
Riddell William Winter, coal master, Victoria Colliery.
Robinson John, Blacksmith.
Rodgers John, Butcher.
Shaw Joseph, farmer.
Shepherd Ann Mrs, farmer, Bosty Lane.
Smith Daniel, wheelwright.
Street Mary Ann Mrs, The Elms.
Towers Joseph, Plough and Harrow, Mill Green.
Tudor Mary Miss, farmer, Mill Green.
Victoria Brick & Tile Company Limited.
Watson Frederick, boarding and day school.
Webster Adie, tailor and post office.
White Charlotte Mrs, Tobacconist.
Woolner Henry, drill prop, Barr Common.
Wright Henry, Blacksmith.
---