---
The population greatly increased as families moved into the area, mainly due to the improvements in transport which allowed people to live in a rural area and commute to jobs in the Black Country and Birmingham. The population in Aldridge increased as follows:

| | |
| --- | --- |
| 1901 | 2,478 |
| 1921 | 11,500 |
| 1981 | 26,500 |
| | |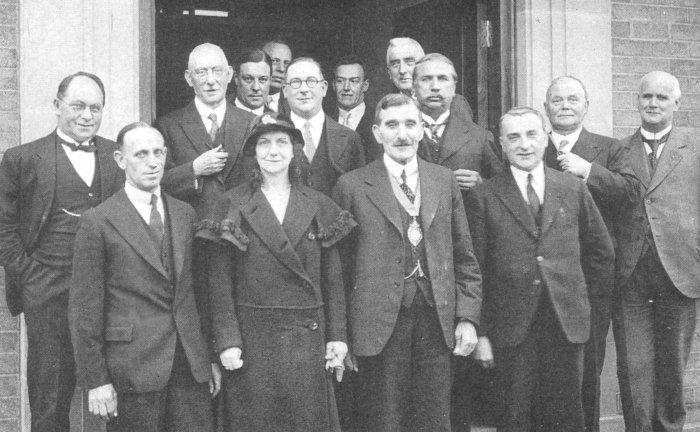 Aldridge Urban District Council in 1934.
In the Second World War local industries consisted of brick making, engineering (several small engineering firms), and plastic moulding at Streetly Works which also produced munitions. It later concentrated on railway detonators, and small plastic mouldings
Recent Industries
Several new factories appeared in the 1950s, mostly located on the Redhouse Industrial Estate, Empire Industrial Park, and also on land near Walsall Wood.


An advert from 1958.


An advert from 1958.

An advert from 1974.

In 1951, a new GKN subsidiary, Blade Research & Development (BRD) was formed on the Redhouse Industrial Estate, employing around 1,000 people to produce aero-engine turbine blades.

Following a fall in demand in the late 1950s, the BRD factory switched production to constant-velocity joints and drive shafts for vehicles.

Another company that came to the town in the 1950s was Birlec, a manufacturer of industrial electric furnaces. The business was founded in 1927 in Erdington, Birmingham, as the Birmingham Electric Furnace Company.

In 1954 it was taken over by Associated Electrical Industries (AEI) and relocated to Aldridge where electric arc furnaces with smelting capacities of up to 100 tons were produced. Sadly it has since closed. Another long-standing company, the Ibstock brickworks in Stubbers Green Road continues to produce large quantities of bricks of all kinds.
Another successful firm was Harold Bird & Son, golf club manufacturers based at Northgate. In the late 1950s Birlec, which manufactured industrial furnaces moved to Aldridge, but has now closed. In 1968 Aldridge Plastics Limited opened to produce plastic injection mouldings. It survived until 2007.

In January 2011 GFP Engineering Limited moved to Morford Road to produce Glass Reinforced Plastic (GRP) mouldings.

Another important company that moved to the area in the 1950s is McKechnie Brass, the last brass extrusion manufacturing company in the country.

It used scrap brass sourced in the UK to produce brass rods and profiles for a range of products including pins for plugs, door locks and padlocks, lift tracks and overhead conductive wire for the railway industry. Sadly the firm went out of business in 2013, having accrued debts of £3.8 million. Sixty people lost their jobs.


An advert from 1976.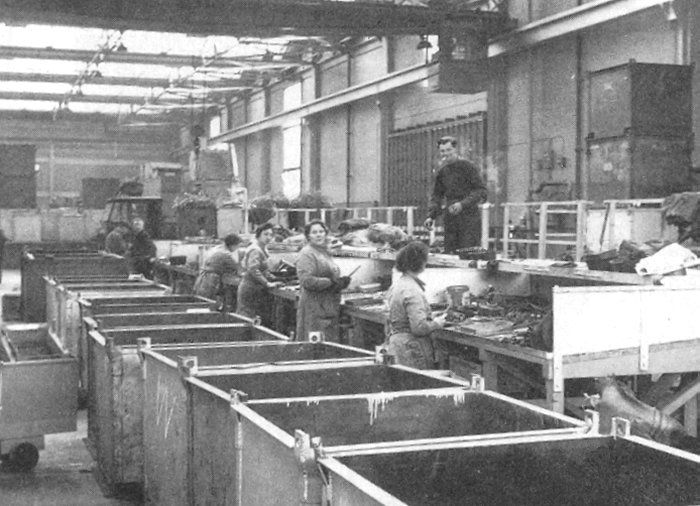 McKechnie Metals Limited in 1958.

An advert from 1976.

Local government changed several times in the latter part of the twentieth century, beginning with the formation of Aldridge Urban District Council in 1934. The council, formed from the eastern parishes of the former Walsall Rural District Council, included Aldridge, Great Barr, Pelsall, Pheasey, Rushall, and Streetly. The Council met at new offices in Aldridge.

In May 1964 Aldridge was twinned with Montelimar in France.

In 1966 Aldridge and Brownhills urban districts merged, then in 1974, under the terms of the 1972 Local Government Act, the Metropolitan Borough of Walsall was formed, including both Aldridge and Brownhills. It had a total population of over 270,000.

The population of Aldridge continued to grow as large housing estates were built, and people continued to move into the area. Between 1921 and 1981 the population more than doubled, increasing from 11,500 in 1921 to 26,500 in 1981.
In 1933 Anchor Road contained about six houses, but by 1940 it had grown into the centre of a much enlarged village with the new Council House, the police station, the police court, the Avion Cinema, several shops, Aldridge Methodist Church, and more recently Aldridge Shopping Centre, off Anchor Road.

The Avion Cinema opened on the 26th September, 1938, with a visit by George Formby, and a showing of his latest film 'I See Ice'. As well as films, there were variety shows, which were quite popular. The cinema remained open until the 1960s when many cinemas were suffering from declining audiences. It closed on the 30th December, 1967 then reopened as a bingo hall which became The Gala Bingo Club. This survived until the 1st August, 2009, when the building was put up for sale. It was acquired by J. D. Wetherspoon, and reopened on the 9th July, 2013 as The Avion.

The many other local pubs include The Plough & Harrow, on Chester Road, the Old Irish Harp, also on Chester Road, the Boatmans Rest in High Street, and The White House in Bosty Lane.


An advert from 1974.

An advert from 1958.
Aldridge has several sports clubs including Aldridge Cricket Club, founded in 1853, and based at 'The Stick and Wicket' on the green behind the parish church, and Aldridge and Walsall Hockey Club, also based at 'The Stick & Wicket'.
There is also Aldridge Rugby Football Club, formed in 1998 from an amalgamation of Witton and Old Centrals rugby clubs. It is based at the Old Centrals sports ground at Bourne Vale. Another popular sports club is Druids Heath Golf Club which has a championship 18 Hole Golf Course.
There are several activity groups catering for younger people, including Aldridge Youth Theatre in Noddy Park Road where a pantomime and several plays are performed every year. The 1st Aldridge Girl guides, two brownie groups, and a rainbow group meet at the Methodist Church, as does the 33rd Walsall Scout group. The 49th Walsall Scout Group meets at St. Thomas's Church in Churchside Way, and a church youth group meets at St. Mary's Parish Church.
Aldridge has grown into a prosperous suburb of Walsall, with a large population, well catered for by local shops and amenities, and excellent roads and transport. It will no doubt continue to grow, as it is an attractive place to live, and within easy commuting distance of Birmingham and other towns in the Black Country. The many primary schools include Cooper and Jordan (CE), Leighswood, St Mary of the Angels (Catholic) and Whetstone Field. Secondary schools include Aldridge School, and St Francis of Assisi Catholic Technology College.
Although most of the old shops in the centre were demolished, and large housing estates have been built at Coppy Hall, Druids Heath, Leighswood, and Redhouse, many of the better old buildings still remain, and a conservation area has been designated on the eastern side of the village. Some of the buildings are on the Statutory List, and the Local List. They are as follows:
Statutory List:
| | | |
| --- | --- | --- |
| Building | | Listing |
| The Moot House. | | Grade II |
| Bosty Lane Farmhouse and farm building adjoining to the east. | | Grade II |
| Barn south west of Bosty Lane Farmhouse. | | Grade II |
| Nos. 179 and 179A Castlehill Road. | | Grade II |
| The Old Irish Harp Public House. | | Grade II |
| Doe Bank Lane Farmhouse and farm buildings attached. | | Grade II |
| Barn adjoining at right angles to Doe Bank Farmhouse. | | Grade II |
| The Cottage, No. 2 Erdington Road. | | Grade II |
| The Shrubbery, Erdington Road. | | Grade II |
| The Old Rectory, The Green. | | Grade II |
| The Church of St Mary The Virgin, The Green. | | Grade II* |
| Old Hall Farmhouse, Old Hall Lane. | | Grade II |
| Barn approximately 20 metres north of Old Hall Farmhouse. | | Grade II |
| Cedar Court, Walsall Wood Road. | | Grade II |
| Outbuilding approximately 10 metres northwest of Cedar Court. | | Grade II |
| Shutt Cross House, No. 70 Walsall Wood Road. | | Grade II |
Local List:
Building
Police Station, Anchor Road.
Former Avion Cinema, Anchor Road.
Farmhouse, No. 15 Barr Common Road.
Barr Beacon War Memorial, Beacon Road.
Bourne Vale House & Farmyard, Bourne Vale.
Branton Hill Lane Railway Bridge.
Bourne Farm, Chester Road.
Chester Road Railway Bridge.
Erdington Road Railway Bridge.
The Laurels, Knights Hill.
The Old Maltings, Little Aston Road.
Aldridge Court, Little Aston Road.
No. 219 Little Aston Road.
Lee House, No. 23 Walsall Wood Road
Noddy Cottages, Nos. 48-50 Walsall Wood Road.
Whetstone Lane Railway Bridge.
---
References:
Men of Aldridge. James T. Gould. 1957. G. J. Clark Limited, Bloxwich.
Aldridge & District Yesterdays. 1984. Walsall Metropolitan Borough Archives Service.
Walsall Official Town Guides, and directories.
---