The following local manufacturers are listed in William White's 1851 'History, Gazetteer and Directory of Staffordshire':
James Bailey, Willingsworth
William Banks. Ettingshall
William Barrow, Quarry Hall
Bennett & Pemberton, Deepfield
Colbourn & Groucutt, Bankfield
Josiah Cresswell, Woodsetton
Haines Brothers, Willingsworth
Round Daniel George, Daisy bank
Samuel Smith. Rookery Hall
Joseph and Thomas Turley, Coseley Furnaces
Henry Bickerston Whitehouse, Wallbrook
Philip Williams and Sons, Wednesbury Oak
Ironfounders:
David Green, Coseley Foundry
James Johnson, Broad Lane
Edward Sheldon

A section through a puddling furnace.

The most common method of producing wrought iron from pig iron in the 19th century was puddling, invented by Henry Cort in 1784. Pig iron or scrap cast iron was melted in a puddling furnace and stirred with a long pole, which reduced the carbon content by bringing it into contact with air, in which it burned. The puddling furnace heated the iron by reflecting the exhaust gases from the fire down onto it.

In the drawing opposite, the iron would be placed in the central section. Because it was not in contact with the fire, cheaper, poor quality fuel could be used. After puddling, the iron was hammered and rolled to remove the slag.
The large furnaces at Willingsworth, operated by the Willingsworth Iron Company Limited, were founded in 1827 by the Yates Family. The firm was later run by Sir Horace St. Paul, and then the Willingsworth Iron Company. The principal partner was David Kenrick, of Wolverhampton. In 1902 the firm was incorporated into the newly formed Metropolitan Amalgamated Railway Carriage and Wagon Company, which in 1912 became the Metropolitan Carriage, Wagon and Finance Company Limited. In 1939, the ironworks was absorbed into the Patent Shaft and Axletree Company of Wednesbury, then liquidated.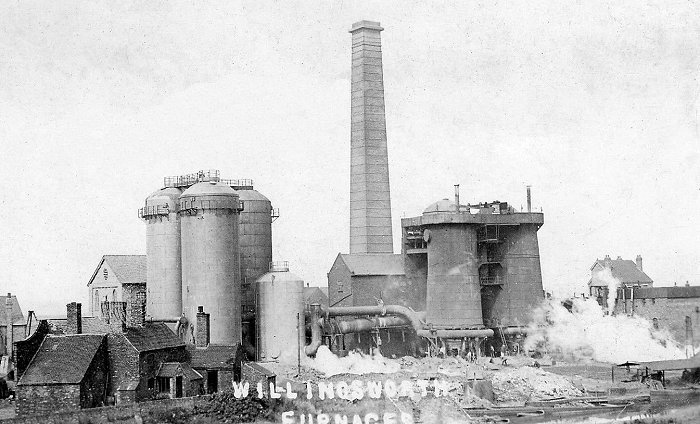 Willingsworth Ironworks. From an old postcard.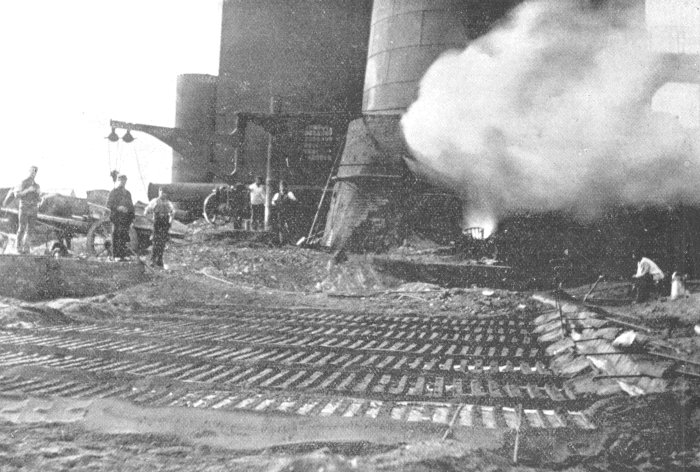 Tapping one of the furnaces at Willingsworth Ironworks. The molten iron was run into channels cut into sand to produce iron ingots. This was known as a pig bed. The iron was called pig iron because during casting, the ingots were likened to a piglet suckling milk from a sow.
Next to the ironworks were large slag heaps and spoil heaps from the adjoining Willingsworth Colliery. The slag heap was known as 'Elephant Rock' because the end that faced the nearby G.W.R. mainline was shaped a little like an elephant's head. The other large spoil heap was known as 'Tiger Rock' because of the different colours in the layers that it was made of. The heaps were destroyed by blasting in the 1980s and a housing estate was built on the site.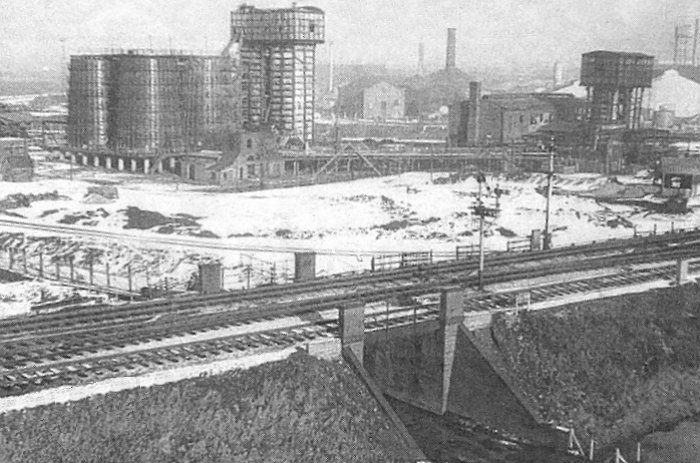 The view from the top of 'Elephant Rock', looking across the Great Western Railway line, where the Midland Metro now runs, towards Chance and Hunt's acid works.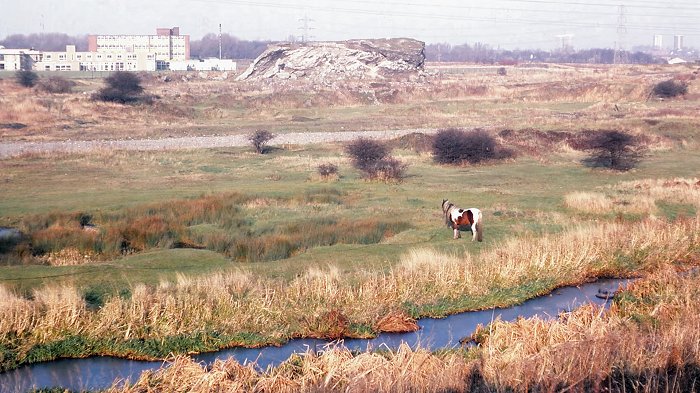 Tiger Rock.
Another early industry was nail making. At the Coppice, many nailers' cottages were built, along with a nail warehouse. The nail makers relied on the ironmonger, the middle-man who supplied them with bundles of iron rods, weighing some fifty or sixty pounds each. He then purchased the finished nails from them, often for tokens instead of cash. The nailers mainly worked in outbuildings next to their cottages and were self-employed, usually working long hours for little reward. The whole family, husband, wife and children could be producing nails. They were totally dependant upon the ironmaster who gave them work when it suited him, and could also delay payment for finished nails until he saw fit.
The nailers were amongst the poorer members of society, often with an irregular income, working extremely hard for many hours at a time, before being idle until more work came along. The industry rapidly declined in the nineteenth century when machine-made nails began to be produced in the Black Country, from about 1830.
Steel pen nibs were another early product being produced both in Coseley and in Sedgley. Each town lays claim to have been the first in England to manufacture pen nibs. Thomas Sheldon, a forerunner of the Sheldons who later owned the Cannon Iron Foundries at Coseley, was making them for Mr. Daniel Fellows of Sedgley, as early as 1806. They were sold by Beilby and Knott, a Birmingham firm of stationers, until about 1828.
Local industries flourished because of improved transport facilities. The local canals made a great difference, as did better roads, thanks to the turnpike trusts. The local railways which came along in the 1850s allowed goods to be rapidly transported over much greater distances, all of which led to the opening of many factories and workshops. Deepfields was ideally situated to take advantage of the new transport facilities. The canal, the railway, and turnpiked roads were close at hand, which led to the opening of furnaces, iron foundries, brick yards and collieries in the near vicinity. One such firm, Edward Sheldon and Company, would later become Cannon Iron Foundries Limited, and Priorfield Furnaces, built for H. B. Whitehouse, which would become one of the largest of their kind in this part of the country. Henry Bickerton Whitehouse was a well-known local ironmaster who was later joined in the business by his son, Benjamin. Samuel Griffiths, in his 'Guide to the Iron Trade of Great Britain' published in 1873, had this to say about the firm:
At Deepfields they have facilities for making sheets and boiler plates equal to any other works in the neighbourhood. The quality of the plates here is good, the sheets are well annealed, and the shears being of the most modern type. Plates and sheets are turned out at Deepfields, not only of good quality, but in a clean and handsome condition.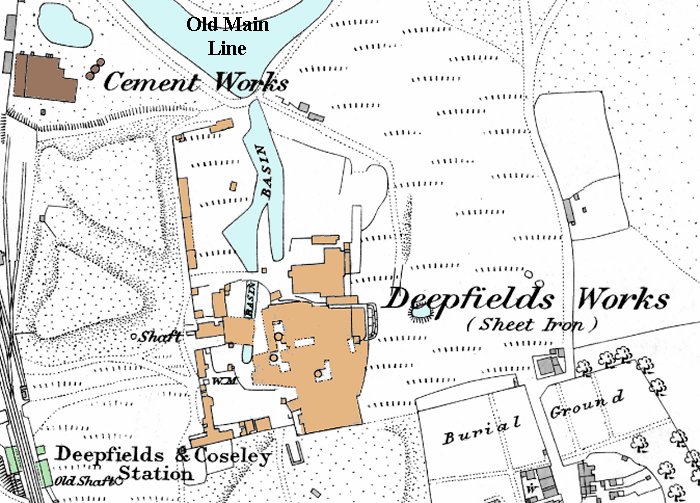 Wednesbury Oak Ironworks to the north of Wednesbury Oak Road were built in 1820 and operated for 100 years. The firm was called Philip Williams & Sons, whose 'Mitre Brand' of best quality iron had a high reputation throughout the world.
In 1833 there were at least 20 screw makers and screw forgers in Upper Ettingshall and wood screw makers, including Enoch Allen, Simeon Allen, William Saunders and Bennett Waterhouse. Fire iron manufacturers established themselves in Coseley and Woodsetton including the Wolverston brothers and Stephen Hipkins of Princes End.
A firm of whitesmiths was founded in Woodsetton and locks were made locally by William Bowyer, William Lowe, and John Newton. There were at least five wheelwrights: T. R. Bennett, George Church, Joseph Cooper, John Peacock, and Edward Weaver.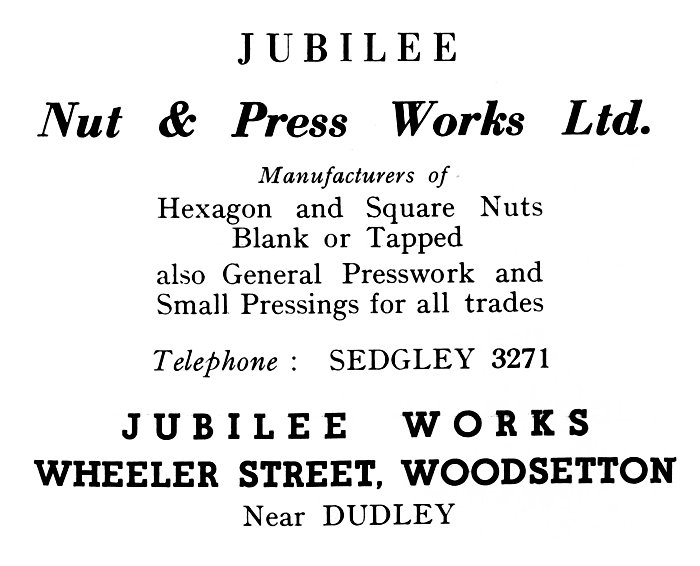 An advert from 1965.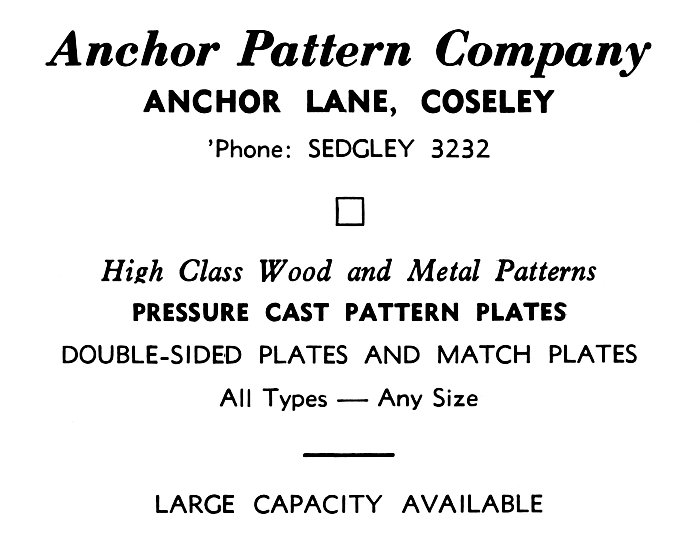 An advert from 1965.
The local clay deposits led to the formation of brick and tile making works. Brick makers in the 1850s included James Bates, Edward Cartwright, George Church, Job Elwell, and Benjamin Gibbons. Some brick makers, including Thomas Hinton, Benjamin Johnson, John Mellard, and William Waterfield produced fire-bricks. Many of the bricks and tiles were used to line some of the Staffordshire canals.
Much of the locally quarried limestone was used to produce lime fertiliser. Lime burners included Joseph Baker, Thomas Baker, John Ellis, James Johnson, and Wade Smith. Quarry owners included John Parker and Samuel Saunders.
In the 1850s there were still many farms. Farmers included William Ashcroft, Thomas Barrs, John and Joseph Beddard, Samuel Brown, John and Benjamin Caswell, William Clarke, James Deeley, Samuel Finch, Abel and William Fletcher, John Gibbons, John Hodson, John Jukes, Thomas King, Prudence Law, Benjamin Marsh, William Perry, William Reade, Thomas Rhodes, John Ritson, Henry Smith, Isaac Thompson, and Mrs. Titley.
There must have been a great contrast between the farms and the heavily industrialised areas, which were like almost any other Black Country town. There were many spoil heaps, some emitting smoke from hot furnace droppings, which competed with an overall pall of smoke from the many chimneys and furnaces. Much like the saying about the Black Country; 'Black by day and red by night'.
This is what the Vicar of Coseley, the Rev. William Ford Vance, had to say on his arrival here in 1850:
Black, in truth, it now is, alike in its appearance, and in the character of a large section of its inhabitants. Black in its rugged and dreary aspect, diversified with heaps of molten ore and smouldering dross, and with those dark piles of brickwork ever emitting smoke or flame - black in regard to the minerals extracted from its caverns - black from the dense clouds of sooty vapour which blight its vegetation, and shroud its sky with a funereal pall - black with dilapidated and ruined habitations, strewn in all directions, like the ravages of a general earthquake or volcano eruption, but many of which, melancholy to reflect, are yet tenanted by whole families of human beings - black as to the unwashed and dejected faces of those miserable drudges, who seem to have toiled all their lives in dirt and darkness.
He also stated that in Coseley alone, there were over 800 widows and orphans; their state due solely to fatal accidents in the mines or the factories.
Many of the locals were paid, or partly paid with tokens, which had to be exchanged for goods, often overpriced, in the so called Tommy shops, as part of the notorious truck system, which exploited much of the workforce. The invidious practice was not outlawed until Parliament passed the Truck Act 1831, which made the practice illegal in many trades, followed by the Truck Act 1887, which outlawed it completely.