Over the last fifty years, more changes have taken place in the town centre than ever before. Some parts are almost unrecognisable to visitors who haven't seen the town for some time.
Luckily for us Bill Beddow photographed much of the town centre in 1965 when the changes began in earnest, with the building of the two tower blocks; John Wootton House and Great Croft House. His lovely photographs capture a world that is now gone, a time when Darlaston's shops were visited by many, and King Street was still a busy place. His photographs include the once-familiar shops in King Street, High Street, and Pinfold Street that are now only memories.
Bill's wonderful aerial views from the top of the newly built flats allow us to look again at the once-familiar landscape, and remember just what it was like in those far-off days. They also allow younger Darlastonians to discover a world that was familiar to their parents and grandparents, and to see the old town centre for themselves.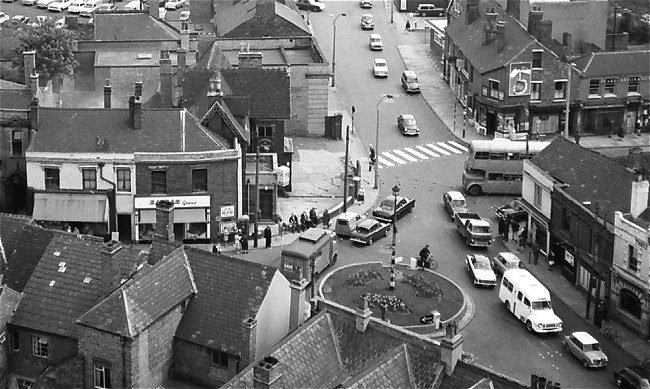 The Bull Stake from the Darlaston flats.
Bill's photos cover the following areas: