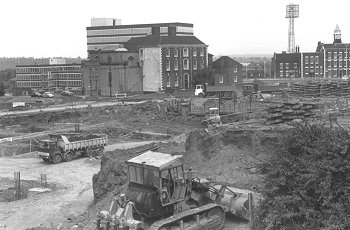 The beginnings of the Civic Centre.
The Civic Centre was built on the site of the old retail market which opened in 1853 and closed in 1960, when it moved to the current site in Salop Street.

The building was demolished in 1962 and the site was used as a car park until work started on the Civic Centre in 1975. It was built by Taylor Woodrow Construction (Midlands) Ltd. and designed by Clifford Culpin and Partners and given a Civic Trust Award in 1979.