Family background
The Molineux family first came to these shores soon after the Norman Conquest in 1066. Some family members assisted Duke William of Normandy during the Battle of Hastings, and were given land in Lancashire as a reward for their service.
The Molineux name refers the family's original home in Normandy; Molineaux-Sur-Seine, near Rouen. The Lancashire family, who were lords of the manor of Sefton, became large land owners, and extremely wealthy. They built Croxteth Hall in 1575, which became their family residence. They also owned the Abbeystead estate in Lancashire, which was mainly used for hunting and recreation.
There are several variations in the family name such as Molyneux, and Molyneaux, simply because language was not standardised until recent times. Sir Richard Molyneux (1594-1636), first baronet, became a member of the peerage of Ireland when he was given the title of Viscount Molyneux, of Maryborough, on 22nd of December, 1628. The 8th Viscount Molyneux, of Maryborough, Charles William Molyneux (1748–1794), became the 1st Earl of Sefton.
There were many branches of the family who lived in other parts of the country, including Yorkshire, Nottinghamshire, Derbyshire, Sussex, London, and Ireland.
The local family
The local branch of the family is first recorded in Willenhall in the second half of the 17th century. It is believed that they came from a branch of the family in Nottinghamshire. Richard Molineux, a yeoman farmer, and his wife Mary had two sons and three daughters; Thomas, baptised on 26th July, 1669; Richard, baptised on 10th September, 1685; Margaret; Mary; and Elizabeth. His business thrived and he soon became a wealthy man.
Margaret married William Wood on 22nd February, 1690. They lived in the Deanery, which stood in Wulfruna Street, Wolverhampton, where the University is today. William, described as a chapman, ironmonger, and iron factor was famous for the minting of his 'Wood's halfpence' coins.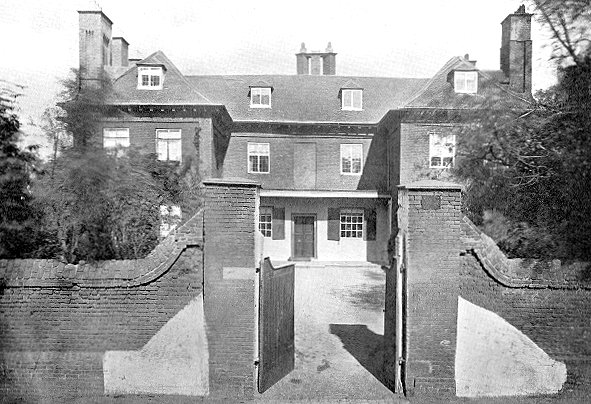 The Deanery in Wulfruna Street, Wolverhampton, once the grandest building in the town.
Mary died on 10th October, 1696, and Richard soon married his second wife Hannah. They had six sons and a daughter: John, Daniel, William, Thomas, Joseph, Richard, and Hannah. Richard Molineux died on 24th April, 1723.
Daniel settled in Dublin where he became an iron merchant. His daughter Hannah married Thomas Marston of Willenhall in 1756.
Their second son Richard moved to London, where he set himself up in business in Cateaton Street, and became a local councillor.
Margaret died on 25th August, 1791 at the age of 82, and was buried in the family vault built by Richard Molineux at Tettenhall.