---
In 1549 the lands of all collegiate churches were seized and sold by the King, Edward VI. Tettenhall's church lands were bought by the Wrottesleys who thereupon became the secular deans of the manor of Tettenhall Clericorum. (All wills had to be proved in their court and the wills and other records were destroyed when Wrotteseley Hall burnt down in 1897). The church, though it remained a royal peculiar, lost its collegiate status and was, thereafter, served by one vicar. Codsall became a separate parish.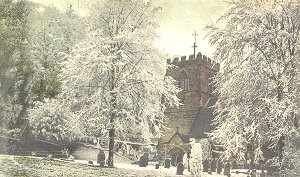 The parish church in winter.
Tettenhall in Tudor times seems to have had a connection with the wool trade. There is evidence of at least two substantial merchants of the staple, Henry Southwick of Tettenhall and Richard Cresswell of Barnhurst, operating in the area.
---