Banking and the Next Generation
Sampson II inherited a lot of money and a thriving business from his father. He extended the business, which continued to flourish. On 3rd June, 1765 Samuel and his son Samuel III, joined forces with John Taylor, and John Taylor junior to form Birmingham's first proper bank, called Taylor and Lloyds Bank. The bank was situated at 7 Dale End, Birmingham, initially having £6,000 of capital, equally divided between the partner's shares.
At this time the modern system of banking was just beginning to develop. Quakers, had a reputation for honesty, and so customers could feel safe when using the new bank.
John Taylor, like his banking partners, was a successful businessman. He manufactured vast numbers of buttons at his button manufactory, and produced japanned goods, including his popular snuff boxes. He was content to leave the management of the bank to the Lloyds, particularly Sampson III who became the chief acting partner. Within six years of trading, the bank was producing an annual profit of more than £10,000. It also invested in new ventures including the Birmingham Canal Navigations, built in the late 1760s to transport coal from the mines at Wednesbury to the industries in Birmingham.
John Taylor died in 1775, followed by Sampson II, who died on November 30th, 1779. After their departure, Sampson II's interests in the bank were taken over by Sampson III and his brother Charles.
In 1770 Sampson III was the prime mover in the formation of Taylor, Lloyd, Hanbury, and Bowman, a bank based at 60 Lombard Street, London. It ultimately merged with Lloyds Bank. Mary Lloyd, one of Sampson's sisters married Osgood Hanbury, and Sampson arranged to join him in partnership, which resulted in the setting-up of the bank. Another of Sampson and Charles' sisters, Rachel, married David Barclay in 1767, which resulted in the Lloyd brothers association with Barclay's counting house, now Barclay's Bank, where Charles learned the banking business.
The Birmingham bank issued its own bank notes including five-guinea and one-pound notes, and seven-shilling notes. In 1802 the partners in Taylors & Lloyds were John Taylor junior, Sampson Lloyd III, Samuel Lloyd, Charles Lloyd, and James Lloyd.
The first branch of Lloyds Bank, in Birmingham Street, Oldbury, now a Subway sandwich shop. From an old postcard.

John Taylor died in 1814 and his share in the business was taken over by his sons James Taylor of Moseley Hall, and his brother William. The Taylor family's interest in the bank came to an end in 1852 after the death of James Taylor. It then became Lloyds & Company.

By this time the business had acquired the status of a London bank, and soon had many branches throughout the West Midlands. On 1st May, 1865 it became Lloyds Banking Company Limited, now known as Lloyd's Bank, one of the 'Big Four' British banks.
Returning to the family
Sampson III, born in Edgbaston Street, Birmingham in 1728, lived for many years at 18 Park Street, until 1774 when he moved to Old Square. Like his father, he excelled in business, and had strong affections and friendships. The first romance of his life was a strong attachment to his cousin, the charming Betsy Fidoe. But sadly, Betsy and all the members of her family caught a contagious disease, which caused her to loose all reason, and resulted in her being sent to an asylum, where she stayed for the rest of her life.
It took Sampson a long time to recover after loosing Betsy, but ten years later he married sixteen years old Rachel, daughter of Samuel Barnes, of London. They were married in November 1762, and had seven sons and ten daughters.
As already mentioned, he succeeded his father in the management of Taylors & Lloyds Bank, and was a partner with his half brother Charles. One of his cousins Mrs. Schimmelpenninck wrote that his temperament was very sanguine, and when young must have been exceedingly susceptible to all objects of taste and feeling. She could never forget the beaming expression of his eye, not unmingled with the compassion with which he looked on all, especially the young.
He was remembered in old age by two of his granddaughters, Mrs. Howard, and Mrs. Fox. Although they were very young at the time of his death, they well-remembered their aged grandfather, as A venerable-looking old man with beautiful white hair resting in curls upon his shoulders, led into the room by two of his sons. He was always dressed in grey clothes, the idea being that the natural colour of the wool was better, and that dyes were vain things.
Charles V, half brother of Sampson III, and partner in the family's bank, was also a poet, and a campaigner against slavery. He lived and died in Bingley House in Broad Street Birmingham, now the site of the International Convention Centre and Symphony Hall.
On 13th May, 1774 he married Mary Farmer of Birmingham, and they had fifteen children. Their eldest son, Charles, was not very successful as a poet, but was friends with Samuel Taylor Coleridge and Charles Lamb. He moved to Versailles with his wife and family, and died there in 1839.
Charles V was described within the family as a man of gentle manners and warm sympathies, with a great fondness for children. In public life he was member of the Birmingham Board of Commissioners, one of the founders and Treasurer of Birmingham General Hospital, an active member of the campaign to abolish the slave trade, and assisted in the formation of the Bible Society.
He studied the classics and translated many of the works of Homer and Horace, some of which were published. One day a week he worked on his farm at Olton, and was an avid reader of the bible, much of which he could remember, and recite at will.
His wife Mary died on 9th December, 1821. Charles died on 16th January, 1828 at Bingley House, and was buried at the Quaker burial ground in Birmingham. A marble bust of Charles was placed in the General Hospital as a memorial to his work.
Politics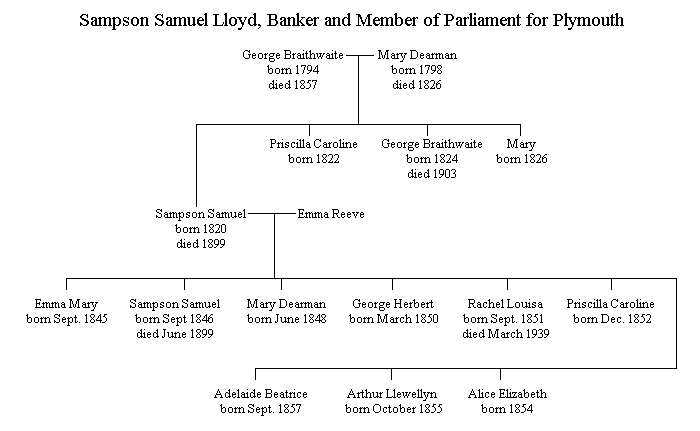 One of Sampson III's great grandsons, Sampson Samuel Lloyd, a banker and politician, born in 1820, became Liberal Member of Parliament for Plymouth between 1874 and 1885. He was a Justice of the Peace for Warwickshire, and for the City of Birmingham, and by 1884 was Chairman of Lloyds Bank. He also became Chairman of the Associated Chambers of Commerce of the United Kingdom, a post he held for several years.
He married twice, first in 1884 to Emma Reeve, and again in 1865 to Marie Menckhoff. One of his grandsons, born in September 1879 was George Ambrose Lloyd, 1st Baron Lloyd, GCSI, GCIE, DSO, PC, the Liberal Unionist Member of Parliament for West Staffordshire, elected in 1910. He married Blanche Lascelles in 1911, and in 1918 with Edward Wood wrote 'The Great Opportunity', a book written as a Conservative challenge to the Lloyd George coalition.
In December 1918 he became Governor of Bombay, and in 1924 returned to Parliament as MP for Eastbourne. In 1925 he was given the title of Baron Lloyd, of Dolobran in the County of Montgomery. He then became High Commissioner to Egypt, and in 1940, after working alongside Winston Churchill, was appointed Secretary of State for the Colonies. In the same year he became Leader of the House of Lords. He died of myeloid leukaemia in February 1941, at the age of 61 and was buried in Hertfordshire.