Welsh Ancestry
The family is descended from Aleth, the eleventh century king of Dyfed. In about 1300 the family came to Dolobran, in the parish of Meifod, Montgomeryshire, where they lived for nearly five hundred years. By 1542 family members had the surname Lloyd, because in that year, family member David Lloyd is recorded as being a juror in Montgomeryshire. David's son, also called David, and his son John, were poets.
John's son Charles, born in 1613, married Elizabeth Stanley from Knockin in the Welsh borders, and had four children, Charles, born in 1637, John, born in 1638, Elizabeth, born in 1639, and Thomas, born in 1640.
Charles senior enlarged the family home at Dolobran, but died comparatively young in 1657. John Lloyd went into law, and became one of the Six Clerks of Chancery. He was educated at Jesus College Oxford, the University's first Protestant college, along with his brothers. Charles studied medicine, but left early because he was unhappy with the persecution of Quakers, an organisation with which he clearly sympathised. He married Elizabeth, daughter of Sampson Lort, the Member of Parliament for Pembroke.
The Quaker name comes from the phrase "To tremble in the way of the Lord." The movement began in the 17th century, and formed The Society of Friends. In its early years it suffered greatly from persecution, possibly because it was seen as a radical movement, which promoted an entirely new way of life, with a different lifestyle, and different objectives. This was not helped by the fact that Quakers had a different style of dress, and a different way of speaking.
In 1662 Charles joined the Quakers, and before the year was out found himself in prison in Welshpool, along with seven other members of the society. Edward Lord Herbert , Baron of Chirbury, ordered five of them, including Charles, to visit his house at Llyssin for an interview, and asked them to take the oath of allegiance and supremacy. When they refused, because of their religious beliefs, he sent them to prison in Welshpool.
George Fox, one of the founders, and leader of the Quaker movement, visited them in prison, and described the conditions, as follows:
They are kept very close together and placed in a dirty, nasty place on the ground floor. Above them are the town's felons whose excrements and urine often fall upon them. They have little more than wet straw to lie on.
Three of them died in the prison, and the remaining five had to serve up to ten years before release. Surprisingly, some of their wives joined them in the squalid conditions, where several of their children were born and raised. One of the wives was Elizabeth Lloyd, who left her four months old son, Charles junior, to join her husband in the terrible conditions. Charles and Elizabeth's possessions were seized, their cattle were sold, and their house was partially destroyed.
In November 1662 the eight society members sent a paper to the quarter sessions at Montgomery, pleading for release from their horrifying ordeal, but to no avail. Charles' brother Thomas knew nothing of his imprisonment until he returned home from Oxford. By this time he had also become a Quaker. On discovering his brother's suffering, he went to see Richard Davies, a Quaker who had a small estate at Welshpool. Together they visited most of the Welsh justices including Edward Lord Herbert to plead for the release of their fellow members. After listening to their story, he agreed to allow the prisoners to leave the prison, but they had to remain in Welshpool.
In 1663, on hearing the good news, Charles and Elizabeth, and their children, took a house in the town, but sadly Elizabeth died in 1665 whilst still quite young. She was buried in the Friends' burial ground at Cloddian Cochion, near Welshpool. In 1664 Thomas Lloyd also became a prisoner in the same town. Charles and his children stayed at the house until they were released in March 1672 under the terms of King Charles II's Declaration of Indulgence.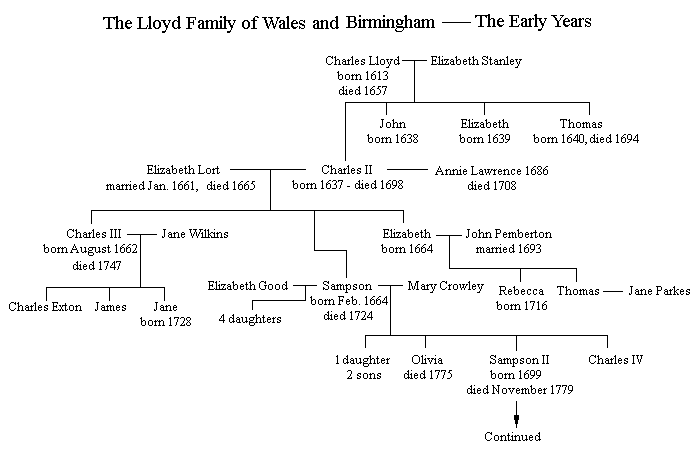 Charles Lloyd had two sons, Charles junior, born in 1662, Sampson, born in 1664, and daughter Elizabeth, also born in 1664. After their release they returned to Dolobran, where Charles rebuilt and enlarged the house, and built a Quaker meeting house where some years later, George Fox, the famous Quaker, and one of the founders of the Society of Friends, held a meeting. Both Charles and Thomas were heavily involved in the movement and visited many of the prominent Quakers of the day.
Thomas moved to Maesmawr, near Welshpool, where he continued to suffer persecution and fines. In 1683 he emigrated with his family to America, and became President of the Provincial Council, and Deputy Governor of Pennsylvania.
In 1686 Charles married his second wife, Annie Lawrence, who had been one of his fellow prisoners at Welshpool. In 1693 his daughter Elizabeth, married John Pemberton from Birmingham, and moved to the city, the Lloyd family's first link with the West Midlands.
In 1698 Charles visited Elizabeth and John at their home in Birmingham, and sadly died there. He was buried at the old Friends' burial ground in Bull Lane, off Monmouth Street, now Colmore Row, Birmingham. His second wife Ann, who died in 1708, was also buried there, as where the Pembertons.