---
Education
Education was controlled by the South East Staffordshire Divisional Executive for Education, which came under Staffordshire County Council. The Executive was based at the Education Offices in Walsall Street, and also controlled education in Darlaston, Willenhall, Wednesfield, and Bilston.
The County Technical College

The Technical College.

The college stood on the corner of Kendrick Street and Walsall Street, and was built in 1914, and extended in 1929. A new 3 acre site had recently been acquired on the opposite side of Walsall Street. The principal was Mr. H. A. MacColl.

The Department of Engineering ran part-time day and evening courses for National Certificates in mechanical, structural, electrical, and production engineering, and City and Guilds courses in machine shop engineering, steel fabrication, and electrical installation. There were evening classes in press tool making and die sinking, boiler house practice, gauge inspection and fine management, foremanship, civil engineering, and works management.
The Department of Metallurgy ran full-time day sandwich courses in metallurgy, and part-time day and evening classes for National Certificates in metallurgy, associate membership of the Institution of Metallurgists, and City and Guilds in metallurgy, foundry work, pattermaking, and welding.
The Department of Science ran G.C.E. courses in science.
The Department of Photography ran a full-time day photographic course, and part-time day and evening photographic classes leading to a City and Guilds qualification, or membership of the Institute of British Photographers.
The Department of Domestic Science and Needlecraft ran City and Guilds courses in cookery and dressmaking, and classes in tailoring, dressmaking, embroidery, and handicrafts.
The college also had a secondary technical school for boys with a starting age of 13½ or 14.
The Staffordshire College of Commerce
The County Commercial College in Wood Green, established in 1926 had over 2,000 full-time and part-time students. The principal was Mr. H. Harman. The college catered for students over the age of 15, and ran a junior commercial course for post secondary modern students.

There were also part-time day release courses, which catered for over 400 students, in accountancy, cost accounting, secretarial work, and 6 foreign languages. There were also lunch time language courses.


The Staffordshire College of Commerce.
Wednesbury had two evening institutes which were part of the County Commercial College, and the County Technical College. The Wednesbury Evening Institute in Holyhead Road provided instruction in technical, commercial, and general subjects, with branch courses at Addison Street Woodwork Centre in Lower High Street, and in Lower High Street Primary School. The classes prepared young people for courses at the County Technical College, and the Commercial College. There were also adult classes in dressmaking, tailoring, home crafts, embroidery, woodwork, elocution, and first aid.
The King's Hill Evening Institute in Old Park Road catered mainly for adults, and offered classes in dressmaking, woodwork, amateur radio, and cookery.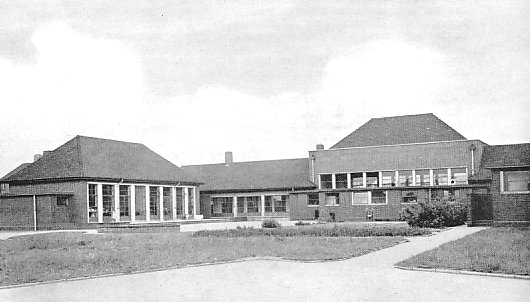 Tameside School, Walton Road.
---