---
Industry
In the late 1950s and early 1960s Wednesbury was still a successful manufacturing town with large numbers of factories and diverse industries of all sizes. A well known local company was Prodorite Limited, based at Eagle Works in Leabrook Road. The company produced a range of chemical coatings that were resistant to corrosion, industrial floor materials, and acid-proof constructions for tanks, floors, process vessels, drainage and effluent systems, and fume extraction.
Another, very different concern was Geoffrey Hughes Limited, in Mounts Road. They produced ladies' and gentlemen's clothing, mainly made to measure, and also stock garments. The company employed around 130 people in an up-to-date factory, with a canteen, and a social club. Its garments gained a reputation for quality, skilled workmanship, and good value for money.

Up-to-date shot blasting equipment at Frost & Sons (Moxley) Limited.
Another local industry was galvanising. Frost & Sons of Falcon Works, Church Street, Moxley specialised in galvanising electricity transmission towers for the Central Electricity Board, and galvanised every kind of wrought and cast iron work, and tubes and fittings.

The company had a reputation for quick service, high quality work, and low prices. The firm, which was founded in 1889 as tube and general galvanisers, subsequently opened another factory at Rough Hills, Wolverhampton for the galvanising of structural steelwork, overhead transmission towers, and very long, heavy sections.

A third factory also opened at Ebro Works, Tividale, Tipton, which specialised in the centrifugal galvanising of nuts, bolts, and washers etc.

The business survived until 2002 when it was wound-up voluntarily, as can be seen in the notice below.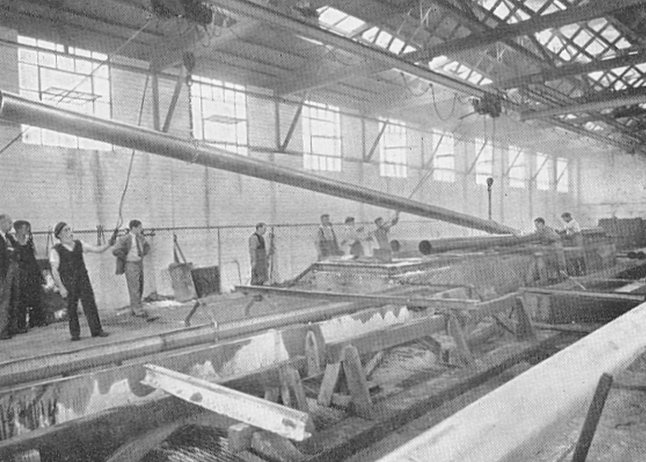 Galvanising tubes, 40 feet long and 11 inches diameter, in Frosts' factory at Moxley.
| | |
| --- | --- |
| The winding-up notice that appeared in the Gazette newspaper. | |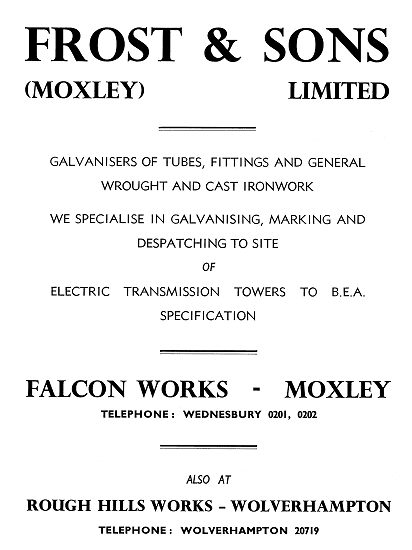 An advert from 1954.
Another firm, Roberts & Company (Wednesbury Limited) of Franchise Street, also specialised in galvanising work for overhead electrical transmission lines, and also manufactured signal ladders for the railway, and iron work for lorry and bus bodies.

The large hot-dip galvanising tank at Henry Hope & Sons Limited.

A third galvaniser, Henry Hope & Sons Limited in Woden Road, manufactured, and hot-dip galvanised the companies own steel windows, which were made to the highest standards.

The factory contained highly mechanised plant, and the deepest galvanising bath in the country, which allowed the firm to galvanise all sizes of products for other manufacturers, in large quantities, at an economical cost.
For many years Wednesbury was well known for its iron and steel works.

The Patent Shaft and Axletree Company, based in Leabrook Road, had a long and successful life, and was one of the first steelworks in the country to use a Bessemer converter.

In fact Henry Bessemer conducted many of his early experiments at the factory.


Tapping an electric arc furnace at F. H. Lloyds.

The old Patent Shaft cogging mill.

By the late 1950s the company began to concentrate on its rolling mills, and invested £8m in new plant, including two 75 ton open hearth furnaces, modernisation of the melting shop, and raw material handling facilities, conversion of some of the existing furnaces to oil firing, a new slabbing and blooming mill, a rotary hearth-slab reheating furnace, and a new plate mill.

The project increased the company's ingot output to 300,000 tons per year, with a vastly superior finish.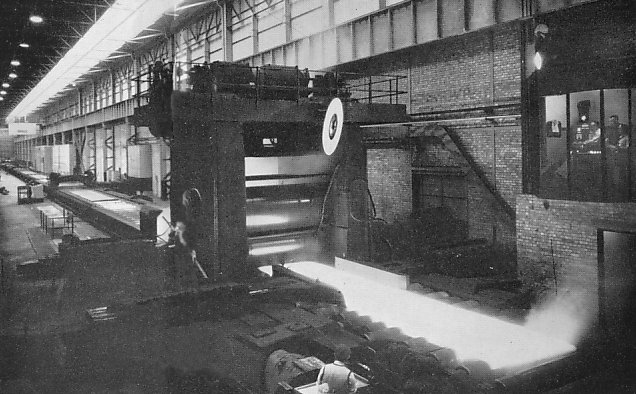 The new plate mill at the Patent Shaft Steel Works.
A long-surviving steel company, F. H. Lloyd & Company Limited, of James Bridge, was founded in 1878. It had the largest steel foundry in the country, and not only produced castings for the home market, but also for many other parts of the world.
Another old company, John Bagnall & Sons Limited of Leabrook Iron Works, manufactured wrought iron, re-rollers of steel strip, bars and sections, and undertook acid pickling, normalising, and annealing steel strip and bars. The company's rolling mills produced steel strip in the range of 1 inch to 12 inches wide, and in thicknesses of 14 gauge I.S.W.G. up to 1 inch. Bagnalls also manufactured square edged flats, and steel tubes and fittings for the vehicle industry, and splayed barrel hoops for the brewery trade.
The once well known edge tool manufacturer Edward Elwell Limited, in St. Paul's Road, Wood Green manufactured all kinds of high quality tools for sale at home, and all over the world. In the late 1950s the company had completed a project to modernise the factory and plant, to produce hand tools which could not be surpassed anywhere in the world. The firm was famous for its excellent axes, spades, shovels, reaphooks, slashers, and choppers, of which it was justifiably proud.

Wednesbury also had press working companies including the George Clarke Presswork Company Limited in Woden Road West. The firm carried out general presswork, from small hand-pressed items up to power presswork, with a capacity of 100 tons. Products included ferrules, electrical pressings, washers, pressings for the motor industry, springless oil seals, welded fabrications, and turned parts.

Another important industry was railway wagons, rolling stock, and locomotives, built at the Old Park Works in Darlaston Road, by the Metropolitan Cammel Carriage and Wagon Company Limited. The company, based at Saltley in Birmingham had four factories, and in the late 1950s was the largest manufacturer of rolling stock in Europe.


The new blooming and slabbing mill at the Patent Shaft Steel Works.
In 1961 Old Park Works produced the mechanical structures for 35 electric locomotives for South African Railways, the 'Prestwin' twin silo air discharge wagon for carrying bulk powders, and a salt wagon for the British Transport Commission.

Extruding seamless pipe at Prothero Works.

Wednesbury had two prominent electrical equipment manufacturers, William Sanders, and the Power Centre. W. Sanders & Company (Wednesbury) Limited of Falcon Works in Ridding Lane was enjoying its last few years of independence. Within 6 years it would become part of Westinghouse, move to Hungerford, and soon face closure.

The firm produced all kinds of switchgear from large installations to small fused switchboxes, and fuse carriers, and fuses. Sanders' products were sold at home and abroad, and the Sanders name was known throughout much of the world. The company employed around 60 people.

The Power Centre was based in Lloyd Street, and Elwell Street. It came to Wednesbury in 1908, and later became part of the Electrical Division of Tube Investments Limited. Its products were distributed through branches of the Simplex Electric Company limited, also part of the Tube Investments group.
The Elwell Street factory opened in 1958 and had the most up-to-date plant for the manufacture of busbar trunking, and cable trunking. Other products included electrical distribution equipment, switchboards, cable boxes, and busbar systems.
Another, and very different company was The Hallen Engineering Company Limited in Portway Road which became well known for its high quality work. The firm specialised in machining casting, forgings, and the production of all kinds of turned parts. Customers included the Admiralty, the Air Ministry, the Ministry of Supply, the Post Office, British and Foreign Railways, Docks and Harbour Boards, and the Atomic Energy Commission.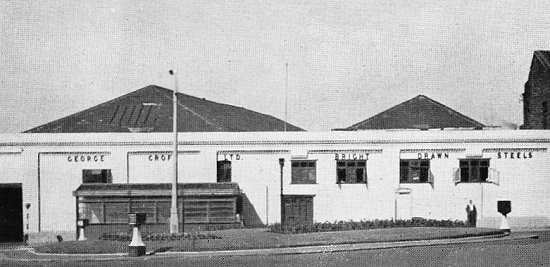 George Croft Limited on the High Bullen.
A landmark at the High Bullen, by the traffic island, was Newbright Steel Works, run by George Croft Limited, producer of bright drawn steel, high quality centreless precision turned bars, and tested steels to War Office, Admiralty, and British Rail specifications. During the 1950s and 1960s the firm prospered thanks to customer good will, and high quality products.
One of the important products, produced in vast numbers throughout the Black Country was washers. They were produced in large numbers in Wednesbury by Charles (Wednesbury) Limited at Bridge Works in Bilport Lane, off Holyhead Road, near the bottom of Holloway Bank. The firm produced all kinds of washers in steel or brass, including bright steel turned and chamfered washers, plain bright steel washers, and roofing and engineers black washers. The firm was run by C. and R. A. Pugh. It was founded in 1930, and still exists today, employing 110 people.
---