NORTHICOTE FARM, BUSHBURY
---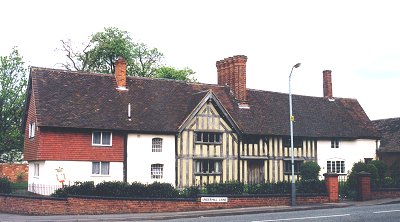 This interesting house, restored a few years ago, appears to have been built in the early seventeenth century. The structure has been altered many times, but Mr. F.W.B.Charles, B.Arch., M.A., F.S.A., the architect in charge of the reconstruction, and a leading authority on timber framed houses, believes that the sequence was as follows:-
c.1600 Original Building. (Bays 1-5 only) Bays 1 and 2 were one dwelling, Bays 3-5 another, probably a farm house. The original front door was on the north side, with possibly another door on the opposite side of the fire place on the south side. Both dwellings probably had upper floors with ladder access.
c.1650. The two existing dwellings were made into one by forming doorways between Bays 2 and 3. Existing staircase in Bay 2 probably built at this time.
c.1750. Cellar excavated under Bay 3 with stairs down from Bay 2. Corridor made on north side of Bay 3 to isolate it as a parlour. Bay 6 added, probably open to roof.
c.1800. House again subdivided, Bays l and 2 have new back kitchen opening off corridor, with bedroom over Bay 3. Other house, consisting of Bays 3-6 at ground floor plus cellar now approached from stair near north lobby. Stair from Bay 2 blocked. Front door now on south side.
c.1850. At this time the house assumes the form as prior to recent reconstruction. Bay 1 totally demolished and reconstructed in brick. In other house the present staircase was built in Bay 6, entered from Bay 5. Bay 6 floored and Bay 7 added. Ownership of Bay 3 doubtful, but more likely it belonged to the farmhouse, Bays 1 and 2 being a farm worker's cottage.
For details of the reconstruction see The Architect's Journal, November 25th 1987.
---
In the seventeenth century this was the home of the Catholic Underhill family. (click here for the Hearth Tax Returns where Thomas Underhill had a house with five hearths. The original chimney block at Northicote has five chimneys.)
This family took their name from the settlement of Underhill, (literally under Bushbury Hill) a few hundred yards further east. Another branch of this family (Protestant) had left Bushbury about 1520 and settled in Nether Ettington Warwickshire. A descendant of this branch became the first Governor of Massachusetts.
See also: J.H. Morrison, The Underhills of Warwickshire, Cambridge University Press 1932, chapter 1, which contains a photograph of Underhill Farm from Bushbury Hill; Sir Arthur Underhill, The Staffordshire Underhills and their Connections in 1891, a pedigree at the British Library (Cup.649c10(46); A. Chatwin, The Catholic Underhills of Northicote Farm in Bushbury, Staffs., copy in Wolverhampton Archives.
---
An inscription, consisting of the letters U I and W and the date 1758, on a stone set high in a wall in an upstairs room at Northicote seems to indicate that the Underhills were still there at that date.
---
The late Mr.Cyril Jones of Bridgnorth reminisces about Northicote Farm (July 1990): "It must be over eighty years since I followed a fire engine drawn by four galloping horses to a fire in one of the barns. A wheel came off as it careered past Gorsebrook House bend. It was quickly refixed and the dash continued. As the fire reached the base of the rick hundreds of rats dashed out among the spectators."
---
Note.
It appears that I have to mention that Wolverhampton City Council Parks Enquiries are unhappy with the use of the name Northicote. As far as they are concerned the correct spelling is Northycote. As this is a copy of Alex Chatwin's book, the original spelling is used.
---