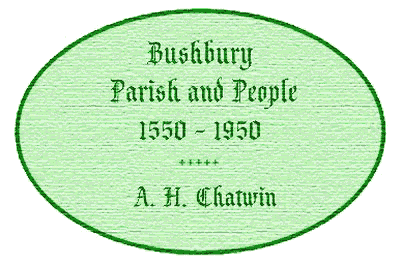 Copyright A.H. Chatwin 1983, 1991, 2000. This electronic edition is copyright A.H.Chatwin, 2000. The author has asserted his moral rights in respect of this publication.
CONTENTS
Author's Introduction
Bushbury to the end of the16th Century
Bushbury in the 17th Century
Bushbury in the 18th Century
Bushbury in the 19th Century
Bushbury in the 20th Century

Bushbury Church
Education
Mills
Northicote Farm
Protestant non-conformity
Some Bushbury People
ooOoo
To read this history in sequence, click on "next" at the foot of each page; otherwise come back to this page by clicking on "contents" at the foot of each page.
---
This electronic edition, which includes corrections to the second edition, was prepared by Frank Sharman and Bev Parker. They are very grateful to Alex Chatwin for his permission to produce his work here, and for his help in creating these pages.
---