| | | |
| --- | --- | --- |
| | | |
---
James Russell & Sons, Limited, inventors and first manufacturers of tubing.
Crown Tube Works, Wednesbury
| | |
| --- | --- |
| | The name of Wednesbury is inseparably associated with one of the most important branches of industrial activity carried on in the Midlands, namely, that of tube manufacturing, for it is here that it can be said to have had Its birth. |
The firm who Justly claim the honour of being first manufacturers is that of Messrs. James Russell & Sons Limited, of the Crown Tube Works, who have been established from the commencement of this branch of industry, and, who by reason of their many inventions and improvements are now justly regarded as the oldest and most celebrated firm in the United Kingdom.

The premises occupied cover about ten acres of ground surface, and consist of extensive mills for butt and lap welded tubes, also iron, malleable iron, brass and gun metal foundries, large fitting and turning shops, for general purposes. In addition to which the firm has extensive brass finishing shops, and a separate coil and fitting manufactory. They also possess a branch works at Darlaston, for galvanising purposes, in order to meet the heavy demand for goods of this description. The arrangement and equipment throughout is on a most comprehensive and complete scale, the works being supplied with all the most improved machinery and appliances known to the trade. About 1,300 hands are employed.

Unsurpassed facilities exist for executing the largest orders in the promptest and most satisfactory manner. Messrs. James Russell & Sons are manufacturers of tubes in iron and steel from an eighth of an inch to six feet in diameter for gas, steam, water, and oil mains, also of plain, spiral, and tapered tubes for shipbuilding, architectural, and other purposes, such as bedstead and boiler making and artesian well boring, also coils, core bars, regulating valves, roller tubes for looms and machinery, tramway, telegraph, and electric light poles to forty feet long in one piece; brass and gun metal fittings of every description for gas, steam, water, and hydraulic purposes; also stocks, dies, and taps of Whitworth's standard thread, for gas tubes, bolts, nuts, etc., and all kinds of tools for engineers', gas fitters', and smiths' use.

In all these manufactures the firm have undoubtedly reached the highest point of excellence, as they are found to combine in an eminent degree all the most desirable qualities of best material, superior workmanship, finish, and durability. They have long maintained a high reputation, and have a widespread and influential connection both at home and abroad. They have established four branch depots, namely, at 108, Southwark Street, London; 6, Mark Lane, New Briggate, Leeds; 114, Colmore Row, Birmingham; and 33, King Street West, Manchester. The directors of the firm are gentlemen of well-known influence and standing in the district.
Wednesbury coal mines are nearly exhausted after centuries of working; first, as open works (where the measures were readily got near the surface) with the aid of inclined plane or ladders; secondly, as bell-pits, and lastly as deep shafts with winding gear, once worked by gin horses, now by steam engines. Here the men have just come up the shaft in a cage. This open cage is steadied in the slides, and "catches" in the chain would prevent it falling to the bottom in case of a breakage.
The coal getting here has recently moved eastwards, towards West Bromwich and Hamstead, where the piercing of the Permians has discovered coal over 400 yards below. The rural aspect of the country, as is shown on the "road home" of the colliers, soon gives way to the desolation of pit mounds and colliery wastes.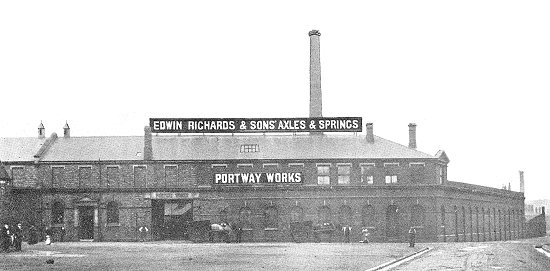 Edwin Richards & Sons, established 1810, manufacturers of high class axles for every description of' vehicles; best quality coach and carriage springs, special hand made coach bolts.
Dog cart ironwork, self-acting carriage steps, and stampers of step treads, etc.
Brass and Ironfounders.
Carriage hardware of every variety
Makers of Weatherill's patent springs.
Portway Works, Wednesbury.

| | | |
| --- | --- | --- |
| | | |
The business carried on under the above style and title is one of the oldest of its kind in Wednesbury, the home of the tube trade, and it is also one of the largest and most flourishing. Founded in the year 1869 the "Hope" Tube Works have always enjoyed the advantage of able management, to which no doubt is largely due the wide patronage and the high reputation which have been earned. The firm's products are known in almost all parts of the civilized world, and are appreciated wherever they have found their way. The works, of which an excellent exterior view is given below, combine ample space with a convenient arrangement of the different departments. Every facility necessary for the efficient carrying-on of the trade is possessed, and the machinery and all appliances in use being of the most approved modern designs.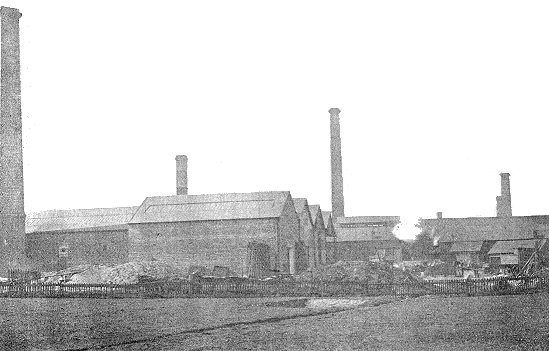 The employees are picked men, a large proportion having been in the service of the firm for some years, and all work is turned out not only capably but expeditiously. Tube making in very nearly all its branches is carried on here. Bedstead, blind, and fencing tubes, with ferrules for same; oval, flat, and section tubes of all descriptions; special light tubing; extra strong tubing for handrails, etc.; gas, steam, and water tubes and fittings; cold drawn weldless steel tubes, for cycles, boilers, etc., are all included in the every day work of the firm.
They enjoy the distinction of having been the first firm in Wednesbury to make weldless tubes; and the enterprise of the conductors has recently had a striking exemplification in the enlargement of the works for the purpose of dealing on a large scale with the special branch of the trade which has to do with the manufacture of cycles. McDougall's tubes, of whatever kind, have for their chief characteristics, strength, lightness, and tenacity. The two gentlemen whose photographs are given above are the working heads of the concern.

John Knowles, Walsall Street Works, Wednesbury.
Tubes and Fittings.
Wrought-iron tubes for gas, steam, and water.
Speciality: All descriptions of wrought-iron fittings for gas, steam, and water.
Galvanised tubes and fittings. Locomotive and marine boiler tubes, brass fittings, stocks and dies, gas fitters' tools, gas burners, etc.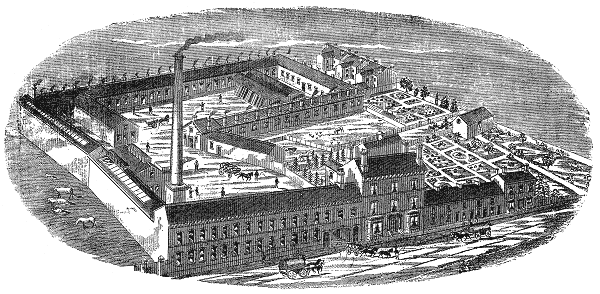 Walsall Street Works.
The manufacture of wrought iron tubes and fittings, of all kinds, for gas, steam, and water purposes, constitutes a highly important branch of industrial activity in the town of Wednesbury, and a name very prominent in this connection is that of Mr John Knowles, proprietor of the Walsall Street Works. The Walsall Street Works were founded in 1850, and the trade done has been of an eminently successful and progressive character. At the present time the premises utilised cover a considerable area of ground; they possess a capital office and warehouse frontage to Walsall Street, and are substantially constructed as well as very conveniently arranged. They are fully and modernly equipped for all operations carried on, and afford steady employment to about one hundred and sixty hands. Every description of tubes and fittings are produced for both home and foreign markets, and it is generally admitted throughout the trade that these manufactures are unsurpassed for thorough reliability and superior finish. It may be mentioned that every tube is tested before leaving the works. A considerable reserve stock is kept on hand to meet pressing demands, and special tubes can be made to order on short notice. The continued success of this business, under the management of Mr. Knowles and his sons, is fully assured.

This establishment dates back to the year 1840, earning a world-wide reputation for its wheels and axles. In 1864 it was registered as a limited liability company, and reconstructed in 1889. The present directors are: John Pierce Lacy, J.P. (Chairman), John Brooks, William McLaren, and Simon Leitner, J.P. The Secretary is J. F. Cay.
The registered capital of the company is £437,500. It consists of 30,000 ordinary shares, £7 each, and 35,000 preference shares, £6.10s each. The capital called up and payments in advance is £348,594 consisting of ordinary shares, £4 per share, paid; and preference shares, £6.10s. per share, paid.
The Works of the Company cover an area of 500 acres, and 3,000 men are employed. The Works are situated at Wednesbury, Staffordshire, about seven miles north-west of Birmingham, and have railway approaches from the Great Western Railway, the North Western Railway, and the Midland Railway; also the Birmingham Canal Navigation runs into the principal Works.
The work turned out is of the greatest variety, consisting of:
Railway wheels and axles of all types; weldless steel tyres; iron and steel axles; steel, wrought iron, and cast iron bridges; roofs, girders, turntables, switches, and crossings; rolled iron and open hearth basic and acid steel plates; bars, also sections of every class; castings; rolls; all kinds of cast iron and wrought iron and steel tanks; and gasworks and water plant.
Some of the largest bridges in India and Japan have been supplied by this company. Blackfriars Bridge, London, also was made here.
The works comprise :
1. Brunswick Iron and Steel Works.
These have been re-organised, and the steel-cogging, bar and plate mills, for basic and acid steel, are of the most recent design, and are fitted with the latest types of labour saving appliances.
The specially mild basic steel turned out here has a wide reputation for reliability; some being made as low as 22 tons tensile, for water tube boiler work of torpedo boats; various grades of basic steel are produced up to 32 tons tensile, all very ductile. Angles, bars, and channels of an immense variety of sections are rolled, in steel and iron, as well as sheets; also steel plates to 7ft. 6in. wide by 30ft. long. The total capacity of finished products is about 600 tons of iron and 600 tons of steel per week.
2. Brunswick Wheel Works.
These works have manufactured and supplied every known type of wheel, and lately have been thoroughly re-organised; a large addition of modern machinery has been made, notably-two hydraulic wheel forging presses of 1,200 and 2,000 tons for the manufacture of cold spoke and hot spoke wheels, disc wheels, and wrought iron washers and bosses for wood wheels.
The machine shop is replete with all classes of lathes and tools for finishing the wheels, and is one of the most complete in the country. Capacity about 700 to 800 pairs of wheels per week.
3. Monway Iron and Steel Works.
In this department are manufactured the weldless steel tyres, iron and steel axles, and iron plates. There are here four open hearth, acid-lined, steel melting furnaces (two of 25 ton and two of 15 ton capacity); also two basic open hearth furnaces. The output is 100 tons of plates, 100 tons of axles, and 250 tons of tyres per week, besides a large amount of basic ingots and blooms.
4. Old Park Bridge Yard.
Boiler yard and foundry. This department is well laid out for bridge, roof, and similar work, and has most powerful cranes, capable of dealing with the largest bridges made. The Benares Bridge, consisting of seven main spans of 356 feet by 25 feet by 35 feet, nine spans of 114 feet, and weighing 6,500 tons, was built here; it was made entirely of Steel.
| | |
| --- | --- |
| | The Benares Bridge. |
There is also a large foundry and machine shop; in the latter there is a very large faceplate lathe capable of turning 40 feet diameter. All kinds of machine tools and hydraulic pressing and riveting plant are found here. The principal work consists of bridge and roof work, girder work, engine turntables, water tanks, water cranes, points, switches, and crossings; all kinds of gas works apparatus, general engineering work, castings, and steel tubbing for mines; the capacity being 10,000 tons per annum. An enormous variety of patterns on hand, to be used or converted at short notice for almost any casting.
5. Collieries.
The company owns a number of collieries, the principal output being from Millfields. It will be seen from the foregoing that, with a central position, ample railway and canal accommodation, and having control of the operations from the raw to the finished material, and a most efficient plant, the company is in an excellent position to supply the highest class of finished products.
| | |
| --- | --- |
| A group of wheels manufactured by the company. | |
Willingsworth Blast Furnaces
Willingsworth Furnaces stand near the site of Willingsworth Hall (once the seat of the Parkes family, ancestors of Lord Dudley), a Tudor building demolished 30 or 40 years ago.

Only one of the two furnaces is now in blast, but that is quite up-to-date in all modern improvements. On the picture, smoke may be seen rising from the slag which is escaping from the tap hole.
Presently the molten iron will be tapped, allowed to flow through the "runner" which is seen on the right hand, and thence to the trenches of the "big sow and little pigs". Wednesbury's last remnant of plant for producing pig iron.

| | |
| --- | --- |
| | Charles' Wednesbury Bridge New Coal Wharf. |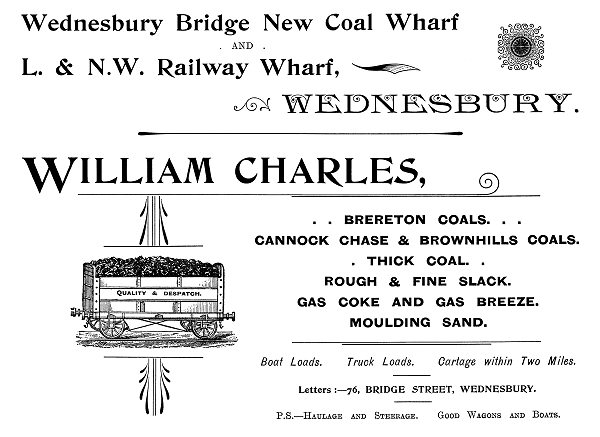 The Forge Pool Colliery belongs to Alderman Wilson Lloyd, J.P., and is now being worked by him.

It is part of the Wednesbury Hall Estate, and was once called the Great Park Farm.

The mineral part of the estate, since the year 1699, has belonged to Richard Parkes (died 1729) and his descendants.
Richard Parkes lived at Oakeswell Hall. His daughter Sarah married, 1727, Sampson Lloyd, banker, of Birmingham, who died 1807, leaving his share of the estate of Richard Parkes, which he inherited, to his descendants, of whom Mr. Wilson Lloyd is one, and is the only representative of the Heirs of Parkes now living in Wednesbury. The Great Park before mentioned contained formerly two large pools, one near the Old Park Road, now nearly filled up, the other, partly shown in the picture, called Forge Pool. These two pools gave water power to the Tilting Forge which adjoined Park Lane House. This was before the introduction of steam power, when all ironworks were driven by water.

Edward Elwell, Wednesbury Forge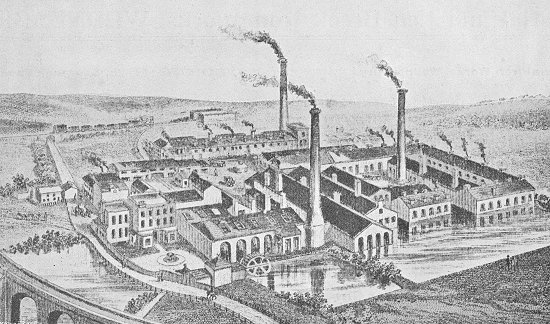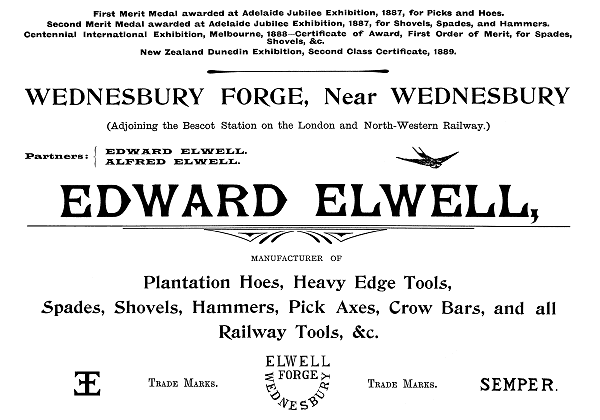 Elwell's Pool and Viaduct
| | |
| --- | --- |
| | This is part of the old South Staffordshire Railway opened in 1847. Here is a viaduct crossing Elwell's Pool, which was formerly a timber structure, into which a goods train fell in June, 1859. The former family residence of Elwell's is seen in the distance by the side of the Forge. This large sheet of water, being contiguous to the main road, might be made available for boating and other aquatic sports. |
John Bagnall & Sons Limited
---