---
The Early Years
The Boulton family were descended from Shropshire gentleman farmers who lived at Donington House, Albrighton, where they had a large farm and employed several servants.

The family had two other farms at Albrighton, Lea Farm, which later became the well known Lea Manor Hotel, destroyed by fire in 2012, and Bowling Green Farm.

The Boultons also had a farm at The Moors, Upton Warren, near Droitwich, which was run by at least three generations of the family.


Donington House in about 1900.
The following eight family photographs from the late 19th century have recently been discovered by Roy Lote. There may be a family connection with the Liverpool area because two of the photos were taken by Liverpool photographers, and one was taken in Birkenhead.
| | |
| --- | --- |
| William Boulton from The Moors. Courtesy of Roy Lote. | William Boulton from Lea Farm. Courtesy of Roy Lote. |
| | |
| --- | --- |
| Mrs. Boulton from Bowling Green Farm. Courtesy of Roy Lote. | John Boulton from Bowling Green Farm. Courtesy of Roy Lote. |
| | |
| --- | --- |
| Lucia H. Boulton, aged eighteen months. Courtesy of Roy Lote. | Sarah Boulton. Photo taken in Liverpool. Courtesy of Roy Lote. |
| | |
| --- | --- |
| Fanny Boulton who married a Mr. Ward. Photo taken in Liverpool. Courtesy of Roy Lote. | John Boulton. Photo taken in Birkenhead. Courtesy of Roy Lote. |

On the right is Jim's grandfather George Waite holding his trusty Sunbeam bicycle. Courtesy of Jim Boulton.

Sometime around the middle of the 19th century, James Boulton, one of the children of farmer John Bolton of Moor Farm married Elizabeth and they moved to Lloyd Farm, Penn, where they rented the farm and several pieces of land.

Documents still exist from 1868 listing the family's property and land that they rented. The documents state that Elizabeth was the tenant farmer and so her husband James must have died some time before 1868. He died at Lloyd Farm. She rented several houses and a lot of land in the Wombourne area. She grew crops and kept cattle or sheep, because some of the land is described as pasture. The list includes her home and garden at Lloyd Farm and also an area of woodland.
Elizabeth rented the following fields and houses:

Wombourne:
Part of Bearnett arable
Part of Withymere barn and yard
Big Withymere pasture
Withymere Coppice pasture
Gorsty Beach arable
Cow Meadow pasture
Part of Ladywell Hill arable
House and Garden
Pulley arable
Brickkiln Piece arable
House and Meadow

Upper Penn:
Roberts Britch arable
Near Paddock pasture
Far Paddock pasture
Green's Piece arable

Lower Penn:
Plantation
Brickkiln Rough pasture
Meadow pasture
Paddock pasture
Lloyd Farm House and Homestead


Elizabeth in her younger days.

Elizabeth Boulton in later life. Courtesy of Roy Lote.

Lower Penn continued:
Coppice Piece pasture
Part of Horse Meadow
May Field arable
Near May Field pasture
Bagnall's Pulley arable
Part of Barenet
Long Pulley arable
Lower Pulley arable
Part of Paddock
Big Pulley arable
Near Shoulder of Mutton arable
Far Shoulder of Mutton arable
House and Garden

The annual rent was £316.19s.6d.

Some of the land and houses
were let to tenants who paid £46.19s.6d. rent annually.

The farm was clearly a sizeable business.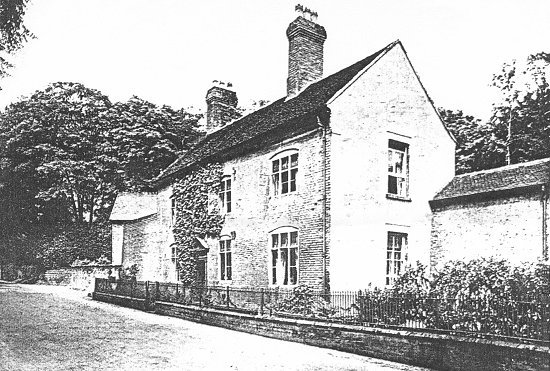 Lloyd farmhouse stood on the northern side of Lloyd Farm barns, where the gate is today. It was demolished to make way for the dual carriageway. Courtesy of May Griffiths.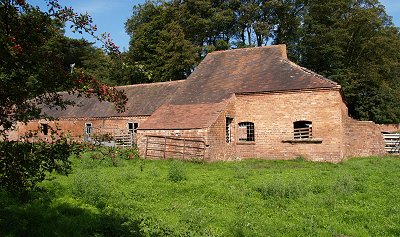 The old Lloyd Farm barns and stables.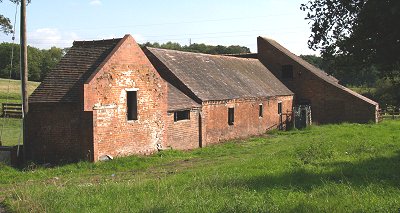 Another view of the barns and stables.

J. H. Boulton in 1901.

They had at least one child, James who continued in the family's farming tradition. He enjoyed shooting and would stalk rabbits and birds on their land.

James junior had at least two children Herbert William Boulton and Jim H. Boulton.
| | |
| --- | --- |
| Jim H. Boulton emigrated to Canada in 1904 from where he ran Boulton Auto Service Limited, Simpson Street, City of Fort William. | J. H. Boulton in army uniform. Courtesy of Lea Chatto. |
J. H. Boulton in later life. Courtesy of Lea Chatto.

Herbert William "Bill" Boulton was born in 1891 and married Florence Marion Waite on 19th March, 1923 at St. Chad's Church, Wolverhampton.

At the time they both lived at 19 Dalton Street. Florence's family lived in Lime Street and her father was a locksmith.

Bill's career began at Wolverhampton solicitors, Dallow & Dallow of 57 Lichfield Street where he did typing and shorthand.

In March 1913 he travelled to Canada and set up a garage in Winnipeg with his brother, but soon returned to the UK.
In 1914 he started to train as a conductor for Wolverhampton Tramways, but this was short lived as he was offered a better job as a driver at the Sunbeam Motor Car Co. Limited, Moorfield Works, Wolverhampton.

He accepted the offer and started at the works in October. At the time he lived at 62 Belmont Road, Penn.

On 18th March, 1919 Bill opened a garage at Penn, called Penn Garage, on the corner of Church Hill and Penn Road, in a building that used to be occupied by the local blacksmith. He also had a piece of land on the opposite side of Church Hill next to the Rose and Crown.

Bill sold petrol and specialised in repair work. He purchased second hand cars and motorcycles for resale after a thorough overhaul.


Jim's mother Florence in about 1905.
Courtesy of Jim Boulton.

Penn Garage on the corner of Church Hill.

The profit for the first year amounted to £195.18s.0d. which doesn't sound a lot today, but in the early 1920s it was a decent wage. The business became more successful, and the profit grew. In 1924 he made £274.13s.2d.

Bill soon moved to larger premises on Lloyd Hill, Penn, which included a bungalow, where the family lived.

Penn Garage was one of the few garages in this part of town and Bill had a contract with Ford to fuel model 'T's on route from the works to the customer.
He also became an agent for H.B. motorcycles until production ceased in 1923.

Vehicles were his passion in life and at the garage he built several motorcycles under the name of "Pen Nib". There were two and four stroke versions, each having a petrol tank that was shaped to resemble a pen nib. The machines were built on an H.B. frame and powered by a Royal Ruby engine with an Albion gearbox.


The new Penn Garage at Lloyd Hill.

The family's home next to the garage.

The garage was on a route used by the

A.J.S. and Sunbeam testers and they used to meet there for coffee. Bill arranged a number of motorcycle road racing events which started and ended at the garage. The route was from the garage, along the Penn Road towards town, up Church Hill to Upper Penn, down Vicarage Road, and back along Penn Road.
His interest in vehicles seems to have extended to aircraft because the sign above the garage was made from an old aircraft tailplane.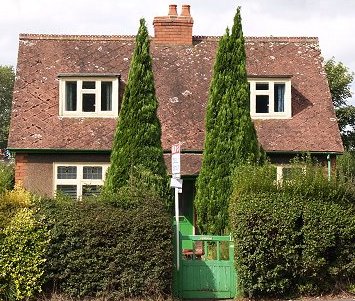 The bungalow as it is today, complete with upstairs bedrooms.

At the time there were no ambulances in Swindon or Wombourne and Bill used to be called out in his Sunbeam 25-30 double Landaulette to provide transport in an emergency. He also used to operate a taxi service.

Bill worked long hours. The garage opened daily at 8a.m. and closed at 9p.m.


Bill Boulton at Penn Garage. Courtesy of Jim Boulton.


| | |
| --- | --- |
| | Bill's Sunbeam 25-30 double Landaulette. He used it for his taxi service and also as an ambulance, taking people to hospital when necessary. At the time there was no regular ambulance service covering the Wombourne and Seisdon areas. |


Bill Boulton astride a four stroke Pen Nib, in about 1924. Jim Boulton was unsure about the spelling. Maybe it should be Penn Nib.

Courtesy of Jim Boulton.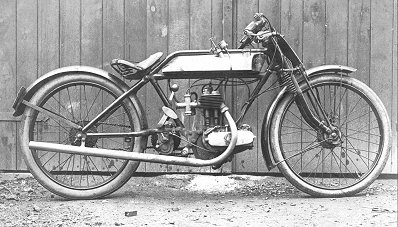 A final view of a Pen Nib.

Bill Boulton and his Sunbeam car, courtesy of A.B. Demaus.

Jim's first photo.

James George 'Jim' Boulton was born on 19th February, 1924 in the family's bungalow next to the garage. He was later followed by his sister Mary who was an invalid throughout her life. She was a backward child and suffered from epileptic fits.

The other member of the family was their Great Dane dog.

Mary loved to receive letters and so throughout her life they would save any envelopes that arrived, re-address them and push them through the letterbox for her.
| | |
| --- | --- |
| Young Mary and her mother Florence at Penn Garage. In the family Florence was known as Madge. | |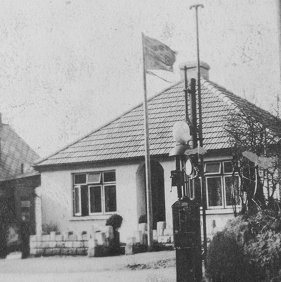 A last view of the bungalow at Penn Garage.

Jim's first encounter with a motor car at the age of 12 months. Courtesy of Jim Boulton.

In November 1925 Bill sold the garage and its contents. The contents were sold by auction on 13th November. The auction was conducted by Walker, Lloyd & Hill of Wolverhampton and the items for sale included the following:

Motorcycle and car parts
Drilling machines and tools
Bill's Sunbeam Landaulette
Ford Landaulette
Morris Cowley car
BSA touring car
Sun Vittese motorcycle
Orbit 2.5h.p. motorcycle
Gents Sunbeam cycle
Ladies Sunbeam cycle
Gents cycle

The sale raised £175.19s.0d. including only £25 for Bill's Landaulette.

At the age of 7 or 8 Jim had his first close encounter with a vehicle when he slipped and fell behind his father's car and one of the back wheels ran straight over him. Luckily he was unhurt.

In those days Penn was very different from what we know today. Most of the housing development took place in the 1930s and large fields still covered the area with just a scattering of houses and cottages. Jim attended Woodfield Junior School, which is still there today.

After the sale of the garage Bill got a job with A.J.S. as a tester. This was in many ways an ideal job for someone who loved motorcycles and had an in-depth mechanical knowledge, but it only lasted for a few years. Shortly before A.J.S. went into liquidation in 1931, Bill was out testing a machine on the Hermitage at Bridgnorth. Unfortunately he took a fall and hurt his arm and hand, which put an end to his testing career.

Bill acquired a poultry and fruit farm at Kemberton near Shifnal and the family moved to Shropshire. He sold the farm's produce in Wolverhampton market and Jim daily cycled the three and a half miles from the farm to Madeley Senior School, where he was in the same class as footballer Billy Wright. Jim remembered that even in those days Billy was a superb schoolboy football player.

The results of living on a poultry farm stayed with Jim for the rest of his life. If possible he would always avoid eating eggs or chicken.
---