---
World War 2 and Working Life
In 1939 the family moved to Wombourne and purchased Church View house in School Road behind the Parish Church of St. Benedict

It was now time for Jim to look for a job. This he soon found and became a trainee clerk, articled for three years to estate agents Whitehouse and Bayliss. His grandmother paid the £75 premium and his duties included cycling from Wolverhampton to Wednesbury and to West Bromwich to collect rents. His first year's salary amounted to just 5 shillings (25p) a week with prospects of an increase to 10 shillings a week in the second year and one pound weekly in the third year. Unfortunately this was not be because the business closed at the outbreak of War. A proportion of the premium was repaid and the disappointed clerk set about finding alternative employment.

After several temporary jobs including lorry driving, Jim was looking for something permanent and so the 18 year old lad decided to join the army.
Private Boulton of the Manchester Regiment.

He enlisted on 15th July 1942 and signed up for 7 years, wishing to drive armoured cars. After initial training he was posted to the East Riding Yeomanry Royal Armoured Corps on 1st October 1942, to train on American M4 Sherman amphibious tanks. The vehicle used a collapsible canvas screen, onto which 36 rubber air tubes were attached to provide floatation. Compressed air was pumped into the system and it took about 15 minutes to fully inflate the tubes.

Propulsion in the water was achieved by a pair of propeller screws that were driven from a duplex drive. The tanks were required to provide infantry support on the beaches during the Normandy landings and could be launched from a landing craft and make their own way onto the beach. The tanks were launched from about three miles out at sea but were vulnerable to attack because the main gun could not be used while the screen was raised. In operation many were swamped because they could only withstand 12 inch high waves.
During training it was discovered that Jim's hearing wasn't up to the job in hand and so a transfer to the Manchester Regiment followed in November 1943.

Many of the amphibious tanks were lost in action and the crews drowned, and so Jim considered the move to be a good one. In the Manchester Regiment he trained as a machine gunner and received his only wound when a gun he was holding accidentally fired. The bullet went through the middle of his hand and embedded itself in the opposite wall of the room.


In the latter half of the 1940s the Boulton family moved to Glendale bungalow, School Road, Wombourne.

Mary at Glendale with Jim's car.

At the time Jim would liked to have been a pilot, but as his hearing wasn't good enough he found himself in the Royal Army Pay Corps, starting with them on 5th September, 1945. He never liked clerical work and a transfer to the Royal Army Ordnance Corps followed on 29th November, 1946. Jim served as a Private with them but became impatient to leave. With 14 months left to serve he brought himself out and returned to civilian life on May 18th, 1948.

By this time the Boulton family had moved out of Church View house into Glendale bungalow at the rear. The bungalow was built to help the family cope with Mary's continuing disability.

Back in "Civi Street" Jim decided to go into the road transport business and purchased Starkey's Transport in Moat Street, Willenhall.

He ran the business successfully for several years but sold-up because of financial difficulties caused by bad paying customers.

In November 1949 Jim purchased one of his first motorcycles, a new Velocette LE.


Jim's colleagues at Starkey's Transport. L to R Jim, Vin and Wilf.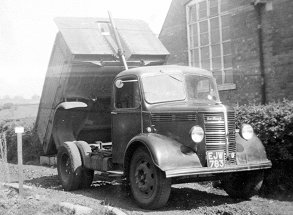 Starkey's 5 ton Bedford lorry.
In 1950 Glendale was sold to successful racing motorcyclist Pip Harris who had a garage in School Road. On 5th May, 1950 the family temporarily moved into a bungalow at 171 Warstones Road, Penn, Wolverhampton and in November returned to Wombourne at Bridge House, Ounsdale Road.

The photograph on the left shows Jim's one time girl friend Jean Duke who lived in Dickinson Avenue, Low Hill.

Jim's girlfriend Jean with Mary and dogs Pixie and Trina.
Following the disposal of his business Jim had a succession of jobs ranging from driving, working in a warehouse, and being a clerk. One of the jobs was as a lorry driver for Whitehead's Transport at Heath Town. The company permanently hired a lorry to the Wolverhampton Gas Company and Jim used to drive one of the gas company's employees around the area to siphon water from the gas mains. If they accidentally got any on their clothing it would always small of gas.
For a time he worked as a lorry driver for J. K. Riley of 44 Powlett Street, Wolverhampton and visited many of the local factories, gaining a unique insight into manufacturing in the area.
Riley's lorries ranged from fairly modern examples to dubious old-timers that were uncomfortable and hard to drive. Jim sometimes went on long journeys and occasionally drew a short straw, having to drive a vehicle that was long past its sell-by date and barely legal to drive. Such lorries were without modern necessities such as cab heating and so a long journey in the middle of winter was a daunting prospect. Rileys handled all kinds of work ranging from deliveries, collections for business customers and house clearances to the collection and disposal of rubbish. Today we just order a skip, but in those days a lorry would appear and have to be loaded and unloaded by hand. Jim did his fair share of this kind of work, which could be very unpleasant indeed.

Friends inspecting Jim's Rudge at Bridge House with Florence on the extreme right.
Some of Riley's customers were in the motor trade or even vehicle manufacturers; several were still around at the time. He made deliveries and collections at the Wearwell factory in Colliery Road and greatly enjoyed this kind of work. One of the customers was R.H. Sievwright of Cleveland Road, Wolverhampton. They were coachbuilders and Mr. Sievwright greatly enjoyed Jim's company and would keep him talking in his office for hours on end. Like Jim he was a vehicle enthusiast and so there was much to talk about. Mr. Riley would phone to ask the whereabouts of his driver, but this was of no concern to Mr. Sievwright because he paid for Jim's services by the hour. Jim made many visits there until one of his colleagues was sent to collect some rubbish. The driver concerned left a mess behind him and Mr. Sievwright complained and said that he would not be needing Riley's services again.

The work could be very hard. At the time there were still many back yard workshops containing all kinds of machinery which sometimes had to be moved. Jim remembered one occasion when a large and very heavy lathe had to be manhandled down a narrow entry between two houses in Willenhall. The job was eventually done after many difficulties were overcome and the workshop owner never even said "Thank you". Occasionally Jim would be given a tip in recognition of a job well done. If Mr. Riley found out about this he would demand that the money should be handed over to him and he would keep it for himself. Jim was very popular with Riley's customers because he was extremely conscientious and did the job well. Rileys used to hire a lorry to W.B. Tatlow & Sons Ltd, Cleveland Road, Wolverhampton. Tatlows were builders and plumbers merchants, and glazing contractors. Jim often drove for them when he worked at Riley's and afterwards was employed by them.
In those days Bridge House had an extensive garden stretching southwards almost to Planks Lane and an orchard. Bill Boulton used the land to its full potential and opened a stall in Bilston Market, from where he sold home-grown fruit and vegetables. He also sold produce at Stourbridge market.

Jim's mother Florence at home. She was known as Madge.
Jim's parents must have had a busy life at Bridge House. Florence not only had a large house to look after but also two grown-up children. Jim was never very domesticated and his sister Mary would have needed a lot of attention because of her disability and occasional epileptic fits.

Bill had a large piece of land to cultivate and that must have been a full-time job in itself, apart from the time spent at Bilston Market selling the produce.


Bill Boulton with two of the family's dogs; Pixie and Trina.
By the time Bill had reached retirement age the Boultons must have wanted to take things a little easier, and so they decided to move into a smaller home. A bungalow without stairs and a large bathroom would help them to cope with Mary's continuing disability. Bill obtained the services of local builder John Hampton and Broadway bungalow was built a few doors away from Bridge House in Ounsdale Road.

Jim's girlfriend in the late 1940s and early 1950s was Jean Duke, who featured in many of his photographs. This one was taken at Douglas harbour, Isle of Man.
The family moved into their new home in January 1957, but Bill's retirement didn't last for long. He passed away on 20th July, 1964 after an illness. Around this time family friend Marie Hinks came into Jim's life. She helped to look after Mary, who sadly died in 1972 at St. Margaret's Hospital, Perry Bar.

By this time old age was catching up with Florence who suffered from bronchitis. Marie continued her daily visits and now looked after Florence.


Broadway Bungalow.

In February1975 Jim joined oil and petrol pump makers Baelz Equipment, Railway Street, Wolverhampton as a packer. Baelz Equipment merged with Hydraulics & Pneumatics Limited, Wulfrun Trading Estate, Stafford Road, Wolverhampton in 1979 to become H&P Baelz Limited. Jim stayed with the company for a number of years becoming a storeman in July 1980. He also drove the company's cars and light commercial vehicles. His last two years were spent with H & P Limited who had manufactured hydraulic equipment for the Thames Barrier.

Whilst there Jim used the lunch breaks to work on his book "Powered Vehicles of the Black Country". This initially caused some amusement amongst his fellow workers who would often visit the local pub for lunch. They soon came to respect what he was doing, especially as they expected authors to be of the "toffee-nosed" type and not down to earth.

A Baelz machine for dispensing paraffin.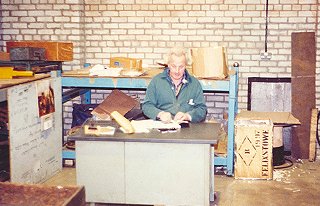 Jim whilst at work.

His job was short lived because H&P Ltd. closed in October 1982 and Jim found himself out of work. Finding another job would have been difficult because of the prevailing climate at the time and his age; being on the wrong side of fifty. From then on his life revolved around his passion for reading, book collecting and pursuing his interest in local vehicle manufacturers and their products.
---