Family Background
Geoff was born into a family of engineers, who originated in the hamlet of Hanbury in Worcestershire, and moved to Wednesfield in the first half of the 19th century. His Great Grandfather, Joseph Stevens and his wife Mary lived in Hickman Street and Cross Street in Wednesfield and had 7 children, 3 boys and 4 girls. Their second eldest boy, also called Joseph, set himself up in business in 1874, at Cross Street, Wednesfield, as an engineering blacksmith, trading as J. Stevens & Company.
He was a very skilled man and turned out a wide range of products from garden tools, hinges, nuts, bolts, and nails; and would repair anything from wheelbarrows to bicycles. He also did a lot of work for the lock trade, and the traditional blacksmith's work of horse shoeing and bridleware.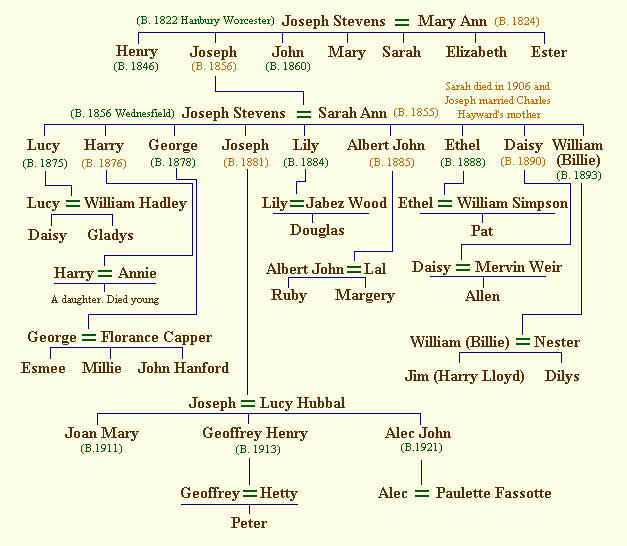 The Stevens family tree.
He married Sarah, and they had 9 children, 5 boys and four girls. Their eldest son, Harry, joined his father in the business. He had a flair for engineering and was quick to learn. He showed an early skill at designing and manufacturing special purpose machines and tools.
In 1894 the business moved to Tempest Street in Wolverhampton and Harry's younger brother Joseph began to work there. Joseph Stevens Senior purchased an American 'Mitchell' single cylinder 4-stroke petrol engine, possibly to provide power for a blower for the forge hearth, or even just out of curiosity. It wasn't realised at the time, that the purchase would greatly change the family's fortunes.
Harry was not impressed with the engine and decided that he could build something far better. He bought some rough castings from a firm at Derby, and the two brothers machined them. The finished engine proved to be an efficient and reliable design.
Harry and his father were quick to realise the potential of the engine, which could provide power for many industrial applications. They further improved the design and decided to go into production.
Harry also saw the potential of using an engine for powered road transport. After reading an article about powered bicycles, he fitted the 'Mitchell' engine into an old B.S.A. bicycle that had been lying around the works. The motorised bicycle worked extremely well, apart from the temperamental engine.
In 1899 Harry and his three eldest brothers, Joseph, George, and Albert John (known as Jack) founded the Stevens Motor Manufacturing Company, a venture that ran alongside the existing family business. While Harry got the business underway, his three brothers took outside jobs in order to help to finance the venture.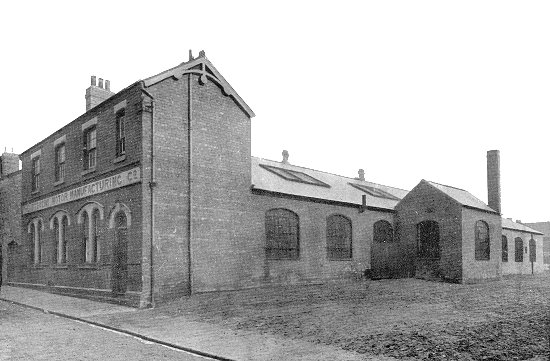 The Stevens Motor Manufacturing Company in Pelham Street.