---
Early Years
Joseph Stevens Junior married Lucy Hubbal in 1881, who unfortunately suffered from deafness for most of her life. They had a house in Burleigh Road, Penn Fields, Wolverhampton where their first two children were born. Their first child, Joan was born in 1911, and two years later, on 4th April, 1913, their second child Geoffrey Henry Stevens entered the world.
At the time, the Stevens brothers decision to form A.J.S. had been vindicated. Their products were popular, sales were good, and a bright future seemed certain. When Geoff was about 5 years old the family moved into a larger house at 4 Oaklands Road. They had a large garden that extended as far as Lonsdale Road, around 120 yards in length. Their neighbours in Lonsdale Road, in the last house before Lea Road were Geoff's Uncle Billie and his wife Nesta.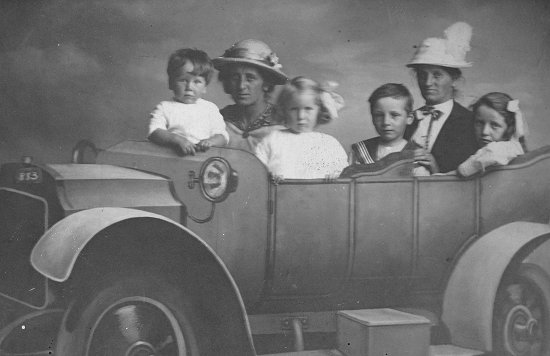 A young Geoff on the far left. Courtesy of Peter Stevens.

Geoff in costume. Courtesy of Peter Stevens.

The Stevens family lived in some style. They had a full time and a part time gardener, 2 live-in servants, a chauffeur and a big car.

One of their prized possessions was a German made "violina", a musical instrument that was something like a pianola.

It was in a large oak case, and powered by treadle operated bellows. It had a keyboard, and accepted paper music rolls for automatic playing.

At the top were 4 violins that were operated by mechanical levers along each neck, and a circular bow.

The instrument was so big that a hole had to be knocked into the sitting room wall for the mechanism, that stood in the adjacent pantry.

Geoff's Uncle Jack also had one, in a mahogany case. He eventually donated it to the London Piano Museum.
As a child Geoff loved to play with Meccano, and if he was given a toy he would take it apart to see how it worked, then put it together again. He also built a crystal set with cardboard and bits of wire.

When he was old enough to ride a motorcycle he was given one by his father. He promptly took it to pieces, learned how it worked, and reassembled it. He then discovered the joy of riding it.

Geoff had an extremely happy family life. In 1921 his younger brother Alec was born, and they remained the best of friends for the rest of their lives.

The family used to visit the Isle of Man every year for the T.T. races. Geoff remembered being driven around the course in a taxi to get an idea of what it would be like to ride a motorcycle at speed on the challenging circuit.

His school life began at Bingley Street Infants School, followed by Bingley Street Junior School, and then Wolverhampton Grammar School.

He greatly enjoyed school life, and left in 1929 at the age of 16. His best subjects were maths and physics.


Geoff and Joan. Courtesy of Peter Stevens.

Number 4 Oaklands Road.

Geoff's Uncle Harry also lived in Oaklands Road, further up the hill at number 25. He had been an enthusiastic radio amateur since before the First World War, and built a large mast and aerial in his back garden.

He made frequent transmissions to fellow enthusiasts using the call sign 5SY, and in the early 1920s used to broadcast musical concerts on Sunday mornings to fellow enthusiasts.

Local musicians would go to Harry's house for the privilege of being heard on the new medium of wireless.

Geoff's father Joe purchased a radio receiver, and the whole family used to tune-in to Harry's broadcasts.
Thanks to Harry's enthusiasm A.J.S. started to manufacture radio receivers, and while Geoff was still at school he used to help out at the Wireless Department charging accumulators. Geoff was also impressed with the grandfather clock that Harry designed and built. It was battery powered, and later featured in an article in the 'Model Engineer', written by 'A.J.S.'

After leaving school in 1929 Geoff entered the family business, initially working in the A.J.S. machine shop at Graiseley Hill, cutting gears, followed by a spell in the tool room. At the time, the trade suffered terribly because of seasonal fluctuations, and falling sales. Geoff's father realised that the company's days were numbered, and as a result he moved Geoff into the Sales Department, thinking that sales experience might be useful in the future. Geoff remembered the happy atmosphere at the company and also the loyalty of the staff.

In 1929 he went to Scotland for the first time, on a motorcycle, with his best friend Jim Thomas. They stayed with Jim's aunt in Galloway. In 1930 Geoff made a solo motorcycle trip from Land's End to John O'Groats.

A New Era

When A.J.S. went into voluntary liquidation in October 1931, the four brothers had to start again from scratch, they had lost almost everything. Geoff's father Joe sold their house in Oaklands Road and they moved to 22 Birchwood Road, Penn, Wolverhampton.
When A.J.S. opened the factory at Graiseley Hill, the four brothers allowed their sisters and father to move into their old premises in Retreat Street and use it for the Stevens Screw Company, that had a factory across the road.

After the liquidation the four brothers asked their father if they could move back into their old factory in order to start a new business, and he agreed.


The old Stevens' factory in Retreat Street, as it was in 2002.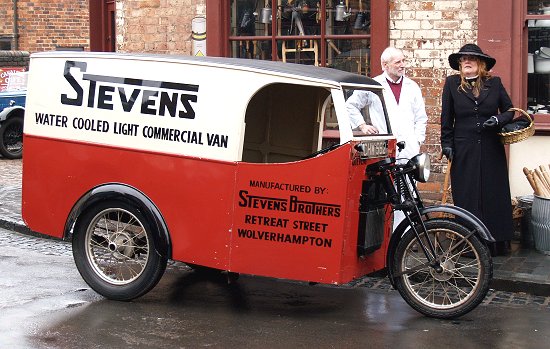 The Stevens 3-wheel van at the Black Country Living Museum.
Working on a shoestring they set up a new company called Stevens Brothers (Wolverhampton) Ltd., in May 1932. The directors were the five brothers; Harry, George, Joe, Jack and Billie. Working around the clock and assisted by a number of unpaid volunteers, they managed to design and develop the 'Stevens Light Commercial Vehicle', a three wheeled van that would sell for around £70. At the time the cheapest Austin or Morris van cost just over £100.

Geoff worked at the new company for a while, doing drilling jobs on the main frame, the forks, brakes, and anchor plates. He also cut gears and made cams which were hand-filed to the correct profile. The vehicles were produced in batches of 6. Enough parts were made for 6 vehicles, which were built in a row. After completion the whole process started again. Geoff was still very much a trainee, he was under 21 years old at the time, and earned 10 shillings a week.

A New Career

John Roper's factory in Upper Villiers Street.

Geoff soon left the company to work for John Roper, a well-known precision engineer, who had a small factory in Upper Villiers Street, and offered a salary of 24 shillings a week.

The company had a workforce of 6, including 3 members of the Roper family, and made cut-price parts for cars, including gears.
Geoff worked on centre lathes and turret lathes, but the Ropers kept the gear cutting to themselves, being afraid that their techniques would be copied.

Around 1935 Geoff went to work for Austin at Longbridge, at a starting salary of £5.12s.6d a week. He entered a very different industrial world to what he had seen before. Everything was done on a grand scale, with a vast workforce, using the most up-to-date machinery. For some time the other employees kept themselves to themselves, and hardly spoke, or helped him in any way. He was seen as an outsider. There were no chucks on the drills, you had to take your own toolbox, and your own chuck to work, and guard them at all times, otherwise they would disappear. This was very different to the friendly atmosphere that he had experienced at A.J.S.

His working days were long because of the travelling time to, and from Longbridge. To ease the journey, his supervisor arranged for him to buy a brand new Austin 7 car, from the factory, at cost price. As a result he had a brand new car every year, during his time at Longbridge. Unfortunately this caused some resentment amongst his colleagues who didn't qualify for a cheap car because they lived much closer to the factory.

Geoff joined the Territorial Army with a group of friends. In 1938 during the Munich crisis he was called-up to a T.A. camp. On his return to work he found that his daytime job had been given to someone else, and he was forced to work nights. With help from his trade union he successfully fought the decision and returned to his day job. As a result of this unpleasant experience he became disillusioned with the T.A. and promptly resigned from it.

Although his experience at Austin could have been far better, he did see the latest production techniques at first hand, and gained experience of jig boring, a complex technique, that would become his speciality.
Around 1936 Geoff met his future wife Hetty Riley at a Goodyear works dance, held at the George Hotel in Stafford Street, Wolverhampton, now called the Varsity.

They became good friends and went to many dances, travelling as far afield as Trentham Gardens.

On 5th August, 1939 they married at St. Michael's Church in Tettenhall, held their reception at the Star & Garter Hotel in Victoria Street, and went to Scotland for their honeymoon.

They moved into their first home at 75 Ward Road, Goldthorn Park, Wolverhampton.

They were very happy, always the best of friends. Life together was full of enjoyment, and a sense of fun. They became an extremely close couple.


Geoff and Hetty in later life. Courtesy of Peter Stevens.
In 1939 Geoff left Austin and moved to Auto Machinists Limited, a company that had been started by his father and his Uncle Jack in 1934. They initially machined parts for cars, and did engine boring, but this proved to be unprofitable. They then began to make jigs and fixings, and so were delighted when Geoff setup a jig boring facility at the factory in Poplar Street, Wolverhampton.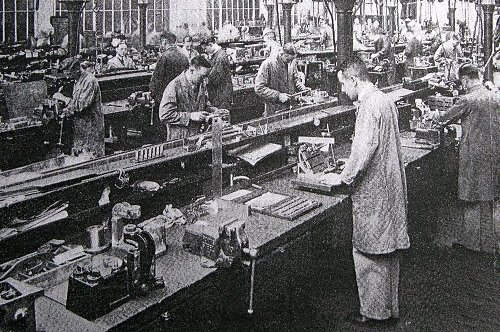 At work at Austin. Geoff is in the centre foreground, side-on looking towards the bench. Courtesy of Peter Stevens.
During World War 2 Geoff joined the Home Guard. One of his duties was to assist in an anti-aircraft gun unit at Wolverhampton Racecourse. He operated an aircraft predictor, a complex piece of equipment that mechanically carried out calculations that were used to adjust the settings on the gun.
For some reason, a group of Home Guard personnel decided to dismantle the predictor, and couldn't reassemble it. Luckily Geoff was at hand, and using his vast engineering knowledge, he advised the officers and told them what to do to get it working again. As a result he received an award for being the best instrument technician in the battery.
---