---
Later Years
In 1950 Geoff decided to set himself up in business as a specialist jig borer. He acquired premises in Pipes Meadow, Bilston and purchased a new machine.
Geoff's family grew on 11th April, 1953 when his son Peter was born. The enlarged family acquired a new home in July 1955, after a move to Goldthorn Road.

Early in 1956 things went badly wrong for Peter, who was diagnosed with a brain tumour. It must have been an extremely worrying time for Geoff and Hetty, but luckily the diagnosis was wrong, Peter actually suffered from hydrocephalus, or water on the brain. After 9 weeks in hospital he made an excellent recovery.

The family had many happy holidays, both at home and abroad, including a Rhine cruise in 1964 to celebrate their silver wedding anniversary.

Around this time Geoff moved his business to the bottom of Dixon Street in Monmore Green, Wolverhampton, where Laystall is today.

A few years later the business made a final move to Hainge Road, Tividale.

During the last few years of his working life he became an employee of Thorne Tools Limited, also in Hainge Road, and finally retired in December 1982 at the age of 69.


Geoff, on stilts, on the Longmynd. Courtesy of Peter Stevens.
Geoff settled down to a happy retirement with Hetty, and they celebrated their golden wedding anniversary in 1989 with a trip to the Austrian lakes.
Recording the A.J.S. Story

Steve Mills and Geoff at the 2002 Black Country Vehicle Rally, at the Black Country Living Museum.

Geoff and his brother Alec were very proud of their family's achievements and considered writing an accurate history of A.J.S.

This became a reality when Geoff met Steve Mills, an enthusiast who owned, and restored an A.J.S. 1928 'K1' motorcycle. As a result of their meeting, Steve decided to write a book covering the whole of the Wolverhampton company's history.

Geoff greatly enjoyed, and looked forward to days out with Steve, when carrying out research for the book.

They visited many locations, talked to many enthusiasts, and historians, and people associated with the company. They also examined and photographed surviving products.

The project took three years to complete, and Steve's book; 'A.J.S. of Wolverhampton' made its appearance in 1994.

The book is the first complete and accurate history that has been written about A.J.S. It was Geoff's pride and joy, and because of it he became known to many enthusiasts throughout the world.
Geoff became a local celebrity on 31st August, 1996 when he unveiled a statue dedicated to A.J.S. A supermarket had been built on the site of the old Graiseley Hill factory, and a statue, called 'The Lone Rider' was commissioned to celebrate the Black Country's leading motorcycle manufacturer.

In 1999 Geoff and Hetty celebrated their diamond wedding anniversary with a holiday in Sidmouth, Devon, but disaster struck on 22nd November, 2000 when Hetty died. It was a big blow for Geoff and Peter.


Celebrating their diamond wedding anniversary with a card from the Queen. Courtesy of Peter Stevens.
I greatly enjoyed my visits to their home, and was always made extremely welcome. They were a lovely couple, full of energy and full of the joys of life. It was a great shock to hear that Hetty had died.
In 2003 Peter and Geoff celebrated his 90th birthday with a holiday in Cornwall and Devon.

Giving advice at the 2004 Black Country Vehicle Rally, at the Black Country Living Museum.
From the 1990s until his death, Geoff regularly attended local vehicle rallies that celebrated the once-famous Black Country vehicle manufacturers.

He greatly enjoyed them and became well-known to many of the visitors and enthusiasts. He was also president of the A.J.S. 9 Car Club.

Geoff received another major blow in September 2006 when his younger brother Alec died.

During his retirement Geoff regularly went out with a few old friends, but sadly this came to an end as they gradually passed away.

After Hetty's death he regularly went out for Sunday lunch with Peter, to a number of favourite pubs and restaurants, both in the West Midlands and Shropshire.
George Peck (ex-Sunbeam) and Geoff at the 2007 Sunbeam Rally in Bantock Park.

This was their last meeting.




The after dinner speaker. Courtesy of Peter Stevens.

During the last year of his life Geoff began to suffer from mobility problems, and as a result ended up in residential care.

During one of my visits to the care home, he summed his life up for me, saying that he had had a wonderful wife and son, a marvellous family home, and an enjoyable working life.
The last time I saw Geoff was on Sunday 27th July, 2008 at the Festival of Black Country Vehicles, that took place at the Black Country Living Museum.

He greatly enjoyed his time there, and happily reminisced about A.J.S. when inspecting some of the company's motorcycles and cars. He also enjoyed seeing the museum's Stevens 3-wheeled van that was donated by his brother Alec.

Geoff passed away on Monday 11th August, 2008 in New Cross Hospital after a short illness.

He will be fondly remembered by his many friends, and a large number of vintage vehicle enthusiasts.

His funeral service was held at the church he often attended, St. Michael and All Angels at Tettenhall, Wolverhampton, followed by cremation at Bushbury Crematorium.

He will be sadly missed by many people, including myself.


Peter and Geoff at the 2008 Festival of Black Country
Vehicles, at the Black Country Living Museum.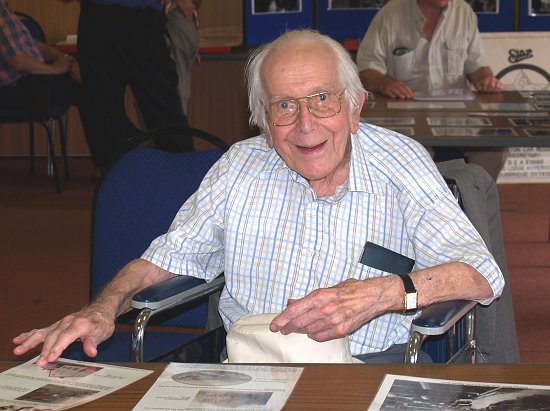 A final view of Geoff at the 2008 Festival of Black Country Vehicles.
---