---
Some members of the Wulfrunian Weight Lifters Club
Above are three photos of Jim Morgan. Although now somewhat worn, these were studio photographs, professionally taken.
Another two studio shots of Jim. In the centre one Jim is on the left but the other two club members are not named.
Left: S. Durnall. Centre: S. Solloway. Right: S. Whitehouse. The photo on the right is impressed with the name of A. B. Hart, 10 Worcester Street, Wolverhampton - a well known local photographic studio.
Left: G. Bennett. Centre: T. Downes. Right: W. Wilbrey on top, Jim Morgan underneath. The photo on the right may have been taken in the grounds of the club's meeting place.
Left: T. Downes. Centre: W. Durnal & Jim Morgan. Right: J. Powell.
These are snaps rather than professional photos. Running around in the open air was very much the approved thing in the Health and Strength movement.
Left: ?, T. Harrington, ?, J. Goldington. Right: ?, H. Parkes, S. Davies Note the bikes propped up in one corner. Had these members just arrived on them and stripped off for a club colleague with a camera?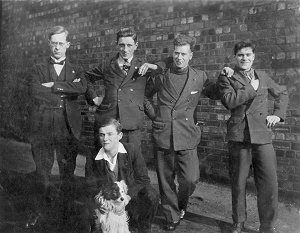 Left to Right: Jim Morgan, J. Powell, A. Hazeldine, W. Perry. The young man at the front is not identified - nor is the dog.
---