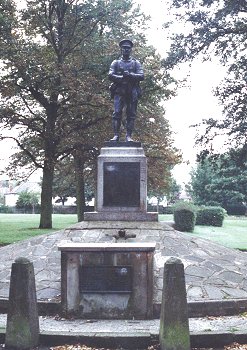 Listing: c.1920. Figure by G. A. (or A. G.) Walker of G. Fiorini Foundry. Bronze figure on granite base. A war memorial notable for the quality of its sculpture.
Comment: The memorial is situated in the centre of Heath Town Park; the park itself is part of the memorial. The soldier faces Holy Trinity Lich Gates which also contain a war memorial. The panels on the sides depict naval and RAF scenes, the latter being particularly unusual for the time.
It is said to be the oldest WW1 war memorial in Wolverhampton, having been unveiled on 25th September 1920.
The monument had been looking a little forlorn, had acquired some graffiti and the soldier's rifle had been stolen. A complete restoration, costing £18,000, was carried out in 2008 by the City Council, the War Memorials Trust, the Wolfson Foundation and English Heritage. The rededication ceremony took place on 2nd. December 2008.
---