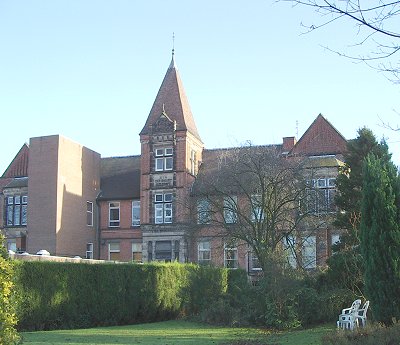 Local Listing: The original Infirmary was designed by the architect T H Fleeming (1849‑1935) whose works also include Barclays Bank, Lichfield Street (1876), the College of Adult Education, Old Hall Street (1899) and the late 19th century spire of St. Jude's Church, Tettenhall Road (itself built in 1867‑9), all of which are Grade II Statutorily Listed Buildings, and the former Higher Grade School, Newhampton Road which is on the Council's Local List.
The Infirmary was built by Wolverhampton builders Henry Willcock & Co. at a cost of £13,000 and opened in 1888, providing three men's and three women's wards with thirty beds and five children's cots. A significant part of the cost was met by local philanthropist, Philip Horsman, who also donated the Art Gallery to the town and whose benefaction is commemorated in the Fountain in St. Peter's Gardens.
It is constructed of red brick with elaborate brick details and stone dressings. It is built to an irregular plan in a simple Gothic style under a plain clay tiled roof with crested ridge tiles and two spired turrets, one of which has an inscribed stone plaque bearing the legend: "EYE INFIRMARY AD 1887. Some of the original sash windows have been replaced and late 20th century extensions to the original west front have detracted from the character and appearance of the original building.
Comment: There are three principal buildings on this site: the original Infirmary of 1888; the Nurses' Home of 1927; and the Outpatients'/Accident and Emergency Extension of 1937. These buildings are quite different in style but all are of definite architectural and historic interest and all were designed by significant local architects.

The infirmary as it was originally, from a postcard of about 1900.

All three buildings are locally listed and all are in the Oaks (Merridale Road) Conservation Area.

The notes under "Local Listing" above are taken from the Conservation Area Appraisal and are therefore somewhat more comprehensive than the usual local listing notes.

A full history of the Infirmary can be found on this site if you follow this link.

It will be apparent that the Eye Infirmary has been very important in the social and health history of the city.

It has been a greatly appreciated facility in which there was a good deal of local pride.
The local health care trust decided, in 2004, to close the Eye Infirmary, sooner rather than later, and move its services to somewhere else, unspecified and apparently unknown. These buildings are, therefore, at risk and sympathetic new uses need to be found for them. As the grounds in which they stand are now crowded and suffering from poor landscaping and neglect, any re-development should be treated as an opportunity to greatly improve the setting of these buildings.
---