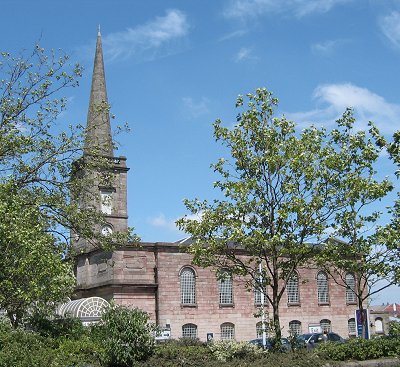 Listing: 1830. By James Morgan (a partner of John Nash), Classical style.
Comment: Built 1823-30. The church was built to accommodate the expanding population of the town but was never entirely successful. The population in that quarter was never turned out to be as great as had been expected, the area largely turning into an industrial one - and with the abbatoir not far away. By the 1960s even that residential population had moved away, the church was closed and became dangerously derelict. Later the land around it was identified as the last area in town which could house a food superstore. Sainsbury's moved in, building their store to one side of the church, restoring the church and using its interior as the store entrance and coffee shop. An upper floor was inserted and was used as offices.
The new buildings were designed in a way which was sympathetic to the old church, though the entrance canopy did not meet with universal approval.

The new build also complemented the new Combined Court building on the other side of the ring road. The project was architecturally and commercially successful.

For several years now Sainsbury's have been claiming that they will build a new store on the other side of the city centre at Raglan Street and will then reduce the scope of this one.

The Church in the early 1970s.

This proposal became bogged down in a downturn in Sainsbury's profits and a counter proposal by Tesco to build near to this present site at the old Royal Hospital.

This continuing saga and cat fight has done Wolverhampton no good at all and whatever credit Sainsbury's had from saving this church is now all used up.
In the grounds of Bushbury Crematorium and Cemetery can be found this small monument.

The plaque on it reads: "St. George's Churchyard November 1981 To the rear of this memorial lie the remains exhumed during the construction of the ring road".
---