A famous visitor to the course, Sir Gordon Richards, paid his first visit on 18th June, 1922 when he came second in the Apprentices' Stakes, riding "Knight of the Orient".
A tragedy took place at the Christmas meeting in 1924 when Captain "Tuppy" Bennet took a fall in the Oteley Handicap Steeplechase while riding "Ardeen". He was kicked in the head and died without regaining consciousness. As a result the wearing of crash helmets became compulsory in steeplechase and hurdle events.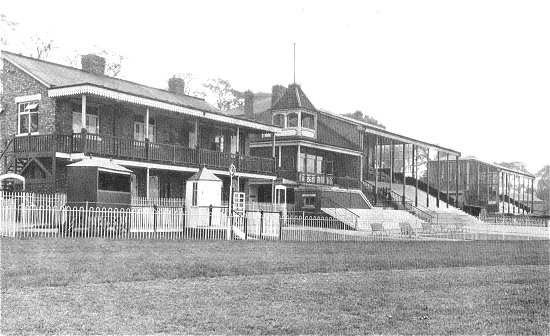 The grandstand.
Sir Gordon Richards came to the August meeting in 1935 and became the star of the event. He won the Bushbury Plate, the Himley Selling Plate, the Shrewsbury Selling Plate, and the Walsall Handicap. Quite an achievement.
There were many other memorable events and successful meetings in the 1930s but it all came to an end in September 1939 at the outbreak of war when all meetings were cancelled.