---
In the latter part of the 19th century, Tipton and the neighbouring towns became more prosperous thanks to the many industries that thrived in the area. Employment was high, and numerous businesses were set up to supply the needs of the local population, which increased as people moved into the area to find employment.
Post Office
One of the amenities that appeared in the late 1840s was the town's first post office, which opened in a small part of a house at Dudley Port, on the corner of Park Lane and Horseley Heath. The original postmaster was Mr. Partridge, who was succeeded by his sister Martha Partridge. After her death, her niece, Miss Baker took over in 1866. In the early years, letters were received and despatched twice a day.
At first, mail was conveyed on the stage coach that ran between Worcester and Birmingham. The horses were changed at Kidderminster and at the 'Swan' at Swan Village. There were two letter carriers who sorted the letters in an outhouse attached to the post office, before making deliveries. Letters cost one pence or two pence to send.
The post office was soon enlarged and took over the whole of the front room of the house. Sub post offices soon opened at Great Bridge, Tividale, Tipton Green, Princes End, Ocker Hill, and Burnt Tree. When parcel post was introduced, the main post office was again enlarged, so as to cover the whole of the ground floor. The average number of letters etc. handled by the post office increased from 16,700 in 1861 to 43,700 in 1891. Similarly the number of parcels and telegrams rapidly increased.
In June, 1888, Mr. John Lees Taylor became postmaster. Around the same time, eight additional wall boxes were erected in various parts of the parish and the main office remained open until 9 pm. for telegrams. Some of the early postmen, including George Whitehouse, who worked from Great Bridge became well known local figures.
On the 21st December, 1896 a splendid new post office, designed by Henry Tanner, opened at 36 Horseley Heath, at its junction with Horseley Road. In 1904, on weekdays, it opened from half past six in the morning until ten o'clock at night, with four daily parcel deliveries. By 1912, Robert Crerar had become postmaster.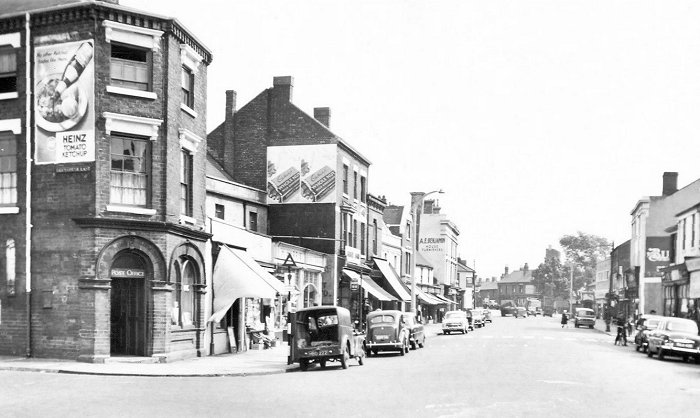 Great Bridge Post Office. From an old postcard.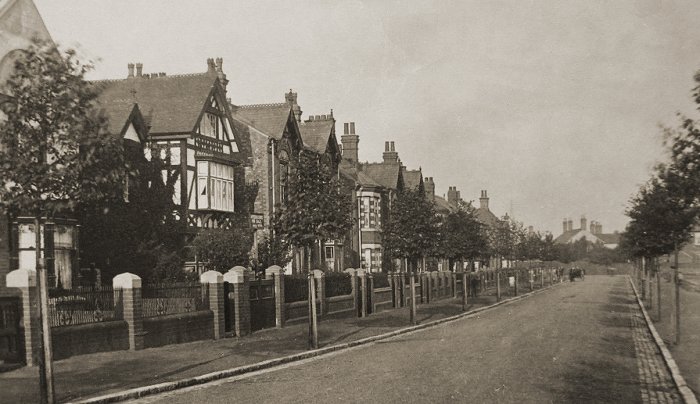 Castle Road, Tipton. From an old postcard.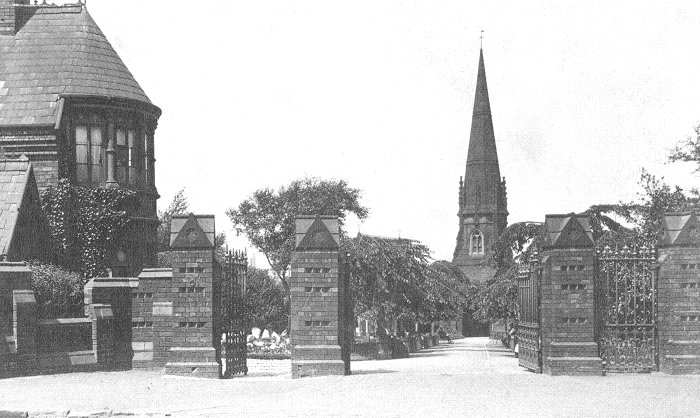 The main entrance to Tipton Cemetery in Alexandra Road, with the lodge on the extreme left. From an old postcard. The spire in the background was in the centre of two mortuary chapels, now demolished. The cemetery was opened in March 1873 by the Bishop of Lichfield, Dr. Maclagan.
Police Station

In 1864, Tipton's police station in Lower Church Lane opened in a fine blue-brick building that also housed the magistrate's court. By 1912 there were three other small police stations in the town. Lower Church Lane Police Station survived until 2006, when it was demolished and replaced by the current building, which opened in March 2007.

The Coneygre Reservoir

The South Staffordshire Waterworks Company decided to build a reservoir and a pumping engine to boost the supply of water to Dudley and West Bromwich. The plan was to build a reservoir at Hill Top over the railway tunnel in Tunnel Street, but the Great Western Railway refused to allow its construction.

After this disappointing start, the company managed to purchase six acres of land on the Coneygre Estate from the Earl of Dudley, at a cost of £3,744. Work on the open reservoir began in 1861. It was built by John Aird & Sons of London and had been completed by March 1862. The reservoir was on the southern side of Park Lane West, to the north of the Birmingham Canal. The reservoir was 200 feet wide (at its widest point) and could hold eight million gallons of water, none of which went to Tipton.

There were two 50 hp. steam engines and four Cornish boilers, housed in a building close to the canal, to allow for the easy delivery of consumables etc. The engines used around 4½ tons of coal every twelve hours, which mainly came from the nearby mines, owned by the Earl of Dudley. The reservoir operated in conjunction with a higher reservoir at Shavers End, Dudley, where water could be pumped when necessary along a 15 inch water main that was laid alongside the South Staffordshire Railway Line which ran to Dudley. The reservoir ceased to be used in 1876, but the pumping engines continued in use for some years to boost the water supply to the higher parts of Dudley.

As the water evaporated and the reservoir emptied, it was used as a site for tipping surplus soil. A house was built alongside the reservoir in 1881 and 1882. It was used as part living accommodation and part offices for the Tipton waterworks superintendent. Today the site is used for the storage of pipes etc. and is now occupied by Integrated Water Services Limited.

Tipton Gas Works

Tipton's first gasworks officially opened on Saturday the 1st July, 1882. It stood on a site that had been purchased from the Tipton Green Colliery Company by the Local Board. Its location was between the Stour Valley Railway and Workhouse Lane (now called Alexandra Road), about 200 metres from Tipton Railway Station. There were sidings from the railway and a canal basin so that coal could easily be transported there. The gas works produced town gas by heating coal in retorts. For many years Glover West vertical retorts were used, until 1954 when they were replaced by a Woodall Duckham vertical retort plant, which operated until 1960.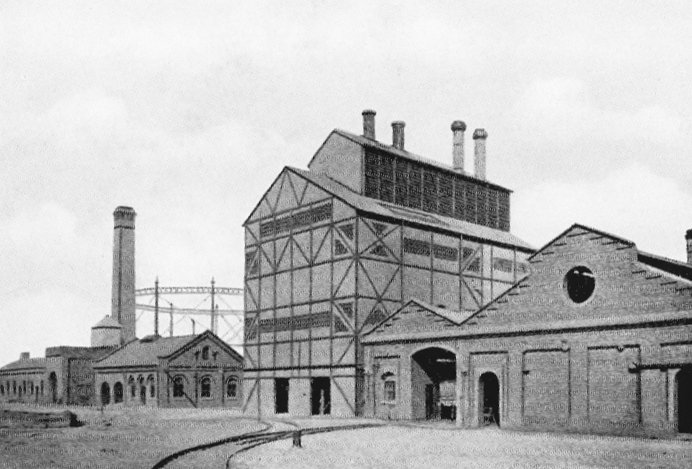 The gas works.
Coal was delivered to the stockyard by rail where it was tipped from wagons by a rotary tippler and dropped into a crushing machine before being piled into a heap, which was continuously monitored for temperature changes, due to the danger of spontaneous combustion.
Coal was transferred to the retort house in one of two continuous bucket conveyors that carried it to the coal storage bunkers from where it passed through a gas-tight valve into a much smaller hopper, which opened directly into a retort. In the retort it was heated up to 1300°C and the gas given off was removed through pipes for purification.
Eventually the coal was turned into red hot coke that was quenched by a steam jet. The coke was dropped into one of two longitudinal conveyors and transported to the screening plant where it was graded into sizes and stored in large bunkers, before being sold.
Impure coal gas was taken from a retort through a cast-iron off-take pipe where any solids were removed. The hot gas then passed through the primary condenser where the bulk of the tar and some of the ammonia were removed to leave partially clean gas. This then passed into a large cast-iron ammonia scrubber where layers of wooden grids, sprayed with softened water, created a large wet surface that readily dissolved any ammonia in the gas.
The gas continued its journey by passing through secondary condensers that removed any remaining ammonia before passing through layers of iron-oxide to remove hydrogen sulphide. The gas was now sufficiently pure and passed through a gas meter before being stored in one of Tipton's four gasholders.
The by-products from the manufacturing process were all sold, including tar, ammonia, coke, and sulphur. The tar was pumped into a storage tank before being delivered to Midland Tar Distillers by canal boat.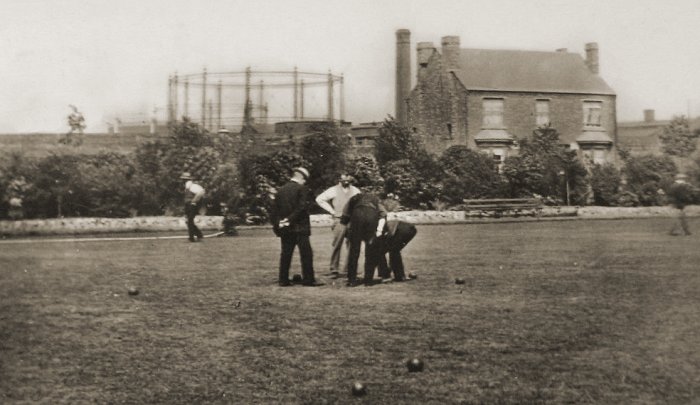 Tipton Gas Works seen from the bowling green in Victoria Park. From an old postcard.
The Mond Gas Works
To the east of Tipton Gas Works was a site occupied by the South Staffordshire Mond Gas Company that produced Mond gas for power and heating purposes. The gas was supplied to a large area stretching from the edge of Birmingham to the boundary of Wolverhampton, and as far as Pelsall and Stourbridge. It was formed by an Act of Parliament in 1901 to make and distribute producer gas across an area of 123 square miles. Mond gas was a variant of producer gas in which coal was completely converted to ash, rather than to coke, as would happen in a retort.
The site at Tipton was built in 1902, beside the Stour Valley Railway Line and the Dixon's Canal Branch, just to the east of Tipton's Gas Works. It was the largest example of a producer gas plant in the UK.

The plant had 32 producers, capable of handling over 600 tonnes of coal per day. Most of the plant, including the producers, the ammonia recovery, gas washing and cooling equipment were all duplicated to ensure a reliable supply.

The gas was compressed and distributed from the plant at a pressure of 10 pounds per square inch into asphalt-covered steel gas mains.

This was the first example of a high-pressure gas network in the UK. Later the plant was fed from coke which resulted in gas with a lower calorific value. When this happened, gas from the plant had to be mixed with conventional coal gas from Tipton Gas Works, to enrich its calorific value. The Mond gas works closed in 1963.
A report of the Institution of Mechanical Engineers visit to the South Staffordshire Mond Gas (Power and Heating) Company in 1910
The South Staffordshire Mond Gas (Power and Heating) Co. was formed by special Act of Parliament in 1901 to make and distribute gas for power and heating purposes over the area extending from the City of Birmingham boundary on the one hand to the Wolverhampton Borough boundary, and from Pelsall to Stourbridge on the other; an area of about 123 square miles, having a population of very nearly three-quarters of a million, and comprising the Boroughs of Dudley, Smethwick, Walsall, Wednesbury, West Bromwich, and Wolverhampton; the Townships of Amblecote, Bilston, Brierley Hill, Coseley, Darlaston, Heath Town, Lye and Wollescote, Oldbury, Quarry Bank, Rowley Regis, Sedgley, Short-Heath, Stourbridge, Tipton, Wednesfield, and Willenhall; and the Districts of Halesowen, Kingswinford, and Walsall (including Bentley). It is what may very aptly be termed the industrial heart of England. The site at Dudley Port, Tipton, covers an area of about 40 acres.
The first section of the works was begun in 1902, and completed and gas made early in 1905. The plant comprises eight producers, each capable of gasifying 20 tons of fuel per day of 24 hours, and generating sufficient gas to drive gas-engines of 2,000 hp. continuously. The total capacity of the present section is thus equal to 16,000 h.p. The fuel is brought by boat into the canal basin, or by rail on to the siding, both of which have been specially constructed, and is unloaded by hand into bunkers; the entrance to these from the boats is a little above water-level, and at the ground-level from the trucks.
From these bunkers the fuel is automatically fed into two "Hunt" conveyers, each having a capacity of 40 tons per hour, and which convey and distribute the fuel into the storage bunkers over each set of producers. The bunker over each producer will hold 40 tons. The conveyers are driven electrically, the motors being about 5 hp.
The gas after leaving the producers—at about 550° C.—is thoroughly washed in mechanical washers, and after passing through the ammonia recovery and gas-cooling towers, is further purified by large centrifugal fans (two of which are running in series at 850 revolutions and are driven by motors of 45 hp. each), and then passed through the scrubbers and the meters, before being compressed and sent through the mains for distribution.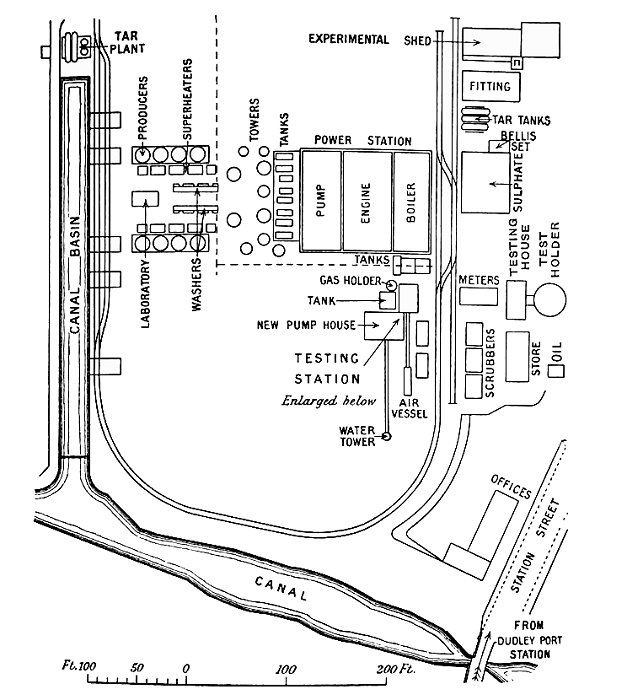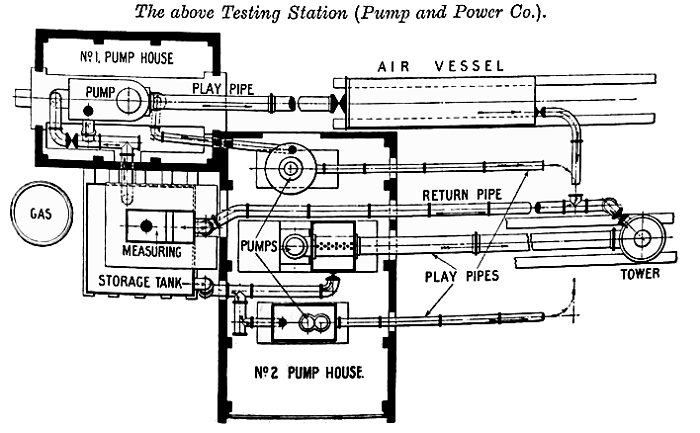 The air-blast for working the producers is produced by Roots' blowers (made by Thwaites Brothers), of which there are three, each of 50 hp. The Lee-Howl water-pumps can each pump 160 tons of water per hour. All the fans, washers, etc., are operated electrically, and the works, which are run constantly night and day, are also lighted by electricity, the current being generated by Westinghouse three-cylinder vertical gas-engines, each of 250 hp.; the voltage is 220. There are two of these engines, one only running at a time, the other being kept as a stand-by.
The three compressors (made by Fraser and Chalmers) are used for forcing the gas through the mains. Each compressor is of 450 hp., and will compress 500,000 cubic feet of gas per Lour. Large quantities of steam are required for working the plant, and this is provided by four Climax boilers each of 500 hp., capable of evaporating 1,500 gallons of water per hour, at a working pressure of 160 lb. per square inch. Sulphate of ammonia is recovered by evaporation in specially constructed stills, the crystallized sulphate being afterwards dried in hydro-extractors. The gas is measured by being passed through rotary meters, each capable of passing 500,000 cubic feet per hour.
Mains varying in size from 36 inches in diameter at the works to 21 inches at the end of the circuitor of the trunk main have been laid, and are filled with gas through Toll End, to Ocker Hill, where the main bifurcates, one leg passing through Bilston into Wolverhampton, the other leg passing through Leabrook and Wednesbury into Walsall. Gas is at present being distributed under a pressure of 5 lb. per square inch. This pressure is reduced on consumers' premises by means of reducing valves, which have been specially designed for the purpose, to the pressure suitable for each individual case. The trunk-mains are of the Ferguson locking-bar type.
All other pipes (except specials) are made of wrought-iron, or steel, with screwed joints. The total length of trunk and branch-mains laid to end of 1909 was 251 miles. The gas is connected to over 100 works, and is used for all kinds of metallurgical and heating operations, as well as for generating power by means of gas-engines.
Trams
The first trams in Tipton were operated by the Birmingham and District Tramways Company Limited, formed on the 29th July, 1871. The company constructed a 4ft. 8½ inch gauge, horse-drawn tramway under the terms of the Birmingham and Staffordshire Tramways Act of 1870. It ran from Hockley Brook through Handsworth to West Bromwich. At Carter's Green there were two branches, one to Hill Top and another that ran to Great Bridge and Dudley Port.
The line opened on the 20th May, 1872 but did not pay its way. The Carter's Green to Dudley Port section closed in December 1873 and the track was soon removed.
On 28th November, 1878 the South Staffordshire and Birmingham District Steam Tramways Company Limited, later called the Staffordshire Tramways Company Limited, was formed to construct and promote tramways in Staffordshire. It was initially allowed to operate steam-powered trams under the terms of the Staffordshire Tramways Order, 1879, confirmed by the Tramways Orders Confirmation Act, 1879. The company's headquarters and tram depot was in Corns Street, Darlaston, off Birmingham Street. The company also had three small depots, one in Dudley at the end of Tipton Road, opposite the entrance to Dudley Railway Station, another on Holyhead Road, Handsworth, near the city boundary, and a third in Bloxwich Road, Leamore, Walsall, near the railway line, where the industrial estate is today.
Over the next few years, further acts of Parliament allowed the company to build and operate an extensive network, covering much of the Black Country. The acts and authorised tramways that ran through Tipton can be summarised as follows:
Tramways Orders Confirmation (No. 2) Act, 1881. Tramways in West Bromwich and Great Bridge
A tramway from Carter's Green, West Bromwich, to the Stalk Inn on the boundary of Great Bridge and Tipton, via Dudley Street, Great Bridge Street, and Great Bridge.
The South Staffordshire Tramways Order, 1881. A tramway in Wednesbury and Tipton
From the White Horse Hotel, Bridge Street, Wednesbury, to a terminus at the junction of Birmingham Road and Tipton Road, Dudley. The route followed Holyhead Road, Victoria Street, Great Western Street, Leabrook Road, Gospel End Road, Wednesbury Oak Road, Bloomfield Road, Dudley Road, and Tipton Road, Dudley.
The Dudley and Tipton Tramways Order, 1881. Tramways in Tipton and a short length of track in Birmingham Road, Dudley
A tramway from Great Bridge Street, Tipton to the parish boundary in Burnt Tree Road, via the Market Place, Horseley Heath, and Dudley Port Road, and a tramway from Great Bridge Street, Tipton to Ocker Hill, via the Market Place, New Road, and Toll End Road.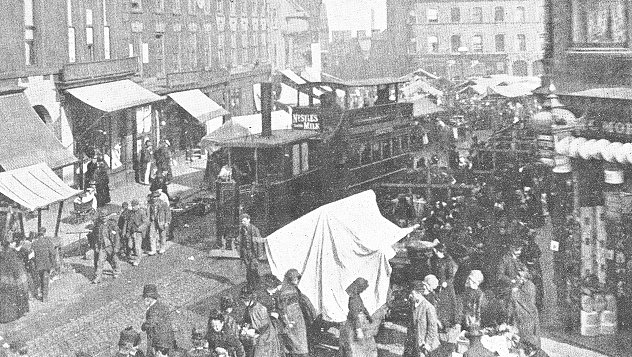 A steam tram passing through Wednesbury market.
The tramways had a gauge of 3ft. 6 inches, and were mostly single track with passing places, although a few short lengths of double track were installed. Stand pipes were also fitted between the tracks at convenient stopping places to refill the engines' water tanks.
On the 12th October, 1885, the Great Bridge to Tipton Road, Dudley section opened. The average fare per passenger was 1.49 pence. The company's annual profit was £2,416.
On Saturday, 10th September, 1887, a fatal accident occurred on the reversing triangle at the Dudley terminus. A Birmingham and Midland car was standing on the triangle with the rear of the passenger car just clear of the points as a South Staffs car came down from Dudley, bound for Wednesbury. The engine took the points, but the car jumped them and crashed into the rear of the other engine, fatally injuring a woman passenger who was boarding the Birmingham and Midland car.
The last remaining steam-powered trams operated by the company were on the Wednesbury to Dudley via Tipton line. There were serious doubts about electrifying the route because mining subsidence was causing a lot of trouble and expense. In a letter to Tipton Urban Distrect Council in June 1904, the company stated that a report received from its mining engineer in regard to the subsidence on this road was of "a most unfavourable character". It stated that if the new owners of the Bloomfield Ironworks availed themselves of the mining rights, which went with the property, further subsidence would take place. In the event of electrification being proceeded with, deflections of the line would cause a leakage of current at the joints. Under the circumstances, the Directors were unable to proceed with the electrification as requested by the council.
Earlier in the year, the company had applied to the Board of Trade for a further extension to operate by steam power, although this had been granted, both Tipton and Wednesbury Councils had represented to the Board of Trade that inhabitants of the district would prefer to be without the service. In view of the fact that steam operation had ceased on the Handsworth section and as the company stated, the maintenance of all the remaining steam services during 1903 had involved the company in considerable loss, all remaining steam services would end. The Wednesbury to Dudley via Tipton route closed on the 15th June, 1904.
On the 24th January, 1903 the company (now the South Staffordshire Tramways (Lessee) Company Limited, extended its electrically-powered Handsworth service to Great Bridge. The company also began to run electrically-powered trams on the route from Wednesbury to Dudley via Princes End on the 22nd October, 1907.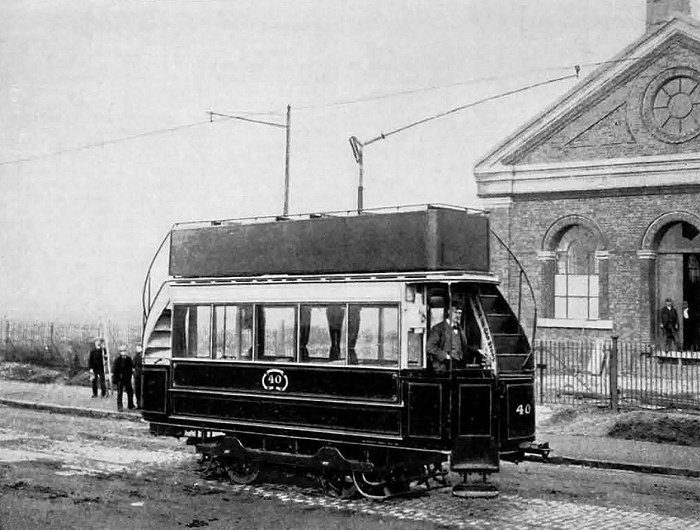 A South Staffs tram outside the company's generating station at James Bridge.
Steam-powered trams were also operated in Tipton by the Birmingham and Midland Tramways Company, founded on the 22nd November, 1883 to operate over authorised lines that were to be built by the Western Districts Company, at extremely low rates. The lines were authorised by the Board of Trade, as the Birmingham and Western District Tramways Order, 1881, and confirmed by the Tramways Orders Confirmation (No. 3) Act, 1882. The lines formed a large interconnected network with around 35 miles of track, crossing Birmingham, Smethwick, Oldbury, Tipton, Dudley, Sedgley, and Coseley.
The acts and authorised tramways in Tipton can be summarised as follows:
Tramways Orders Confirmation (No. 2) Act, 1881. Tramways in Birmingham
A tramway from Dudley Road, Birmingham to Smethwick High Street and Oldbury, then to Dudley Port Road, Dudley via Dudley Road and Tividale Road, and ending at Dudley Market Place. The last part of the route through Dudley Port opened on the 30th August, 1885. Electrically-powered trams started to operate on the route on the 21st November, 1904.
Tramways Orders Confirmation (No. 3) Act, 1882. Tipton, Sedgley, and Coseley
A continuation of the tramway from Dudley Road to Sedgley Road West via Tipton Road, Sedgley Road East, Park Lane to Coseley.
The Board of Trade inspection was carried out by Major General Hutchinson on the 1st June, 1885, and Board of Trade Certificates to allow trams to run in Oldbury, West Bromwich, Tipton, Dudley, and Rowley Regis were received on the 4th July, 1885.
The company's depot was built on 3½ acres of land in Oldbury Road, Smethwick, about 300 yards west of the junction with Spon Lane. Large engine and car sheds were built, along with a coke yard, off Windmill Lane, Smethwick. The company purchased 34 tramway locomotives.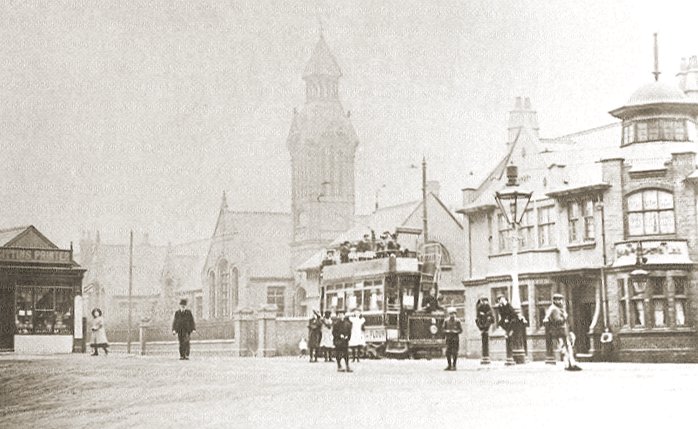 A tram in Gospel Oak Road, with Ocker Hill Junior School in the background. From an old postcard.
Education and Schools
In the early part of the 19th century there were many Sunday schools attached to various churches and chapels, as well as several privately-run schools. There were also a few others that placed themselves under Government inspection and received Government grants. They were known as public elementary schools and tended to be the best local schools of the day. They included St. Martin's School, Lower Church Lane; St. Mark's School at Ocker Hill; St. John's School, Park Lane; Great Bridge Wesleyan School, Fisher Street; Tipton Hall School; and Waterloo Street Infants School. They could accommodate 1,943 pupils.
There were also National Schools, supported by private contributions. They were at Horseley Heath, Ocker Hill and Tipton Green and catered for around 500 children.
In 1871 the following schools were supported by voluntary contributions:
Zion School, Princes End
St. Paul's New Connexion School, Dudley Port
Mr. Beasley's Wesleyan School, Dudley Port
Primitive Methodist School, Burnt Tree
Bloomfield Wesleyan School
Gospel Oak Wesleyan School
Ragged School, Brown Lion Street, Bloomfield
Summerhill Wesleyan School
The Tabernacle School, Princes End
Ocker Hill Wesleyan School
Ebenezer Independent School, Union Street
Primitive Methodist School, Bloomfield
Primitive Methodist School, Great Bridge
Ragged School, Horseley Heath
Tipton School Board was set up in March 1871 under the Elementary Education Act 1870. The Board held its first meeting on Thursday, 6th April, in Lower Church Lane when members elected William Hipkins as Chairman and Samuel Millington as Vice-Chairman. No clerk was appointed and so the Rev. S. T. Tozer volunteered to be acting Honorary Secretary at the board's next meeting on the 5th July. At the meeting, Mr. G. Wilkinson, of Lloyd's Bank, Dudley, was appointed Treasurer. The other members were William Bristow, James Brown, William Roberts, Joseph Cox, and William Foster.
In 1871 the average school attendance was only 1,146, but thanks to the Board it rapidly increased. New schools were erected by the Board as follows:
Great Bridge (New Road) in 1874
Dudley Port in 1877
Burnt Tree in 1880
Tipton Green in 1880
Bloomfield in 1891
Ocker Hill in 1899
Park Lane in 1903
The School board was eventually superseded by the Council's Education committee. In 1886 the schools could accommodate 3,032 pupils. The average attendance was 2,681. Average attendance in other schools was 2,154.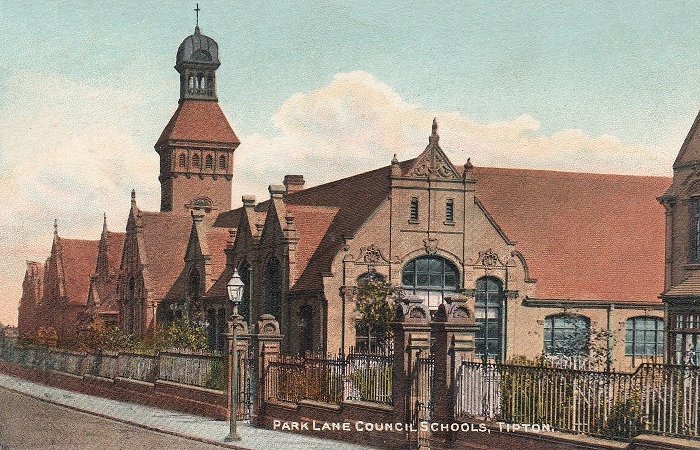 From an old postcard.
Tipton schools listed in Kelly's 1912 Directory are as follows:
Birch Street, Park Lane, opened January, 1905, 355 boys, 355 girls and 330 infants; average attendance, 318 boys, 301 girls and 302 infants; W. J. Woodall, master; Miss A. Richards, mistress; Miss Eliza Booth, infants' mistress.
Bloomfield, Bloomfield Road (infants), built in 1891, for 254 children; average attendance, 191; Miss Sarah Booth, mistress.
Burnt Tree, Gate Street (mixed), built in 1880, enlarged in 1896, 415 children; average attendance, 381; Joseph Yorke, master. Infants' school, 330 children; average attendance, 249; Miss Florrie Goldie, mistress.
Dudley Port, built in 1877, 380 boys, 272 girls and 285 infants; average attendance, 277 boys, 246 girls and 254 infants; William Thomas Whitehouse, master; Miss K. Swift, mistress; Miss A. H. Yorke, infants' mistress.
Great Bridge, New Road, built in 1873, for 400 boys and 257 girls; average .attendance, 340 boys and 257 girls; Charles Henry Greenwood, master; Miss Louisa Hickinbottom, mistress. Infants' School built in 1887, for 256 children; average attendance, 181; Miss Elizabeth Walker, mistress.
Ocker Hill, Gospel Oak Road, built in 1900, for 336 boys and girls and 275 infants; average attendance, 294 boys and girls and 178 infants; Thomas Smith, headmaster; Mrs. Keziah Woolley, infants' mistress.
Tipton Green, Sedgley Road West, built in 1880, for 315 boys, 296 girls and 316 infants; average attendance, 264 boys, 259 girls and 222 infants; Arthur E. J ones, master; Miss Edith E. Given, mistress; Miss Annie Kenny, infants' mistress.
St. John's (infants), Prince's End, built in 1857, enlarged in 1895, for 160 infants; average attendance, 119 infants ; Miss Emily Labram, infants' mistress.
St. Mark's (mixed & infants), Spring Street, Ocker Hill, built in 1858, for 500 children; average attendance, 174 mixed and 137 infants; Richard G. Farley, master; Miss Davis, infants' mistress.
St. Martin's, Lower Church Lane, built in 1861, for 450 boys and girls and 150 infants; average attendance, 306 boys and girls and 117 infants; John Smith, master; Miss Alma Bushell, infants' mistress.
St. Paul's, Wood Street, built in 1874 and enlarged in 1899, for 147 boys, 138 girls and 178 infants; average attendance, 119 boys, 108 girls and 138 infants; Samuel Kelsall, master; Miss Florence A. Clee, mistress; Mrs. Sarah Mould, infants' mistress.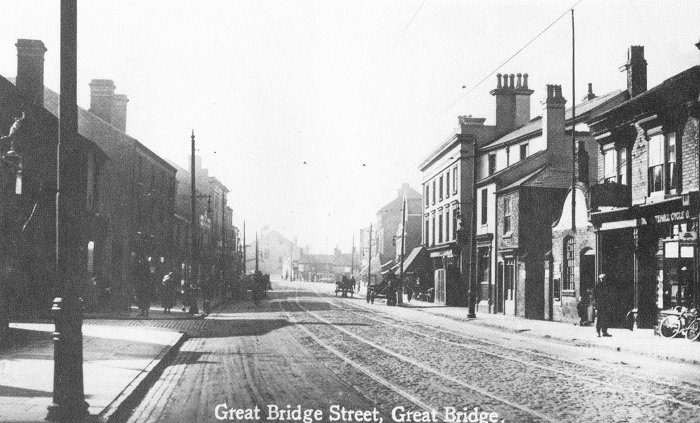 From an old postcard.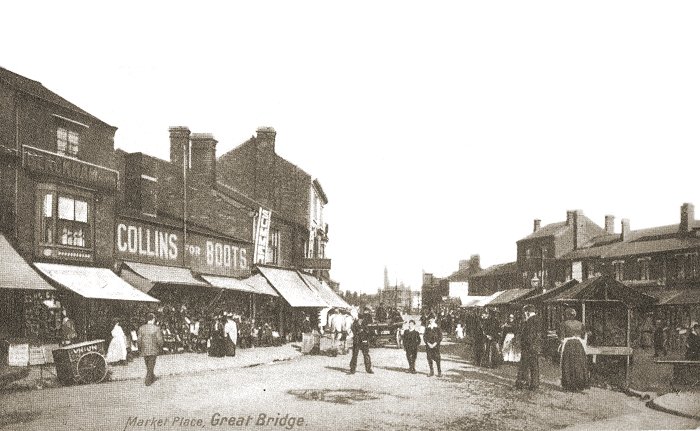 From an old postcard.
---